Vinyl is making a comeback, whether you like it or not. The burgeoning format, previously thought to be dead, now accounts for nearly a third of all physical music sales, a testament to both the rising popular of the format among millennials and the willingness of new retailers such as Target and Urban Outfitters to embrace it. Perhaps its due to the phenomenal sound afforded by records or merely the aesthetic experience that goes along with it, but either way, it looks like vinyl is only going to get bigger.
There's more to the experience than simply a turntable and pair of speakers, however. Stepping up your vinyl game should mean tackling everything that accompanies it, from cleaning to organizing. Fortunately, there's now a plethora of vinyl-centric accessories meant to refine your listening experience — whether talking gorgeous slipmats or cleaning stations meant to wipe the dirt from your precious wax — each of which would appease any audio aficionado this holiday season.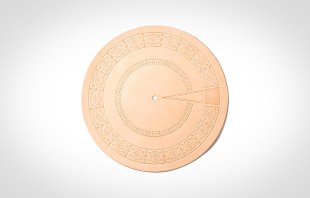 Slipmats come in all shapes (and a few) sizes, but few of them are as exquisite as those manufactured by Tanner Goods. Each piece is cut from a single piece of Meridian English bridle leather and adorned with the company's signature Geoglyph pattern, allowing it to look good while dampening unwanted sound. The leather design even carries less static than your traditional, felt slipmat.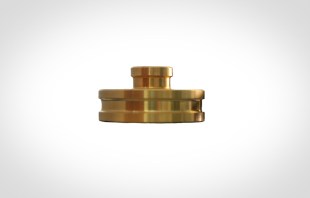 Listening to vinyl without the occasional crack and pop is nearly impossible, but the Raw-1 Record Adapter does work improve the listening experience. The simple brass device weighs down your record and creates flatter contact with the platter, thus securing it from moving, dampening vibrations, and increasing the accuracy for improved tracking. It also doubles as a 45 rpm adapter.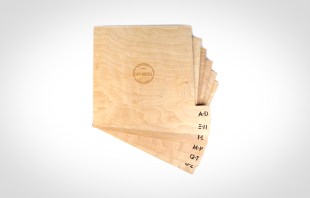 Finding that mint copy of The Ghost of Tom Joad can be tough when your collecting really gets out of hand. Kate Koeppel Design has you covered, though, with a plethora of laser-cut dividers that let you organize your wax alphabetically, by genre, or both. The wooden dividers come in multiple styles and sizes, too, letting you quickly categorize your 7- or 12-inch record collection on the fly.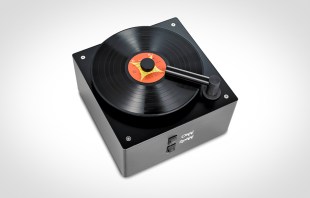 Maintaining the cleanliness of your records is crucial when it comes to preserving the longevity of both your vinyl and needle. Okki Nokki's solution is also one of the best methods for doing so. The automatic system makes use of a heavy-duty motor and turntable with a vacuum tube, the latter feature of which removes any residual dirt and fluid once the goat hair brush is finished cleaning.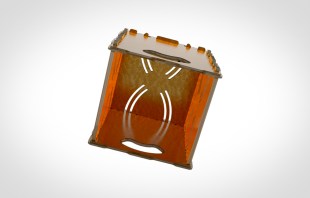 Milk crates might be viable means for stowing and toting your vinyl on the go, but they're certainly not the best. Wax Stacks provide a worthwhile alternative to the age-old method though, one that ships flat and requires no tools to assemble. Each of the units comprises five birch panels that fit into place using interlocking tabs, conveniently providing you with space for up to 50 albums.
Editors' Recommendations