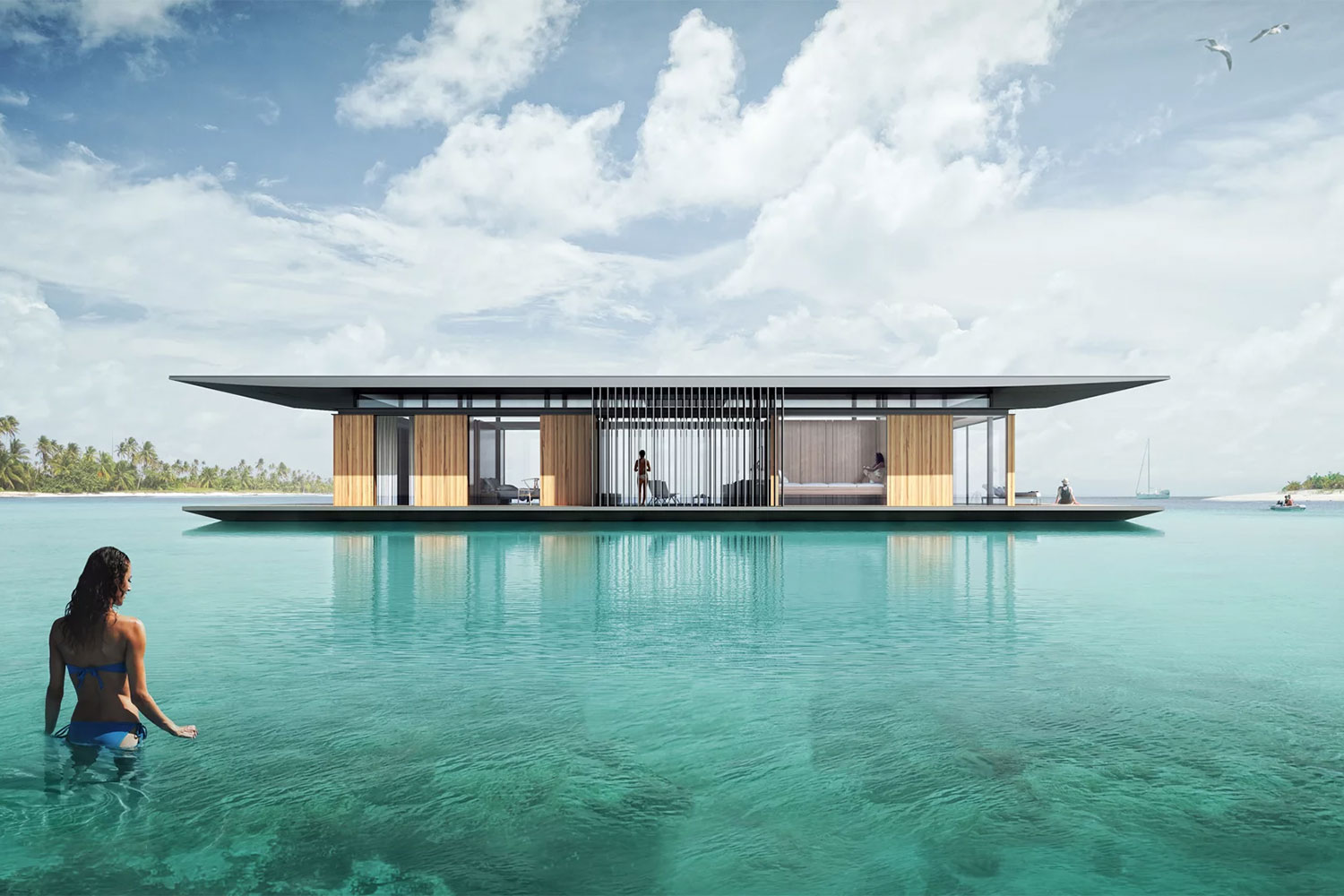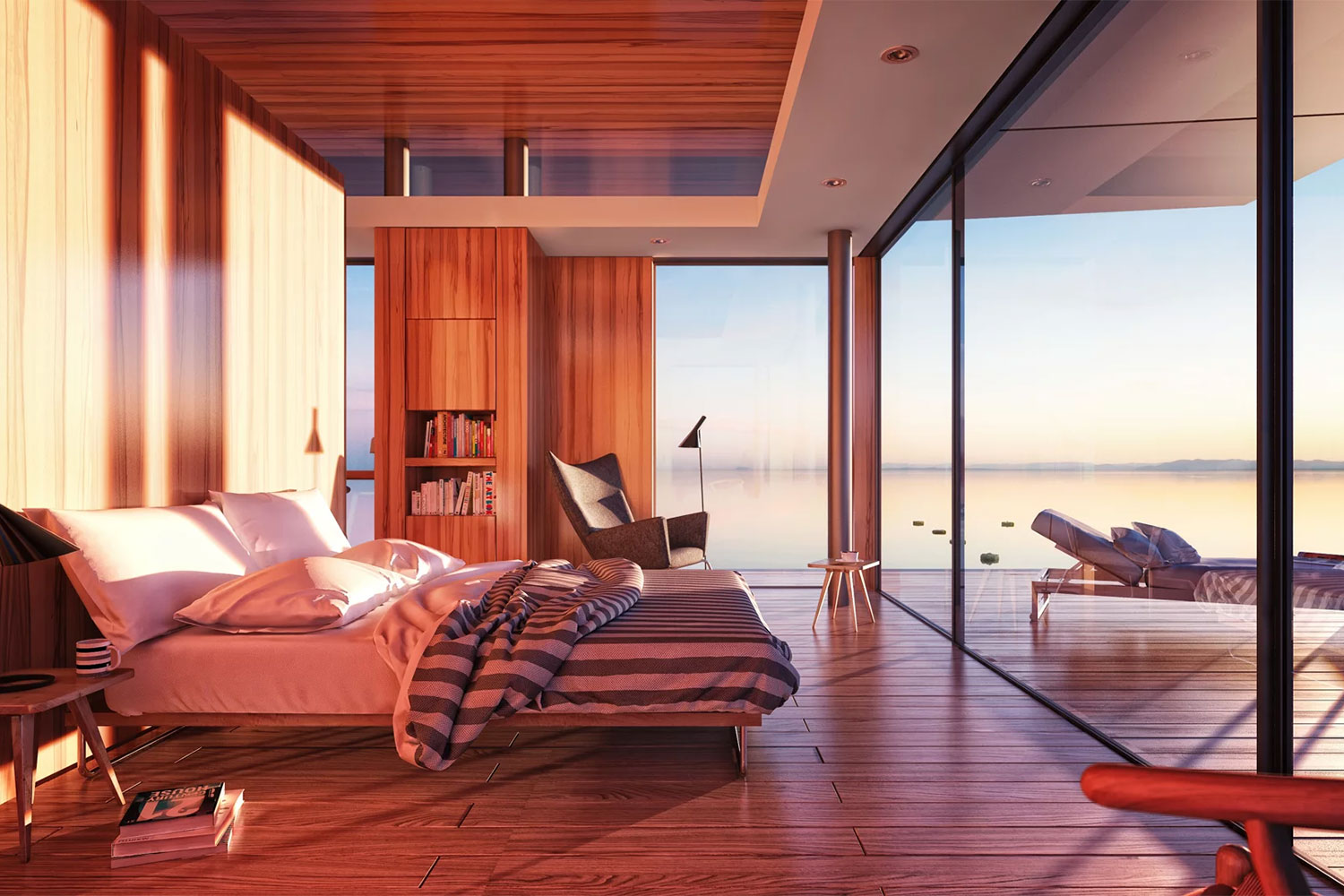 We've all dreamt of pulling the ripcord on society; of disappearing into the woods alone for a day, a month, or a lifetime. But if a private cabin in the wilderness isn't "away" enough for you, a tricked-out houseboat might be just what you need. Berlin's WSM crafts bespoke, ultra-modern homes on the water that ensure you'll never want — or need — to return to dry land.
WSM's flagship Watervilla is a fixed-mooring houseboat designed to be installed anywhere in the world that you see fit. The 2,357-square-foot floor plan houses up to four adults with the most state-of-the-art conveniences and creature comforts. The base model is luxurious enough to satisfy most of us. With ample storage under and above water, a solar-powered electrical system, pellet-fueled radiant floor heating, and an ecological water treatment setup, it's designed to serve as a mostly self-sufficient, off-grid home away from home (or a swanky, floating, post-apocalypse "bunker" — your call). Every piece of furniture, room layout, light fixture, and finish is custom-crafted to each owner's exact requirements. Floor-to-ceiling windows encase the entire interior for panoramic views of whatever body of water you choose to escape to.
If that stock setup isn't disco enough for you, there's also a long list of potential (and pricey) upgrades. WSM promises customers can turn their Watervilla into a veritable floating mansion. Extravagant add-ons include infrared saunas, water-bearing fireplaces, traditional Turkish hammams, whirlpool spa tubs, gourmet chef's kitchens, or 4K HDTV, smartphone-enabled media rooms with Dolby Atmos surround sound. An optional diesel or electric propulsion system is available in case you're the flighty sort who can't decide on just one place to drop anchor. It's clear, however, that, with the right bankroll, they'll happily upgrade your own Watervilla with any feature you can imagine.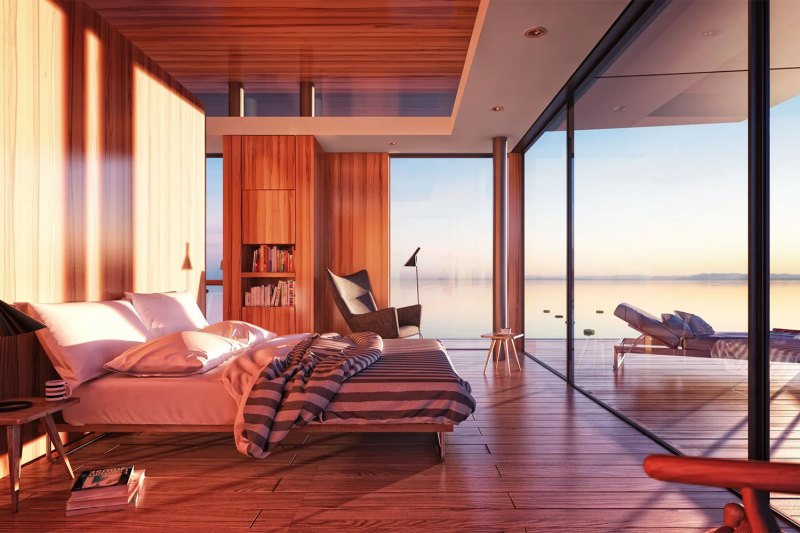 WSM also touts a thoroughly eco-conscious design that uses 100% organic and sustainable building materials. The insulation and wiring are ozone-free with zero off-gassing to minimize or eliminate in-home toxins. The aluminum hull is flow-optimized and, unlike typical marine hulls, doesn't require re-coating with toxic anti-rust chemicals every five to 10 years. So, chances are, it'll outlast you.
Anytime a company's glossy ads promise their customers "a life without compromises," it usually translates as: "products you probably can't afford." For most mortal men, Watervilla's stratospheric €899,000 (over USD $1 million) base price is unattainable. For well-heeled sophisticates in the market for a go-anywhere vacation villa, however, WSM has revolutionized the idea of the traditional houseboat.
Editors' Recommendations