Man isn't meant to stay indoors — our weekly "Trekking" column can attest to that. It's a column dedicated to the adventurer inside of all of us, the one pining to ditch the office humdrum for a seven-week jaunt in the Grand Tetons, or fiending to catch some waves someplace other than the North Shore. One day we may highlight a new ultra-light camping stove or minimalist water filter, and the next you may find us getting wrapped up in a set of Norquayco's handmade canoe paddles. Life doesn't just happen inside the workplace and home, so get outside and live it.
When it comes to survival in the 21st century, Darwin was wrong. Evolution and survival mechanisms has always been reliant on the available tools at your disposable, but given revolutionary advancements in medicine and first-aid, those tools are often your key to survival more often than your primal instincts and how much you can bench. The SOLKOA Survival Kit for Best Made ($170) makes things even easier when confronted with dire straits, packing 25 potentially lifesaving tools into an ultra-light aluminum tin encapsulating a mere 18.75 cubic inches in space when closed.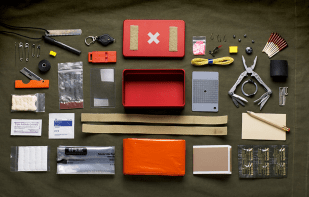 Though by no means a household name, SOLKOA Survival Systems' founder and experienced staff have been providing survival training to elite military and government forces in the United States and abroad for years, prior to partnering with New York's Best Made for their recent survival kit. Adorned with a rustic-red finish and finely machined from a single block of aircraft-grade 6061 aluminum, the SOLKOA kit is nearly indestructible and secured using a rubber gasket and Velcro straps. The container itself — commonly referred to as the "SUMA" box — is strong enough for shoveling dirt and features a Type III hard anodized aluminum, allowing you to safely boil water and use the lightweight container for cooking. However, despite the its hallmark construction, it's the contents inside that truly matter.
In addition to a ½-inch compass and an emergency whistle, the robust survival kit includes an standard tools such as emergency blanket, waterproof matches, six tinder tabs, and a 4x magnifying lens. Moreover, the SUMA container holds both a foldable razor and a steel hacksaw blade, rendering it more capable then most when you need tools for cutting and slicing. An LED light and purification tabs also come bundled, along with antibiotic ointment, a fishing kit, and a multitool for a melange of purposes. The latter is even American-made and features 10 tools alone. The downside? You likely won't be itching to buy the superb survival kit until it's already too late.
Check out the main Best Made Company website to make a purchase or for more info. Also, if in New York, swing by the outdoor company's headquarters, workshop, and store at 36 White Street.
Editors' Recommendations