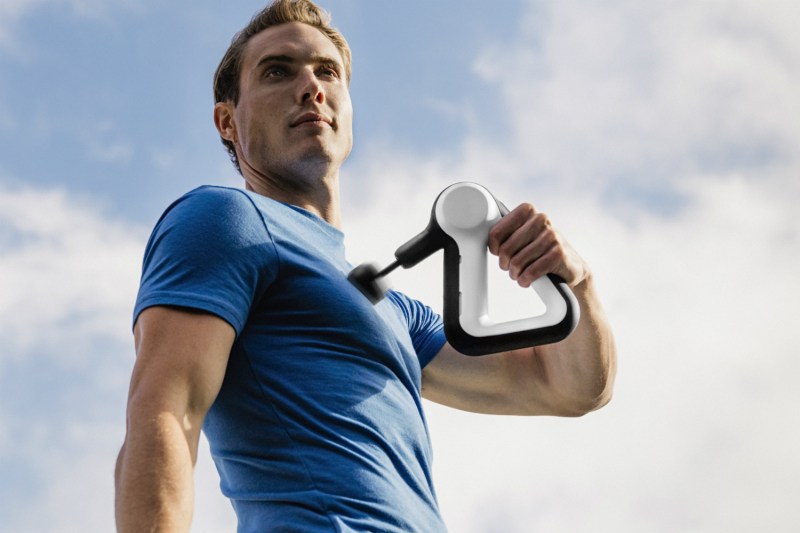 It's no secret that we were huge fans of Theragun's insane at-home muscle massager, the Theragun G3PRO, when it was the only choice in the brand's repository. Now we can fanboy times-three with the introduction of the brand's two newest products: the Theragun G3 and the Theragun liv. These two smaller and more portable versions of the original G3PRO offer a streamlined and lightweight Theragun experience, which is great, considering our only quibble about the product in our previous review was the fact that it was definitely not something you could easily travel with or carry back and forth from the gym.
Both new devices each offer different features, so here's a look at what differentiates the two from each other and from the original Theragun G3PRO.
Theragun G3
The Theragun G3 is the quietest Theragun to date, while still maintaining the two speeds found in the original. It also comes with a travel case, four attachments, and a built-in battery. This one has a stall force of 40 lbs, so you won't be able to dig into your muscles quite as hard as you could with the Theragun G3PRO, but unless you're doing some serious lifting or running, you don't really need that kind of pressure. And, at $200 less than the original, the price is right for this little guy.
Theragun liv
The second new addition to the Theragun family, the Theragun liv, offers the lightest and most portable Theragun yet. However, that portability comes with fewer attachments (there are only two for this one), a lower stall force of just 30 lbs, the shortest battery life with a total of 45 minutes runtime, and just a single speed. However, with a price $300 less than the original and the same 16mm massage amplitude, for people who are price-conscious or just need casual, everyday soreness reduction, this is the best buying option.
Still confused? Check out the table below for a full breakdown of the features of each Theragun.
Theragun Comparison Guide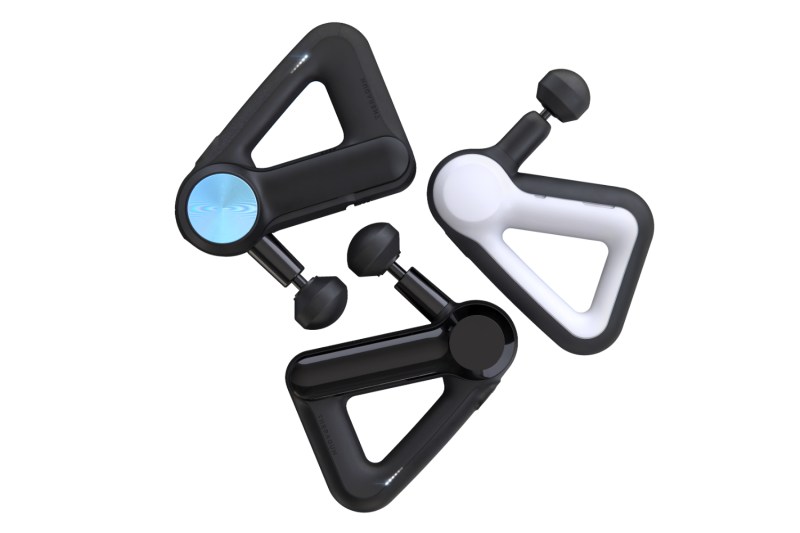 | | | | |
| --- | --- | --- | --- |
|   | Theragun G3PRO | Theragun G3 | Theragun liv |
| Attachments | dampener, large ball, standard ball, wedge, thumb, and cone | dampener, standard ball, thumb, and cone | dampener and standard ball |
| Stall Force | 60 lbs | 40 lbs | 30 lbs |
| Battery Life | 75 minutes | 60 minutes | 45 minutes |
| Speed | two-speed | two-speed | one-speed |
| Arm Position | adjustable | fixed | fixed |
| Batteries | 2 interchangeable lithium-ion batteries | single built-in battery | single built-in battery |
| Price | $599 | $399 | $299 |
For more information, visit Theragun's official website or check out our review of the original Theragun G3PRO.