There's a bar in Los Angeles' Koreatown that is now encouraging you to spend the night. The Walker Inn used to be the cool bar behind The Normandie Club with the secret door, but now it's the cool bar behind the The Normandie Club with a secret door that has guest rooms with epic mini-bars.
The bar was already awesome before this addition. The Walker Inn only serves 26 people at a time, and while they're pretty great about accommodating walk-ins, this is a reservation kind of place. They have two cocktail menus, one is full of the classics and the other is a tasting menu that rotates every six weeks, taking inspiration from seasonal ingredients or even pop culture. Did we mention the secret door?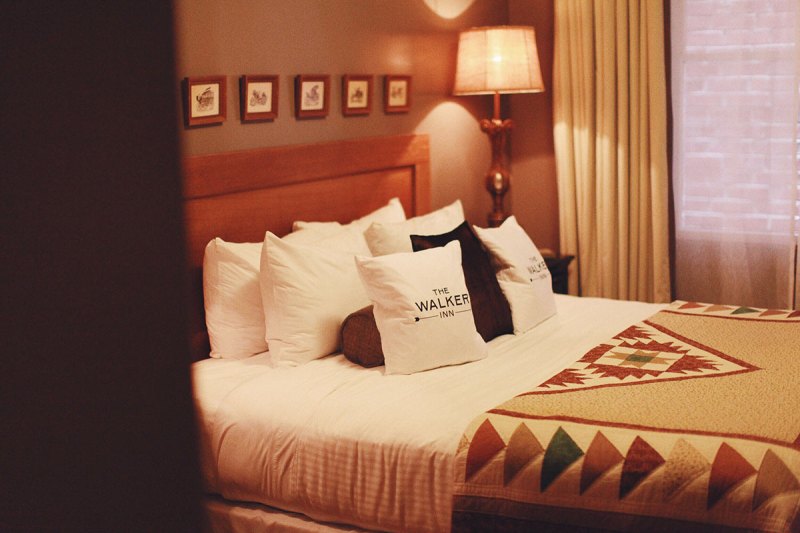 Conventionally situated in a hotel, Proprietors, LLC and 213 Hospitality, the group behind The Walker Inn bar, realized this location provided the perfect opportunity to give patrons a boozy, retro, unique place to sleep it off. Or, more aptly, keep drinking. These companies are full of people who love and respect good booze, so they've taken the concept of the mini-bar and elevated it.
Each of the ten rooms has a different theme, some are more 1970s-retro with a turntable and records for your auditory pleasure, while others have that 1950s grandfather's office look, complete with typewriter (feel free to commit your brilliant, drunken thoughts to paper). The rooms will seamlessly transport you back in time to different eras, but the magnificent in-room bar unites them all.
All the liquor is top-shelf, selected by the knowledgeable bartenders, but you also have any tool you'd need: glasses, shaker, bar spoon, strainers, complementary citrus, and the option of fresh juices and syrups are available for purchase. Actually, all of it, including their tools and glasses, are available for purchase. You are also provided with pre-made cocktails, Elyx Spritz and the Normandie's Bloody Mary. The Miller Hi-Life pony and ibuprofen are on the house.
These are rooms made by cocktail lovers for cocktail lovers. You're going to be hard pressed to find a cooler, more unique experience than a night at The Walker Inn.
Rates for The Walker Inn range from $195-$265 and you can make a reservation here.