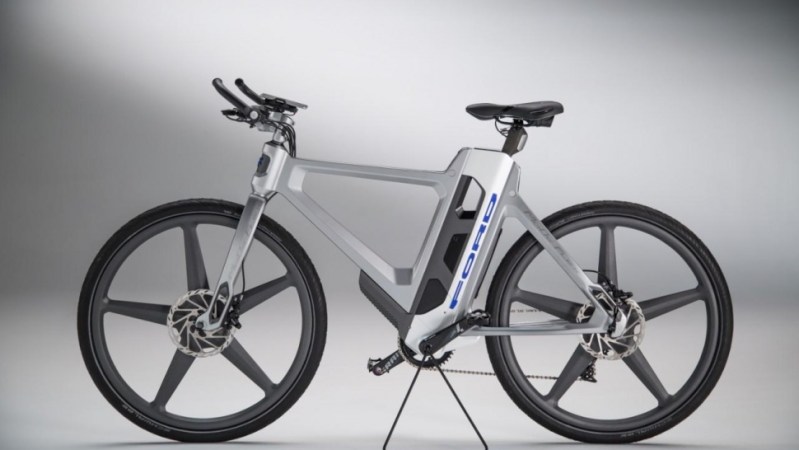 In just a few years — 2017, to be exact — estimates the Global Health Observatory, the majority of the earth's population will live in cities. The United Nations says that by 2050 approximately 60 percent of the world population will live in an urban area. That's why Ford, the Dearborn, Michigan-based automaker who pioneered large-scale auto manufacturing back in the early 1900s is moving into a new realm, which started with the inauguration of a Silicon Valley Research Innovation Center, which opened in Palo Alto, California, earlier this year.
A few days ago, at the Further With Ford 2015 conference in San Francisco and the Silicon Valley, Ford announced the introduction of new technologies that will make transportation easier in cities: a new eBike and a peer-to-peer car-sharing program. "We really want to be part of the community," said Ford CEO Mark Fields. "We're focused on three priorities: accelerating the pace of progress on our One Ford plan, delivering product excellence with a lot of passion, and also driving innovation into every part of our business."
With the surging urban population growth, Ford is focusing on the Ford Smart Mobility plan. "Henry Ford understood that mobility is all about freedom: the freedom to choose where to live, where to work and where to play," said Fields. After a research phase, the company is now in the implementation part of its plan, which is based around two products: a new Peer-2-Peer Car Sharing program, which could possibly be the AirBNB of the automobile world. Ford is also introducing its third eBike: the MoDe:Flex, which is reconfigurable based on each rider's needs. "The bike's center frame assembly includes the motor and battery, while the front and rear assemblies and wheels can be configured for road, mountain or city riding," says a release. "The bike folds and stores inside any Ford vehicle – where it can be charged while stowed."
So just think — need a car, or aren't using your own? If you're signed up with Ford's Peer-2-Peer Car Sharing program, you can benefit from people's automobiles. Or an eBike — we know that we could use a bike that comes with navigation capabilities. Looks like at the moment, the future may be with Ford.
Editors' Recommendations