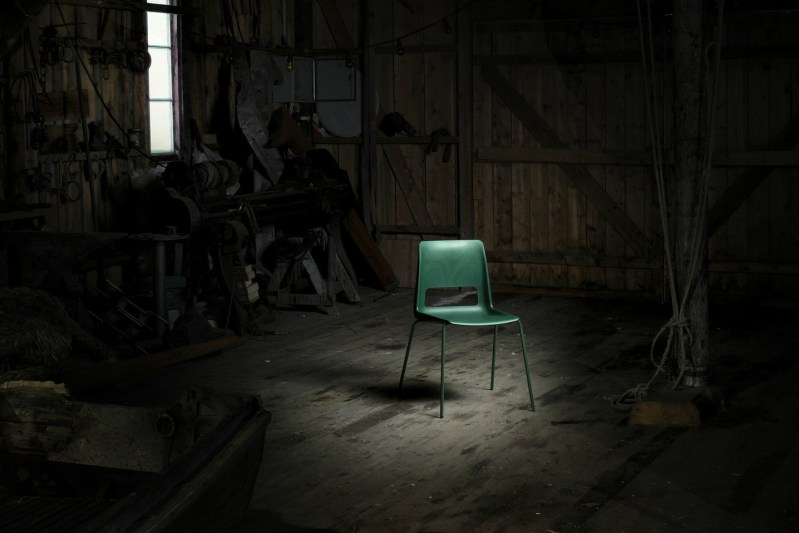 We all know plastic is bad for the environment. It's clogging our oceans, killing wildlife, and crowding landfills. But plastic is in every aspect of our lives, from the moment we wake up in the morning until we go to bed at night. So, while initiatives, like banning one-time-use plastic bags or removing plastic straws from restaurants, are a good effort, there also needs to be a solution for reusing the plastic already out there. Determined to reduce the need for "virgin" plastic, design powerhouse Snøhetta has been working for over two years to develop a stylish solution.
Focusing on the plastic waste that comes from the fish farming industry in northern Norway, Snøhetta found a way to reuse, and reshape, the material into a stylish new chair. Working with furniture manufacturer Nordic Comfort Products, they've developed the S-1500 chair.
Made from worn out fishing nets, ropes, and pipes, the molded seat is 100 percent recycled plastic. The chair has a beautifully mottled green tone and sits on a subframe created from recycled steel. The S-1500 is styled after the classic Mid-Century Modern R-48 chair designed by Norwegian designer Bendt Winge, keeping on trend with the recent modern revival movement.
One of the most exciting aspects of this new design is that every chair will look unique thanks to the varying types of plastic that are being gathered to compose each piece. While the shape will be the same, the marbled green we see in the sample piece could be blue, yellow, or even orange in a future rendition.
What makes the S-1500 stand out from other products made from recycled plastic it the type of plastic they are using.
If you've ever checked the bottom of a plastic bottle for that little number inside of a triangle, you know that certain types of plastic can be recycled while others have to be chucked into the garbage. Things like bubble wrap, sunglasses, and toys are made from plastics that are deemed "not recyclable." Yes, even those Garfield phones washing up in France will be headed for the dump and not the recycling plant.
It is exactly this type of plastic that Snøhetta has focused their efforts on, proving that there can be a second life for these items once they outlive their usefulness.
For more information on the company's cleaning up Earth's oceans, check out Sunski's recycled ocean-plastic sunglasses.
Editors' Recommendations