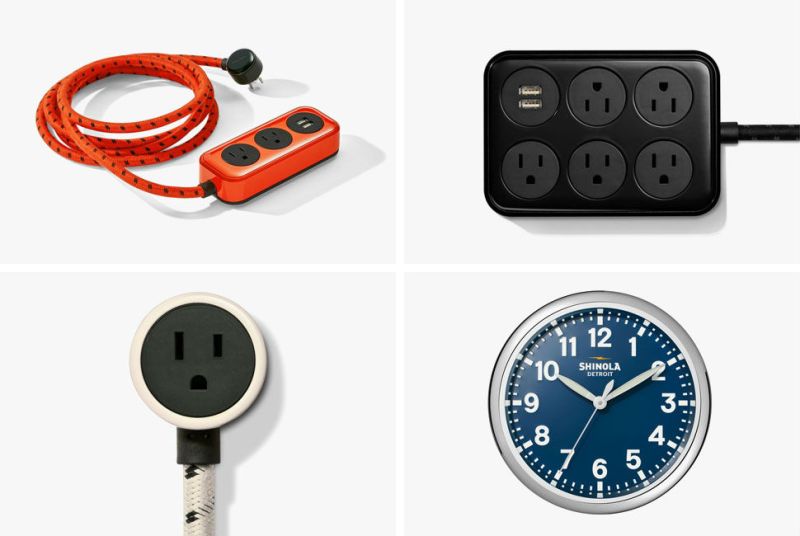 Nowadays we need power and USB ports more than ever, especially with the plethora of gadgets that need to be constantly charged. Although many hotels have caught on, installing USB outlets in their walls, for the most part, our homes haven't. We still need to have a plug-in with a USB-friendly outlet.
Detroit-based lifestyle brand Shinola came up with an unlikely pairing with General Electric to celebrate the American brand's 125 years of innovation. GE has a legacy of creating inventions that somehow make our lives a little bit brighter. Together, the young American heritage label and the old, created something that both people of all ages will appreciate. The Shinola X GE collection consists of a series of wall clocks and power accessories that we all can use. Plus, everything is made in the United States
The power accessories are die cast in zinc with a powder finish. The 2-port power cord echoes Shinola's famed bicycles, as well as the layered construction that makes up Shinola watches. The durable cord is also strong enough to withstand regular wear and tear. There's also a 5-port version and an extension cord, just to make sure you have all your bases covered. Plus they come in three colorways: black, orange and white.
Shinola X GE also created the Runwell wall clock, which is inspired by the very first watch the label made in Detroit. Raised numerals, luminous hands and the matte dial are enclosed in a polished chrome case beneath raised glass.
So next time you're in need of USB port, get the Shinola X GE power accessories. They look good, do everything you need, and are made in the good old United States of America. How is that for being two true American brands?
For more information, visit shinola.com.
Editors' Recommendations