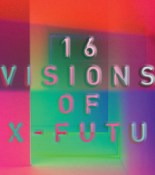 On October 14th, Crammed Discs will release 16 Visions of Ex-Futur, a collection of 16 reinterpretations of tracks from Ex-Futur Album, itself a collaboration between Aksak Maboul and Véronique Vincent, released in 2014 after a 30 year delay. The record, noteworthy on its own, gains a lot from understanding its context. So let's start from the beginning.
Seminal art-rock band Aksak Maboul came into existence in the spring of 1977 when Marc Hollander and Vincent Kenis, both Belgian musicians, began to record together. The collaboration would come to fruition later that year with the band's debut record, Onze danses por combattre la migraine (Eleven Dances for Fighting Migraines).  By 1977 the slickly produced sound of disco and prog rock was being to get push back in the Anglophone world. The punk rock movement was coming into full force. 1977 saw both The Clash and the Sex Pistols release their debut records Never Mind the Bollocks, Here's the Sex Pistols. Whether rebelling intentionally or not, Aksak Maboul took a different but equally uninterested approach. The band incorporated a wide variety of elements, including as they describe it "fake jazz, electronics, imaginary African & Balkan music, [and] minimalism."
Aksak would release one additional album (Un peu de l'âme des bandits) and begin work on a collaboration with Véronique Vincent and her band Honeymoon Killers before dissolving in the mid-80s. The band's partly-formed third album would not be uncovered for three decades. In 2014 Hollander found demos and rough mixes of the record and along with Véronique Vincent used them as the basis of what became Ex-Futur Album.
Ex-Futur Album was warmly received, and that reception inspired Hollander and Vincent to tour in support of it. More than just a warm reception, however, the Ex-Futur Album inspired a multitude of artists from all around Europe to reinterpret some of the album's songs. The result? 16 Visions of Ex-Futur. The album contains a variety of established and up-and-coming artists, including Lætitia Sadier of Stereolab, Burnt Friedman, and the-recently-featured-on-The-Manual Aquaserge.
16 Visions of Ex-Futur, by Véronique Vincent and Aksak Maboul comes out October 14, 2016 via Crammed Discs, and is available for preorder on Amazon, Crammed Discs' online shop, and iTunes.