When 1994's epic film Forrest Gump came out, we all thought we could be good at ping pong, especially those of us who couldn't quite fall in love with regular tennis. We quickly learned that none of us were particularly good at the game, but the fascination was locked in. If you want to bring back your dreams of being a table tennis champion, there's a new game to try. Say hello to Pepper Pong, the game taking a note from pickleball's success and bringing it to flat surfaces everywhere.
Pickleball leads the way
If you haven't caught on to pickleball yet, it has blown up in the U.S. in the last few years, and parks are having to find a way to squish courts in. To keep things economical, closed-down department stores and vacancies in malls are being turned into courts to keep up with the demand. At least that's a good use of those spots. Plus, with pickleball courts being moved inside, things should be a little safer for everyone.
We know when something catches on, others want to capitalize on it, and pickleball's fame is letting Pepper Pong get spicy.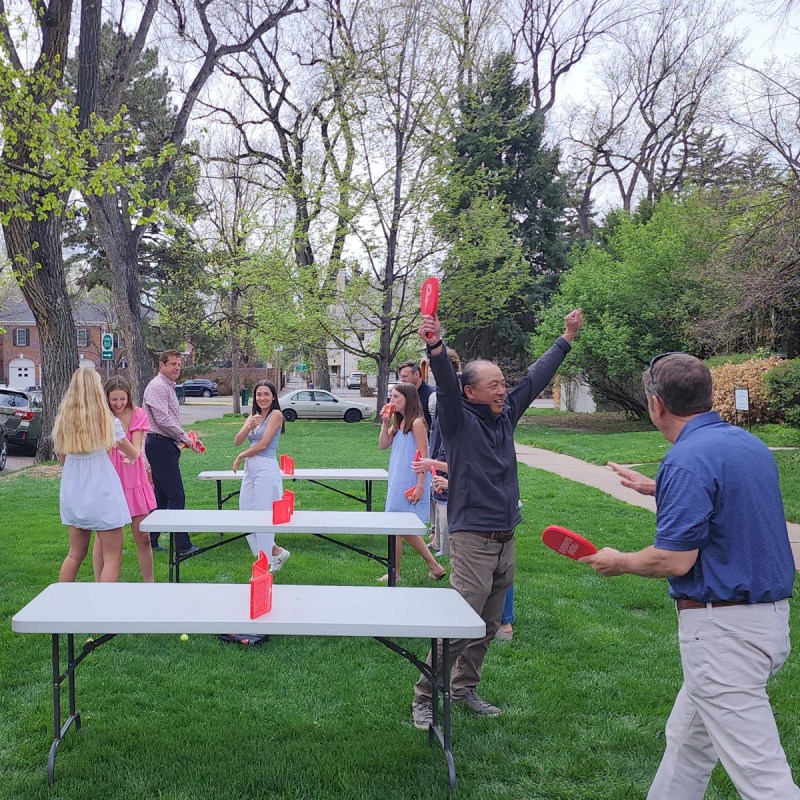 Pepper Pong was a pandemic baby, sort of
Pepper Pong is to table tennis what pickleball is to tennis. Creator Tom Filippini loved ping pong, but when he was a little bored during the pandemic, he took his new game out to the local park for something to do. He wanted the ease of being able to play anywhere that was open during the pandemic while respecting social distancing.
Where the pepper play comes in
Why the name? Well, the obsession with hot sauce is real (and rightly so), and Tom played with that concept. The three different colored balls represent the speed at which each ball will go, making it easy to adjust to the skill level of the players.
Pretty clever. It's also fun that the net is called the fence, the paddle is called a mullet, and the balls are called precious jewels. You could say Tom thought everything through.
It's pickleball, but on a small scale
Pepper Pong is a pickleball experience, but for any flat surface. The ease of setting up or tearing the game down in seconds is appealing, and it's an excellent alternative for families who want to play together but don't have access to a whole court. Simply throw the fence up, grab your mullet, pick your difficulty level, and play.
The fence works on anything that is a mostly flat surface — a truck bed, a picnic table, or your kitchen counter. And what parents (or those with noise sensitivity issues) will love is that the game is almost completely silent, thanks to the technology of the precious jewels.
Pepper Pong might unlock a core memory
If you feel like you've seen this one before, that's because it is similar to the old-school NERF ping pong table set from the 1980s (NERF also has a newer version of the game). Still, we're not mad about it — we have plenty of fond memories playing the NERF game as a kid, and we're not ones to bemoan refreshing a classic like Pepper Pong has done — especially when the new game looks just as fun.
If you want to go down the NERF table tennis memory lane, play an easier version of pickleball, or are just a person who loves trying the newest craze, Pepper Pong is the game that's having a moment.
Editors' Recommendations