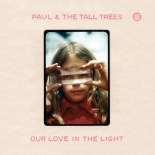 For two decades Staten Island's Paul Schalda has shuffled around the music industry. In the '90s he was part of the Staten Island hardcore group Three Steps Up, and in the early '00s he played in a rock group based in Brooklyn, Awek. By the mid '00s he was recording acoustic folk music under the name Pablo.
As the second decade of the 2000s rolled in, and after the release of the second Pablo album, Schalda decided to take a break from making music professionally. He went back to school, found a desk job, and started to move on. As he was settling in, opportunity came knocking—or rather, calling. Thomas Brenneck, Charles Bradley's producer and founder of the Menahan Street Band, wanted to know if Schalda would play backing guitar on Bradley's tour. He agreed to do it and, with that, Schalda was back in the industry.
Flash forward to 2016, and Schalda has a new project and a new album, Paul & The Tall Trees' Our Love in The Light. Released in late October of 2016, Our Love in The Light takes inspiration from rootsy Americana and vintage soul. Schalda's voice adds an unexpected element. It is harsh and scratchy one minute, and smooth and tender the next. Lead single "Once in a While" emphasizes the smooth side of his voice with a low key arrangement letting it take the lead with backing vocals from Schalda's father and brother adding to it all. Tracks like "Crack of Dawn" make effective use of Schalda's ability to harshen his vocals and sing with gravelly power.
Paul & The Tall Trees' Our Love in The Light is out now on Big Crown Records and is available on Amazon, iTunes, and Big Crown's online store.