In major cities around the world, space is becoming limited as populations boom. From houseboats to tiny houses, people are getting creative about finding places to build their home in urban areas. This is especially true in London, a city with a long history of overcrowding and limited housing options. While many are going tiny to be able to live in the city, others are turning unexpected structures into stunning, unique homes. As long as you don't mind living under a railway viaduct, Archway Studios, which is currently up for sale, could be the perfect live-work spot for anyone looking to settle down in England's capital.
Who would have thought an underpass would make the ideal spot for a front door? Or that a derelict railway viaduct could be a bright artist's studio? Surprises like these are what you get around every corner with Archway Studios, a seemingly unassuming structure in Southeast London that went from abandoned eyesore to a stunning abode.
The building sits on a narrow plot of land with the train line one side and an industrial site on the other, so the folks at Undercurrent Architecture had a challenge on their hands. The 19th-century viaduct provided an arched structure as the starting point. The team needed a way to incorporate a home and a work studio onto the site while finding a way to get natural light into the tunnel-like space and create soundproofing against the noise of the nearby industrial site.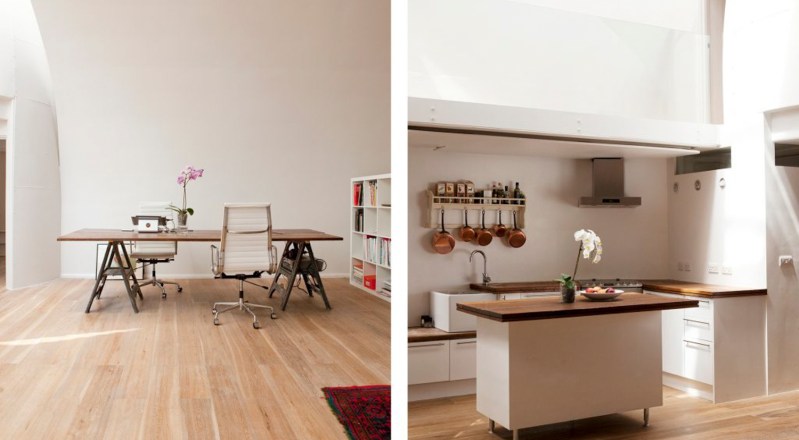 The key was to go up. A towering atrium structure was built next to the arched viaduct. This created several levels for the family's home space, including the kitchen, bedrooms, and bathrooms. Skylights and windows were added throughout the atrium structure, filling that space with natural light. Painting the interior bright white allowed light to bounce and flow into the arched area which houses the work studio. The exterior of the atrium is clad in steel, providing the soundproofing that was needed.
Seen from the exterior, the undulating form of the tall, copper-colored atrium next to the exposed brick of the arched viaduct creates a visual contrast that speaks to the merging of old and new. While it may look more art installation than home, the blending of historic sites with innovative new structures has been key to London's success in the new century. This makes Archway Studios a perfect fit in one of Europe's oldest cities.
Editors' Recommendations