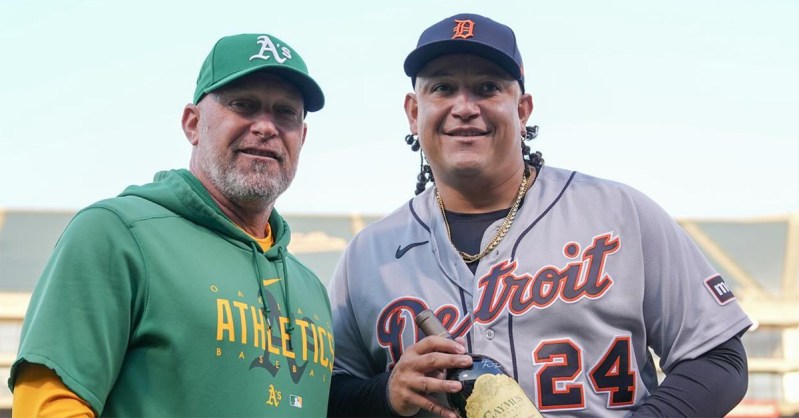 Few players in the history of Major League Baseball (MLB) have had more storied and impressive careers than Miguel Cabrera. Cabrera is in an elite club, and now that he's coming to the end of what will be the final season of his career, teams are offering him gifts on his last tour through their ballparks.
These gifts are typically nice tokens of how much Cabrera has meant to the league over his time playing the sport, but more than a few eyebrows were raised when it came time for the Oakland Athletics to present their gift to the Tigers legend. The A's decided to gift Cabrera with a bottle of wine, and when eagle-eyed fans looked the bottle up, they realized that it only cost $90.
The A's are a famously budget-conscious team, and while taxes may have brought the total up to $100, it's not like they were really willing to spend big money when it came time to honor one of baseball's greats. The frugality of the gift was one major problem, but as it turns out, it was far from the only issue with this particular gift.
Cabrera is a recovering alcoholic
It would be one thing if the gift was just cheap, but as it turns out, it was also incredibly tone-deaf. Cabrera has been open about his struggles with alcoholism in the past, and in 2010, he spent three months in outpatient treatment for alcoholism. So this gift wasn't just a cheap way to send off a great, it was also something that Cabrera has worked hard for more than a decade to stay away from.
Naturally, people discovered that the A's had given him a cheap gift and that the gift was a particularly bad fit for Cabrera, and they were merciless, and justifiably so.
"That's probably the yearly salary they'll offer Ohtani this off-season," one person wrote under an Instagram post about the story. The A's are famously unwilling to pay for major talent, and it has ensured that they are unable to compete with the best teams in the league.
"But it was signed by the whole A's teams so that's gotta bump the value of the bottle to $68.72," another person added.
"A's Front Office: We still got wine from the 2020 playoffs, right? Give him one of those. Not one of the nice ones though," a third person joked.
Clearly, baseball fans don't think much of the A's in general and weren't necessarily all that shocked that they decided to give Cabrera such a cheap and thoughtless gift. As some were quick to point out, though, it's not like Cabrera is hurting for money or looking for lavish gifts. He's earned more than enough to sustain him over the course of his career, and all the gifts he's getting as part of this farewell tour are really just icing on the cake.
Editors' Recommendations