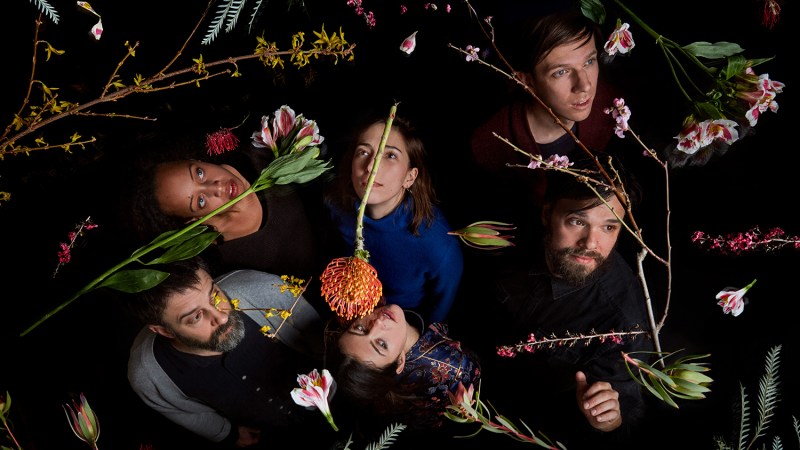 July has plenty of new album releases in store, but there are three particular records coming out this month that we can't wait to hear.
Dirty Projectors – Lamp Lit Prose
Dave Longstreth released the first album under the Dirty Projectors moniker in 2003. A decade and a half — and seven albums later — the band (currently at six members) ranks among indie rock's most highly regarded acts. The group announced the follow-up to 2017's self-titled album in early May with the release of the music video for "Break-Thru."
A press release describes the forthcoming Lamp Lit Prose as the "yang to the yin of 2017's Dirty Projectors." Darkness permeated the self-titled album, which heavily featured Autotune and other electronic effects. The press release also notes the new album is a "recommitment to the sonics & ideals of Dirty Projectors albums past," adding that guitar and vocal harmonies return on the new record.
In addition to being a sonic return to home of sorts, Lamp Lit Prose features a who's who of impressive guests. Syd of The Internet (also featured this month), Haim, Rostam (formerly of Vampire Weekend), and Robin Pecknold of Fleet Foxes all contribute to the record.
Lamp Lit Prose comes out Friday, July 13 via Domino Recording Co. and is available to pre-order through Amazon, iTunes, and Domino.
The Internet – Hive Mind
Los Angeles' The Internet debuted its first new song, titled "Roll (Burbank Funk)," in late April alongside its music video. The track is bass-forward and eminently danceable, staying light on the lyrics and letting the funky instrumentals shine through. Three weeks later, the group officially announced its new album, Hive Mind, and released another early track: "Come Over." Where "Roll" leans into the group's funkier side, "Come Over" emphasizes its R&B elements to create a smooth and sultry love song. The video, directed by the band's Syd, finds its members trying to entice their romantic interests to, as the title suggests, come over.
Formed in 2011, the quintet features Matt Martians of the Odd Future collective, Patrick Paige, Christopher Smith, and Tay Walker in addition to Syd (also a member of Odd Future). Since the group's inception, The Internet has released three full-lengths, with its most recent —2015's Ego Death — receiving a Grammy nomination for Best Urban Contemporary Album.
Hive Mind arrives on Friday, July 20 via Columbia and is available to pre-order through Amazon and iTunes.
Ty Segall & White Fence – Joy
When Ty Segall and White Fence (aka Tim Presley) paired up for 2012's Hair, the duo saw high praise from critics. Uncut called the album a "feisty, psych-tinged hook up" and Pitchfork called its songs "peculiarly absorbing," adding, "they only grow more so with repeated listening."
The pair announced the release of its follow-up, Joy, in mid-May. The announcement brought with it early track "Good Boy." Thus far the only released song from Joy, "Good Boy," draws on classic psychedelic sounds. The song builds over its two-minute duration but always retreats before fully tripping out.
Joy arrives on Friday, July 20 via Drag City and is available to pre-order through Amazon, iTunes, and Drag City.
Did you miss on June's releases? Check 'em out here.
Editors' Recommendations