One of the finest cigars I've had in years came not from Cuba, nor from the Dominican Republic, nor from the Democratic People's Republic of Korea (though… that's not really a surprise), but rather from The Bronx. Specifically, it came from the La Casa Grande Tobacco Company at the famed (though rather insipidly named) Arthur Avenue Retail Market.
Related: How To Prepare a Humidor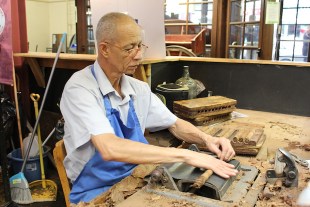 Before we talk about the cigars, lets talk about Arthur Avenue. You know those places you can visit that make you feel as though you turned a corner and found yourself in another country? This is not one of those places. Arthur Avenue, which is located in the Belmont section of the Bronx borough, is vigorously, albeit uniquely, American. It, like so many other enclaves of culture blended in years gone by and seasoned by the generations, does not feel like a neighborhood in an Italian city, it feels like an American "Little Italy," and anyone who knows a Little Italy or two knows that's a construct of its own. The same can be said of an American Chinatown or any of the other countless neighborhoods around the country where one distinct culture settled and then proceeded to swap influence.
So. Arthur Avenue. There's a lot of mozzarella there. And pizza, yes. And great coffee, gelato, fresh bread, Catholic churches, and more than a few excitable older men shouting back and forth across small tables laden with loaded ashtrays and crumbs of biscotti. And if you step into the Arthur Avenue Retail Market, it's a great spot to get a cigar, too.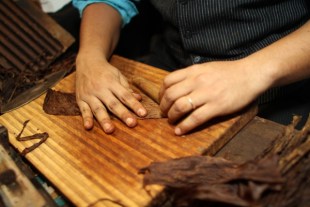 You can watch one of the master cigar rollers from Las Casa Grande roll a cigar right before your eyes at the booth they keep just inside the doors of the market. And then you can take about five steps across the hall into the company's walk-in humidor and buy one of their fine cigars (or five or a box or whatnot). And if you light that cigar up later that same afternoon, you'll learn that freshness counts. Big time. In fact, the Colorado Corona (see below, dear reader — oh, we do a quick guide) I selected was one of the smoothest, richest cigars I can recall enjoying; it had notes of caramel and coffee and a vague nutty/woody flavor, and the cigar remained mild many inches into the burn.
Related: How to Properly Smoke a Cigar
Now, was part of the enjoyment a result of the power of suggestion established by my watching the cigar roller at work? Maybe. But who cares? All I know is that some damn fine La Casa Grande cigars are being made right here in The Bronx, New York, NY, United States of America, baby.
And in case you were wondering, here's the simplest break down of cigar color/strength and size:
Claro = lighter brown or tan wrapper (and usually indicates milder profile)
Colorado = medium brown or reddish wrapper (and stronger flavor)
Maduro = deep brown wrapper (and by now you're getting it)
Oscuro = black wrapper (yep, big and bold flavor)
When it comes to size, the basics are:
Panatela = narrower diamater cigar
Corona = medium gauge (most common)
Robusto, Presidente, Churchill, and a bunch of other wacky names connote a thick cigar.
Note that those names relate to thickness, not length. Length can be described as petite, grand, or with some other terms from the lexicon, or simply as short, medium, or long.