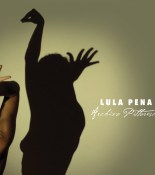 It's appropriate that Archivo Pittoresco, Lula Pena's third album, features her rendition of The Twilight Zone's theme, "Come Wander With Me."
Only her third album since 1998, Archivo Pittoresco wanders through a variety of languages and writers. The reclusive Portuguese musician/poet sings (in English, French, Greek, Italian, Portuguese, and Spanish) lyrics and poetry by authors ranging from Manos Hadjidakis and Violeta Parra to Belgian surrealist Scutenaire in addition to her own works.
The songs on Archivo Pittoresco flow into one another, creating a trance-inducing stream with just Pena's voice and her acoustic guitar. The album, in her own words, was intended "to reach a sort of collective unconscious open source…There is a hidden truth that I want to find. The simplicity of voice and strings and a resonant body will help me find out."
Lula Pena's Archivo Pittoresco is out now through Crammed Discs and is available on Amazon, the Crammed Shop, and iTunes.