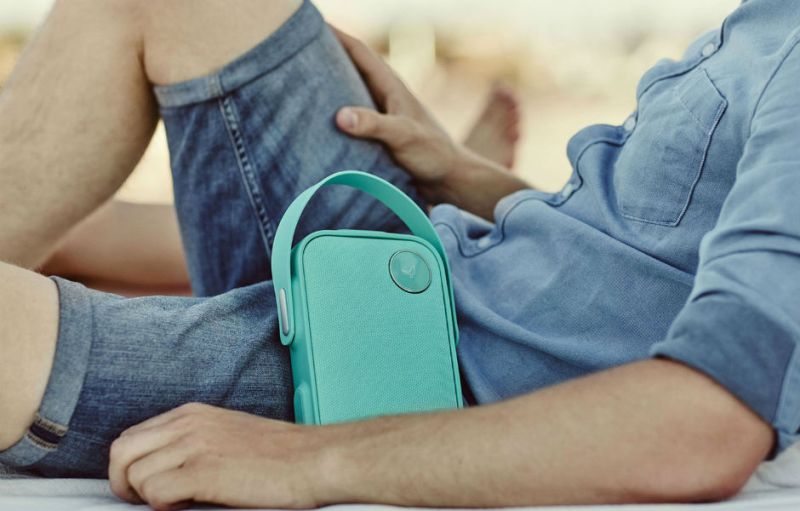 Libratone might have been founded by engineers from companies like Bowers & Wilkins and Bang & Olufsen, but the company's wild designs have definitely helped it carve out a unique space for itself in the audio world. Judging by the looks of its latest duo of speakers, those aesthetic sensibilities aren't going away anytime soon.
On Wednesday, Libratone introduced two new Bluetooth speakers dubbed the One Click and Too. Regardless of the sequel-inspired name for the latter, both models feature 360-degree sound, and were created with portability as one of the main design goals.
Related: Booze and vinyl make a beautiful baby in the EGB2 record console
"Lugging around a thick, boxy or ball-shaped speaker is hardly liberating, especially when it has inferior sound quality," Libratone CEO Jan McNair said in a statement. "We set out to design a portable speaker that's versatile and adaptable, but also looks elegant, sounds spectacular, and is ergonomically minded. This was a big challenge for our acoustic team, which devised highly innovative ways to maximize not only the rich sound quality indoors but also for the outdoors, where deep bass notes and clear high tones could have been muffled or lost."
As described by Libratone, the One Click is roughly the size of a paperback book, measuring 4.7 x 1.6 x 8.1 inches and weighing in at two pounds. The speaker includes an adjustable handle as well as a U-shaped lock, the latter of which can be used for an even more secure way to take the speaker along. In addition, an optional shoulder strap is coming in August. The One Click is available in Graphite Grey, Caribbean Green, Cloudy Grey, and Cerise Red and is built to last, with a rubber bumper and water-resistant mesh covering.
The Too, which Libratone compares to "an overstuffed hot dog," is meant to fit in a bag or back pocket, measuring 8.3 x 2.6 x 2.3 inches and weighing 1.3 pounds. The less expensive of the two new models, the Too seems to be aimed at those who want a speaker they can easily grab on their way out the door, and is available in the same colors as the One Click.
Despite their small sizes, Libratone claims the two new speakers provide relatively full bass, and based on what we've seen from the company's other speakers, this seems believable. Both speakers offer the same battery life, with a fairly impressive claimed maximum playback time of over 12 hours. Bluetooth is version 4.1, and Bluetooth+1 is supported, allowing two speakers to be paired for stereo sound. Speakers can be linked using the Libratone app, available for both iOS and Android.
The One Click is available now for $200, while the Too will be available beginning July 1 for a retail price of $150. Both speakers come with a 30-day "no questions asked" return policy that allows buyers to make sure they're happy with how the speaker sounds, including a return shipping label in the box if purchased from the Libratone website.