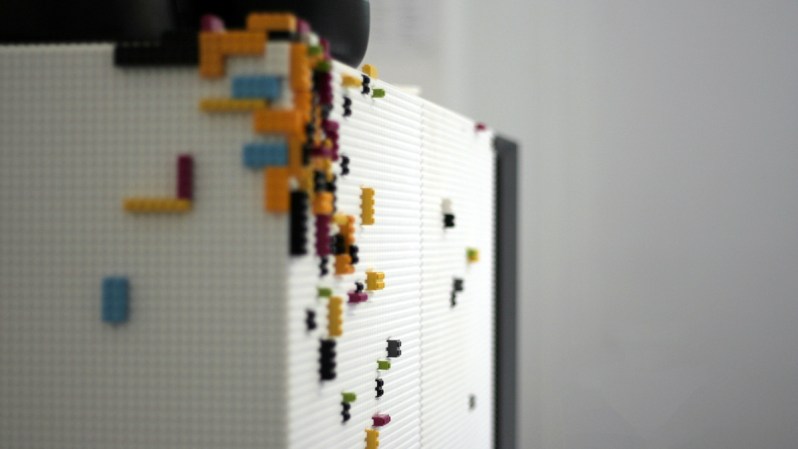 Let's be honest: being an adult is lame. There's work and bills and other responsibilities that prevent us from cutting loose and having fun. Remember the good old days of building with LEGOs? Well, now you can recapture the fun with Stüda, a LEGO-compatible line of storage cabinets.
A collaboration between Italian design house Studio NINE and Corian (makers of solid surface countertops), Stüda isn't just fun, it's seriously stylish. The ultra modern, sleek lines of the cabinets blend in seamlessly with contemporary decor. Your guests won't know this piece is built for fun.
All sides of the cabinet's exterior are clad in a special Corian surface covered with LEGO-studs, allowing you to build up or out depending on how creative you feel that day. While white is the only color option available for the exterior, the interior is completely customizable in your choice of color, giving you the chance to coordinate the cabinet to your decor.
Stüda is available in three sizes that can be combined together to create everything from a small entry table to a large sideboard for the dining room. Get it with the hinged door to allow your unused LEGOs to be stored away (keeping your feet safe from rogue bricks), or order it without the door to let the interior color show.
Of course, as grown-ups, we all still want to keep our homes looking "adultish" and a LEGO tower doesn't really scream, "I have my life together." But that is where your creativity comes into play. Build a decorative LEGO bowl or vase to sit atop the cabinet or use it to display your higher-end LEGO architectural models.
This idea of incorporating childhood nostalgia into our adult lives is nothing new. From fun desktop toys to keep you distracted during breaktime to an entire LEGO hotel, it seems our generation is eagerly holding onto the past. And if you have actual children, well, kudos to you for being a great dad by buying what is essentially a giant toy to them.
Love the idea of having a LEGO-building zone in your home but don't want to invest in an entire piece of furniture? LEGO tape is a thing, and it's awesome. Compatible with LEGO bricks, these rolls of tape let you create a building platform on any surface. The best part: It's reusable, so you can easily put away your toys when company is coming.
Editors' Recommendations