After months of hearing about the raging bushfires in Australia, your natural response is likely "How can I help?" The answer to that question is nearly as difficult to find as a solution for the climate change that caused the fires in the first place. A quick Google search will yield hundreds of organizations promising to provide aid for people displaced by the fires. Meanwhile, individual do-gooders around the world are stepping up to help in their unique ways, from the 6-year-old boy in Massachusetts sending handmade clay koalas as thank-you gifts to those who donated to wildlife relief funds, to the 20-year-old Instagram model who rewarded her followers with nude selfies after they contributed to the Australian Red Cross.
While it's very cool that people around the world are doing their part to help repair the damage caused by this natural disaster, it can be tricky to discern which aid efforts will do the most good. As crass as it might sound, if you're going to donate, you want the most bang for your buck. And it's no secret that some efforts at aid have more integrity than others. Some use the disaster as an opportunity to scam off others' goodwill, while other organizations redistribute donations to cover "administrative costs" and put just a small percentage into the hands of disaster victims.
That's where we come in. We combed the internet for the most qualified and effective organizations providing relief for victims of the Australian bush fires. Then we went the extra step of comparing our findings with current and former residents of Australia. Here are our top ways to contribute to the relief and repair of Australia's bush fires.
How to Help People Displaced by the Fires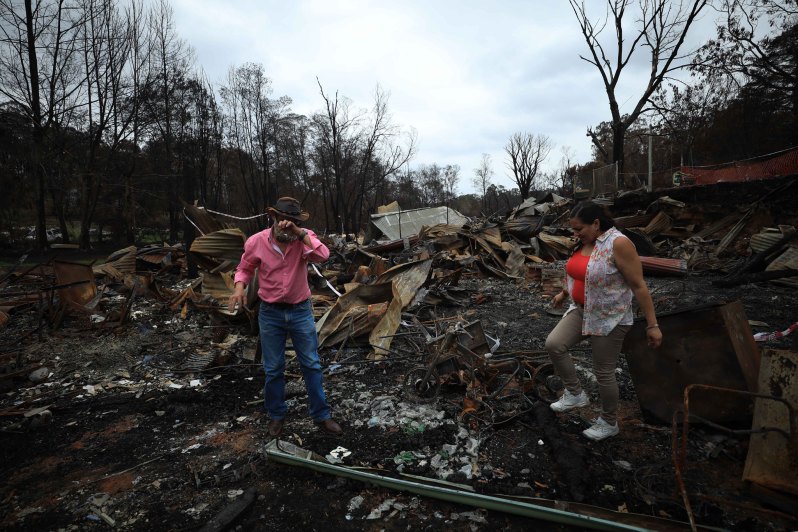 With over 12 million acres lost to Australia's wildfires, thousands of Australians have been evacuated from their homes to temporary shelters around the continent. From homes damaged or demolished by the blaze, to personal property left behind in last-minute evacuations, to loss of livelihood that prevents victims from obtaining medical care or even basics needs like food and shelter, the need among Australia's population is staggering. Here's how you can help.
Salvation Army
The Salvation Army's disaster relief fund operates all around the world, with a resource network spanning the globe. In Australia, they are currently offering aid to people who have suffered injury, lost loved ones, or have seen their homes go up in smoke as a result of the bushfires. The Salvation Army not only provides financial assistance to the fire victims, but also connects them with fellow organizations that can assist with their physical recovery, supply material resources like food and clothing, and provide crucial emotional and mental support services. In addition, the Salvation Army Emergency Services team works on the front lines to support firefighters, emergency relief workers and other volunteers to make sure that those doing the life-saving work don't become victims themselves.
St. Vincent de Paul
St. Vincent de Paul is another worldwide relief organization that has been instrumental in helping bush fire victims get back on their feet. "Vinnie's," as it's colloquially known, offers support in the form of basic necessities like groceries, clothing, and hygiene items for families who had to leave everything behind during an evacuation. They also offer financial assistance for those facing the tremendous cost of trying to recover their homes, their health, and their way of life.
How to Help the Animals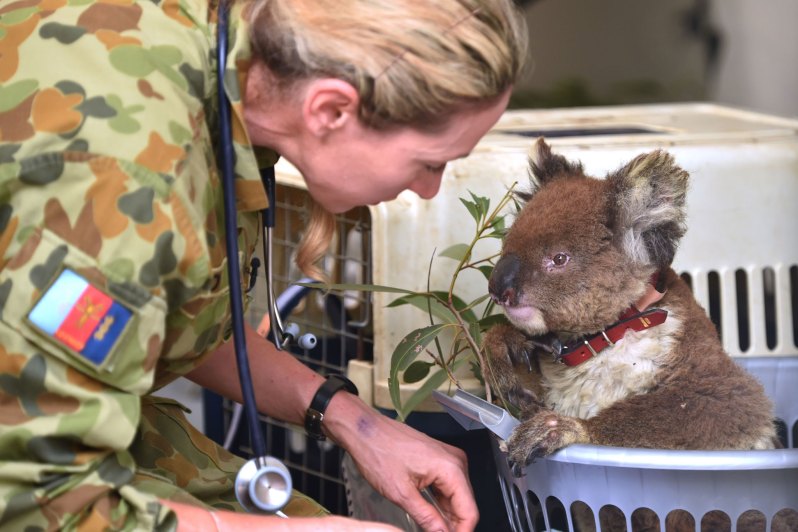 Worried about Australia's cute, cuddly mascot, the koala? You should be. The koalas' natural habitat has been devastated by the bushfires around Port Macquarie. (The kangaroos, kookaburras, and other wildlife aren't doing much better.) It's estimated that over 1 billion animals in Australia have suffered or died since the fires first broke out in September 2019. Here are the top organizations helping to rescue and rehabilitate Australia's native fauna in the wake of the bushfires.
WIRES Australian Wildlife Rescue Association
As the largest wildlife rescue and rehabilitation organization in Australia, WIRES was the first call for many Australians concerned about the impact of the bushfires on their native species. The organization acts as a sort of central brokerage, channeling aid to hundreds of smaller, locally based wildlife organizations as well as universities, veterinary associations, and other leading scientific and environmental groups. WIRES just established a national $1 million emergency fund to provide immediate financial assistance for the rescue and care of animals affected by the bushfires.
Port Macquarie Koala Hospital
Can we all just take a moment to mourn the amazing college summer internship opportunity we could have had, if we'd known there was such as a thing as a koala hospital? … Okay, back to business. You can make a one-time donation that will help feed the koalas, treat their burn wounds, and set up watering stations in their burned-out former habitat, or you can "e-dopt" a koala of your very own. (Yes, they even have names, and we call dibs on the one named Oxley Twinkles.)
World Wildlife Fund
Along with partnering with local Australian organizations to provide immediate on-the-ground relief for animals affected by the bushfires, the WWF channels its considerable resources into restoring habitats in the aftermath of the fires. They are also heavily invested in "future-proofing" Australia against similar disasters down the road by advocating solutions for climate change, as well as educating local leaders on climate preparedness, species adaptation, and long-term conservation efforts that will secure Australia's natural resources.
How to Help the Firefighters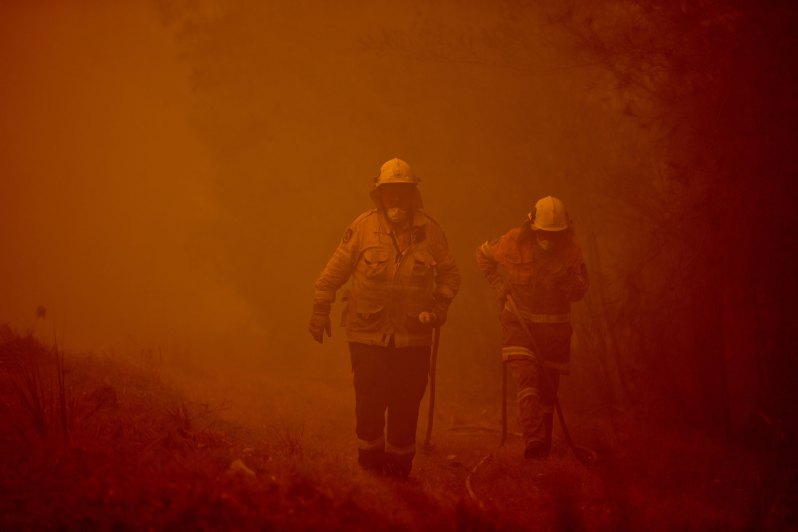 During a time of disaster like this, those doing the hard work of disaster relief work are often overlooked. But fighting a wildfire is no joke, and the firefighters taking on this emergency are as much in need of support as those they are trying to rescue. All firefighting forces in Australia are volunteer organizations, which means their operations depend on the generosity of others. By making a donation directly to Australian firefighting services, you can ensure that your full contribution will support the brave men and women risking their lives to save their land and community.
| | |
| --- | --- |
| New South Wales Rural Fire Service | Donate |
| County Fire Authority | Donate |
| Rural Fire Brigade Association Queensland | Donate |
Editors' Recommendations