Let's just get it out there: Most of us are monsters who are sleeping in our own filth. That's right — almost none of us are taking proper care of our sheets. Sure, pounding cereal in your PJs sounds like a much more enjoyable Saturday-morning task than a weekly washing routine, but you have to do something for your health once in a while.
Clean sheets don't just look better, they're also much healthier to sleep on (not to mention the fact that ain't nobody gonna want to cuddle with you in those crusty, wrinkled sheets that have been on the bed since you moved in). To take your sheet-iquette from hot mess to on-point, we're going to need a little advice from the pros. That's why we enlisted the help of Vicki Fulop, CCO and co-founder of Brooklinen, to give us the dirt on keeping your sheets clean, soft, and sparkling.
How to Wash Sheets
It seems fairly obvious that you should wash your sheets, right? I mean, who wants to sleep in a tepid mess of sweat, dead skin cells, and dust every night? Not only do all of those things build up, breed bacteria, and create unpleasant odors on unwashed sheets, but they're quite frankly just nasty as hell. And yet, most of us probably aren't washing our sheets nearly as often as we should. "We recommend a week, or two at most to keep your sheets properly clean," says Fulop. "That way you can prevent bacteria-induced breakouts and odors from building up, and keep your bed properly clean and fresh."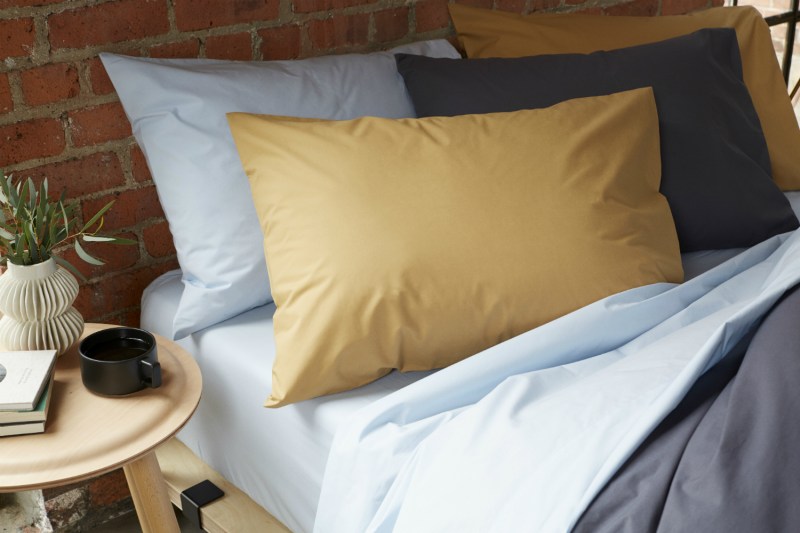 You may be experiencing some minor annoyance if you've already worked out a solid once-a-year bed-cleaning routine, but the good news is that your sheets might be the easiest things you'll have to tackle come laundry day. "Our sheets are low-maintenance," Fulop explains. "Just throw them in the washing machine on a cool or warm cycle, and choose a low heat and a low tumble cycle for drying." If you've got a little extra space, Fulop suggests going the extra step and line-drying them naturally "to minimize wrinkling and better preserve colors, fibers, and elasticity." Whatever detergent you're used to should do the trick, but a gentle, eco-friendly formula like the one used by Laundress Signature Detergent can be a nice extra touch.
If your once-sparkling white sheets have started to fade, you may be tempted to bleach them back to their original sheen, but you should think twice about that. "Oddly enough, bleaching can actually cause yellowing over time, so we recommend you avoid it," Fulop advises. "If you're feeling like your bright whites are starting to yellow, soak them for an hour in the tub [in hot water] with OxiClean instead, and follow that up with a regular cycle in the wash. If the soaking is too much, try a wash cycle with OxiClean, followed by another with your regular detergent. You may need to do a couple of OxiClean soaks or wash cycles if your sheets have really yellowed, but this trick should get them back to good as new!"
How to Store Sheets
Once your sheets are spick and span, you'll hardly want to wad them up in a big ball and chuck them haphazardly into your linen closet. Even if you've already got a good storage solution going, it could be hurting your sheets more than protecting them. According to Fulop, "the most important thing is to store your sheets in a way that allows them to breathe. This helps preserve their fibers and color, and adds to their longevity." So, how can you make sure your spiffy new sheets stay fresh for the long haul?
"Our favorite way is to place the folded sheet set inside of one of the pillow cases that goes with the set," says Fulop. "This way you are guaranteed to keep them neat and tidy wherever you keep them, and you keep your sets from getting mixed up." You should steer clear of storing your sheets in airtight plastic boxes, which causes yellowing over time. Instead, "store your linens in a breathable, cotton bag. This way, the linen is protected from bugs, spills, and dust, but is [also] protected from yellowing."
So you've got your cleaning tips, and you know how to keep your sheets nice and fresh in storage, but we couldn't very well leave you hanging on one of the toughest bedding-related questions, could we? We all remember the first time (and maybe all the following times) we tried to fold a fitted sheet with no guidance and realized that there was darkness in the world.
Thankfully, Fulop is one of those fabled few who can actually manage to wrangle those elastic-y bastards into something presentable, and she has graced us with her knowledge. Check out Fulop's step-by-step instructions below (you can also watch a handy video by Real Simple above):
Place your right and left hands on each corner of the length-wise side of the sheet.
Bring one corner across and tuck it into the corner seam closest to you. You're sticking the corner of one sheet into the other to form a sort of pocket.
Repeat this "tucking" process on the other (shorter) side.
Now you have two corner "pockets." Bring one corner pocket over to the other, so that the "points" meet, and tuck them again so that you are left with one corner pocket.
Next, fold the long side with the pocket and gathered edges over towards the middle to make a straight edge.
Now you should have all straight edges, and can fold your fitted sheet into a rectangle, then a square.
Upgrade Your Sheets
Now that you know you shouldn't be sleeping on those same sheets all year, you might be in the market for a new set. Here are a few of our favorites from Brooklinen that will set you up with everything you need for cleaner, healthier sleep:
Brooklinen's Core Sheet Sets include, well, the core of what you need in a good sheet set: a flat sheet, fitted sheet, and 2 pillowcases in the color of your choice. We love the brand's new menswear inspired patterns like the Graphite Grid and Oxford stirpe, along with the Luxe Core Sheet Set, which boasts a 480 thread count and a heavenly soft sateen weave.
If you're looking for something a little more serious, consider upgrading to a Hardcore Sheet Bundle, which includes a duvet cover and 2 extra pillowcases in addition to everything that's included in the Core Sheet Sets. Hardcore Sheet Bundles are available in Classic (with a 270 thread count and a 100% long-staple cotton percale weave), Linen (which are cool, lightweight, and perfect for warm summer nights), Twill (with a special finish that reduces shrinkage and gives them an incredibly soft feel), and Luxe (with a 480 thread count sateen weave and 100% long-staple cotton). Duvet covers are equipped with handy internal corner ties and button closures, and you can mix and match colors and patterns in your bundle to create your own custom bedroom oasis.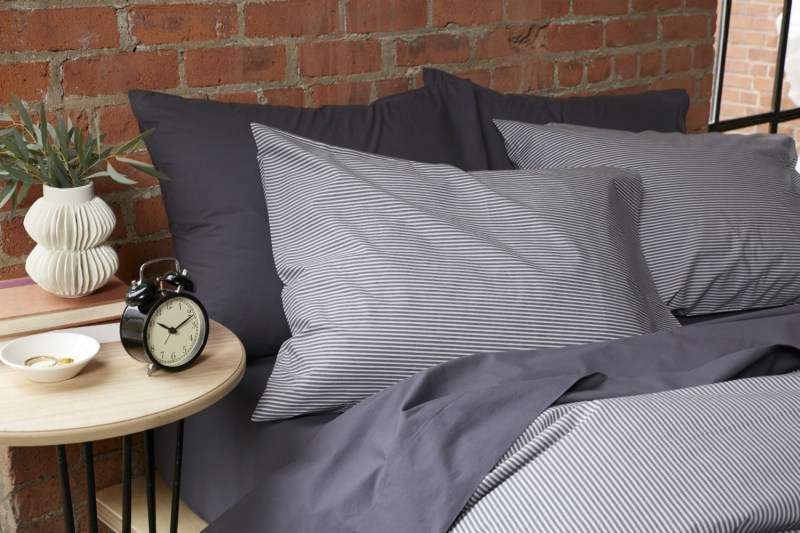 For a total bedding overhaul, spring for the Move-In Bundle, which comes with a flat sheet, fitted sheet, duvet cover, 4 pillowcases, 2 plush pillows, a comforter, and The Laundress Signature Detergent – all in a crisp, classic white that won't clash with your décor. Choose from Classic or Luxe weave for the sheets, and select from 4 different comforter weights to cater to your comfort. Take good care of this set using the tips above, and you'll be snoozing in style for a long, long time.
Editors' Recommendations