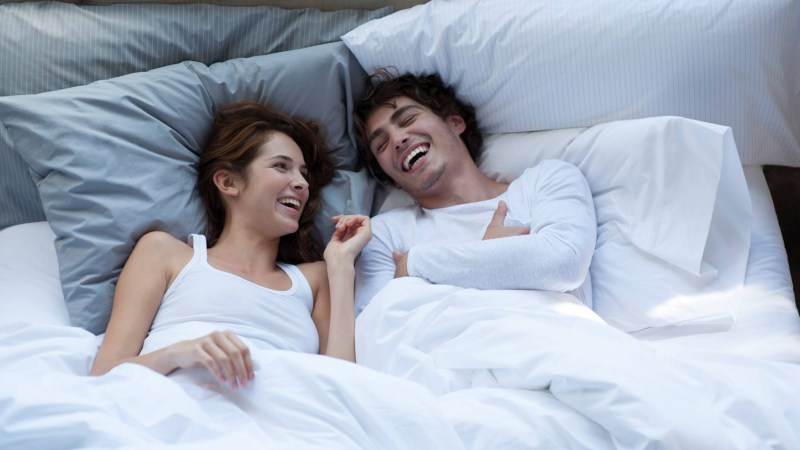 When it comes to a cozy night's sleep, you probably think cotton is king. But what if a little linen could also help slip you into a deep slumber? The New York-based manufacturer Brooklinen is bringing linen bedding back to your linen closet with its latest collection.
Rich and Vicki Fulop, the co-founders of Brooklinen, have already wowed us with their approach to low-thread count, luxurious cotton sheets. Their budget-friendly bedding might surprise you, but there's a method to their madness. By using long-staple cotton fibers and delicate threads, the Fulops achieve smooth decadence at a thread count of 300.
With the core of Brooklinen resting in creating better sheets with lower thread counts, linen bedding was the obvious next step. Linen sheets typically yield a low thread count, between 80 and 150, due to the thickness of the flax fibers. While you might assume this would make for uncomfortable bedding, the smaller number of threads used makes linen one of the most breathable options on the market.
For centuries, throughout Europe and the United States, linen was deemed the superlative fabric, but the Industrial Revolution paved the way for inexpensive cotton sheets. While cotton sheets can last a few years when well cared for, linen sheets can last for at least 10 years. Both varieties become softer the more they are washed, but linen's yarns start from a more durable and resilient place. Many families consider linen bedding as a family heirloom and have passed down sheet sets for decades.
Lightweight and naturally moisture-wicking, linen is ideal for summer snoozing, hot climates, and nightmares about being naked at your high school reunion. But, don't worry, once winter rolls around, the fabric is just as good at keeping you warm. This dichotomy makes linen bedding an excellent choice for couples with drastically different nighttime body temperatures.
Brooklinen is taking the best aspects of linen and highlighting them perfectly, just in time for summer's heat waves. Using premium flax fibers from Belgium and meticulously crafting each piece in Portugal, Brooklinen is prepared to change the way you sleep, whether your style is more monochrome or you're ready to stripe up your life.
No matter what you're looking for, when it comes to linen bedding, you don't have to sweat it.