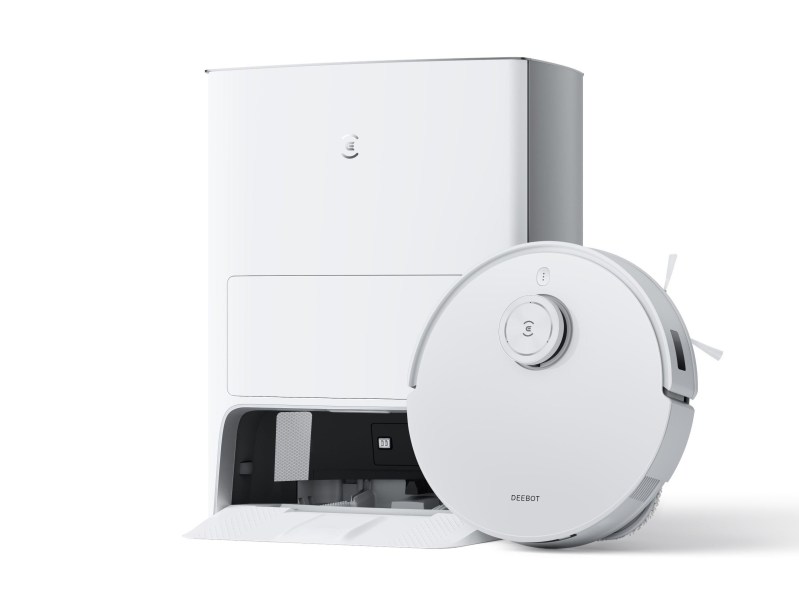 This content was produced in partnership with ECOVACS.
Picture this, you've just sat down after a hard day's work, barely have a moment of respite, and your phone rings. It's your mother-in-law and she's going to pay an impromptu visit. Before even hanging up you're wracked by a state of panic. The house is a mess. There's clutter everywhere. It will take forever to organize, vacuum, mop, clean, and get everything else done before she arrives. It's not a fun situation but let's rewind here. If you had ECOVACS' newest state-of-the-art smart vacuum and all-in-one cleaning system, the DEEBOT T10 OMNI, the situation would be barely an inconvenience.
The DEEBOT T10 OMNI has an all-in-one station that handles just about everything you'd need it to, like auto-emptying the dustbin, auto-cleaning the mop attachments, and auto-hot-air-drying the mop. It's the most advanced docking station on the market, but AI is baked into this system at nearly every touchpoint. Intuitive AI voice controls allow you to issue voice commands without moving a muscle. It could be as easy as calling out, "Okay YIKO, start cleaning here!" It knows exactly where "here" is thanks to a built-in voice locator. AI is also leveraged to prevent the spread of granular particles while it's vacuuming, so it won't make a bigger mess. Coupled with sophisticated mapping and object detection, plus a large battery, this thing will just keep going as long as it needs to. If all of that sounds like something you might need, keep reading.
The Best Features First
Equipped with one of the most sophisticated docking stations we've seen to date, the DEEBOT T10 OMNI will clean even the messiest of floors, removing dust, dirt, debris, grime, and more. You can kick up your feet or focus on another chore. It will vacuum, return to the dock to auto-empty the dustbin, mop, then return to the dock to clean and dry the mop. Inside the station is a 3L disposable bag that holds dirt and debris for up to 60 days. It's the ultimate hands-free solution.
Perhaps one of the more unique, but useful features, is that the vacuum has a built-in Starlight front-facing camera. It essentially operates like a roaming, controllable security camera complete with real-time HD video and two-way audio. You can follow the vacuum along its journey, from the app, even outside your home — like when you're at work — or you can check on the house. Need to tell Fido to get off the couch, or tell your kids to get out of your office while the Nanny is busy? The two-way audio is exactly what that's for.
Capable of up to 5,000 pascals of suction power, working alongside a main floating brush, and dual-sided brushes, the DEEBOT T10 OMNI will deep clean your floors whether it's vacuuming or mopping. It can handle all floor types, as well. The 5,200 mAh battery provides 150-minutes of vacuum and mop cleaning time but remember, even if it can't finish the job in one go, it will always return to its dock to recharge, and then start cleaning again when its ready without so much as a button press or voice command from you.
AI Intelligence Unlocked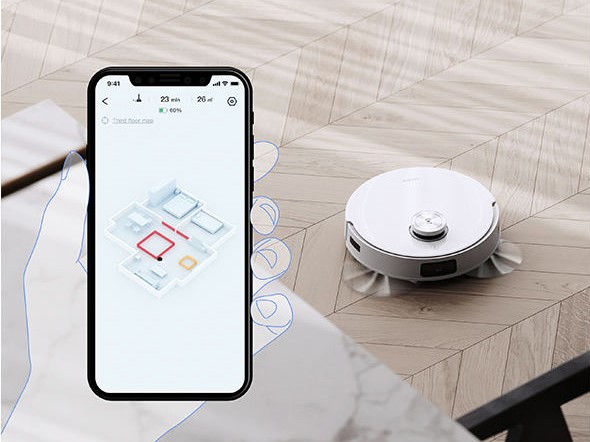 ECOVACS AIVI 3.0 technology is an upgraded AI-based object recognition and avoidance system that helps the vacuum safely navigate the environment. It can avoid clutter and smaller obstacles like when Timmy leaves his LEGOs all over the floor. You don't have to worry about those small items getting scooped up and tossed. T10 OMNI's integrated AI processor is 16 times more powerful than older iterations. To put that in layman's terms so it's not just a number statistic, it means the object detection and navigation system is incredibly fast and accurate at identifying items and avoiding them. Plus, AI powers the granular particle cleaning, which prevents messy spreads, and the intuitive voice controls are connected to YIKO, ECOVACS' voice assistant.
The DEEBOT T10 OMNI's TrueMapping 2.0 technology is what ensures the entire system runs unhindered. Utilizing a dToF sensor, like the ones found in self-driving vehicles, the system scans the surrounding environment and creates a realistic map. It also pre-plans cleaning routes, discovering the most effective paths within minutes. Of course, you can always customize settings, change cleaning routines, label rooms on the map, and more all through the app. At any time, you can view the map the device has created within the app, and swap between 3D and 2D perspectives.
You Can Order the ECOVACS DEEBOT T10 OMNI on Amazon Today
Launching today, the DEEBOT T10 OMNI will be available at Amazon. At full price, you'd be paying $1,250, however, ECOVACS is treating early shoppers. Until March 30th, when the deal expires, you can order the DEEBOT T10 OMNI for $900, and it includes an extra accessory for the first 300 customers — those select few get one buddy kit, one mopping pad, and one dustbag estimated to be a $150 value. Hurry, if you're interested. The price goes right back up to normal after March 30th. ECOVACS Canadian customers can grab the DEEBOT T10 OMNI at Amazon Canada for $1249 until March 30 plus it comes with an accessory pack valued at $60.