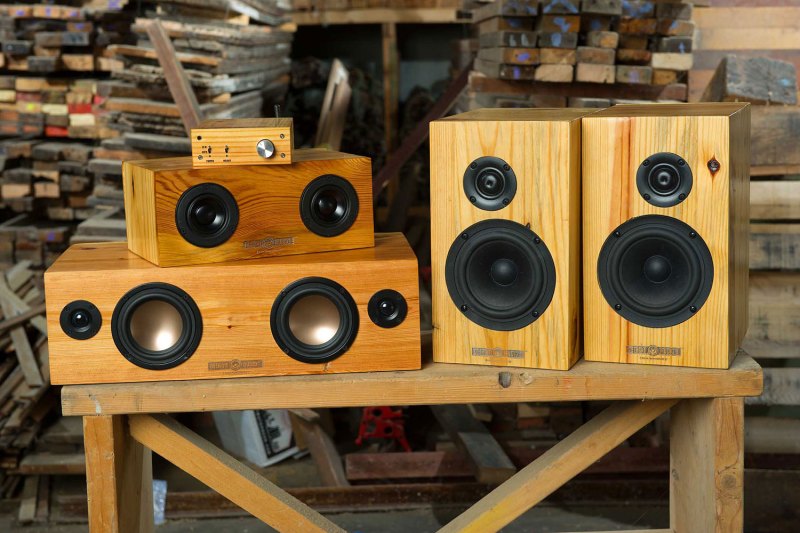 As a city, Detroit has seen some hard times, but it is also currently undergoing a sort of renaissance with startups and creatives looking not only to use the city as their home base but to give back as well. That is exactly what Detroit Audio Lab is doing with its Made From Detroit audio products.
"Made From Detroit reflects the very heart and soul of who we are," Detroit Audio Lab founder Mike Bauer said in a statement. "Our products showcase and preserve Detroit's history. Rather than dooming our structures to landfill, we breathe new life into them. We also comply with global best practices and regulations on waste and sustainability throughout their construction, meaning that our products not only preserve the past, they also protect the future."
Far more than just a name, Made From Detroit reflects what the speakers truly are. The wood used in the construction is recycled from abandoned Detroit buildings. The speaker is engraved with the address of the former home or business that the wood was taken from. Not only do buyers of the products get a new and unique piece of audio gear, but a literal piece of the city's history.
The offerings are numerous, including the D:Audio Solo and D:Audio Riff Bluetooth speakers, and the D:Audio Back-Beat bookshelf speakers. Speakers are not the only audio tech the company makes either. There's also the D:Audio Amp 100-watt stereo amplifier and the D:Audio Voice passive amplifier, meant for use with phones or tablets.
"Detroit Audio Lab's mission is to bring the audio industry, which has all but disappeared from our shores, back to American soil," Bauer said. "Our products will always be designed and manufactured here in Michigan, using local and American suppliers. We're building the foundation for an audio industry right in — and from — the same city that gave the world so much great sound. It seems fitting that the sounds of Detroit are heard again through the wood and workers of Detroit."
The company has turned to Kickstarter to raise funds as well as offer its products at a discount to early buyers. The products start at $65 for the D:Audio Voice, ranging up to $1,250 for a pair of the D:Audio Back-Beat bookshelf speakers.
The campaign is aiming for $50,000, about 10 percent of which has been raised at the time of publication. For more information or to back the campaign, see the Made From Detroit campaign page on Kickstarter.
A version of this article originally appeared at our "brother site," Digital Trends.
Editors' Recommendations