You can't do much in the kitchen without a sophisticated chef knife.
The CRUCIAL heirloom knife collection by Chatwin Co. hails from the mind of Philippe Schlesser and includes three knives: paring, boning, and a chef's knife.
Their minimalist aesthetic is a giveaway that this collection's focus is on high-quality materials and ergonomic design. With Swedish Sandvik 13c26 steel blades and solid rosewood handles, this is a set of knives that will gracefully age right along with you.
Industrial designer and former chef, Schlesser, seen here sporting a pair of high-carb glasses, considered every detail to make the collection one that will last year after year: "Natural materials simply age better. Think of it as comparing a new leather bag and a new nylon messenger bag, and compare those bags five years later. Leather has a nice patina, whereas the nylon looks like it is ready to be replaced."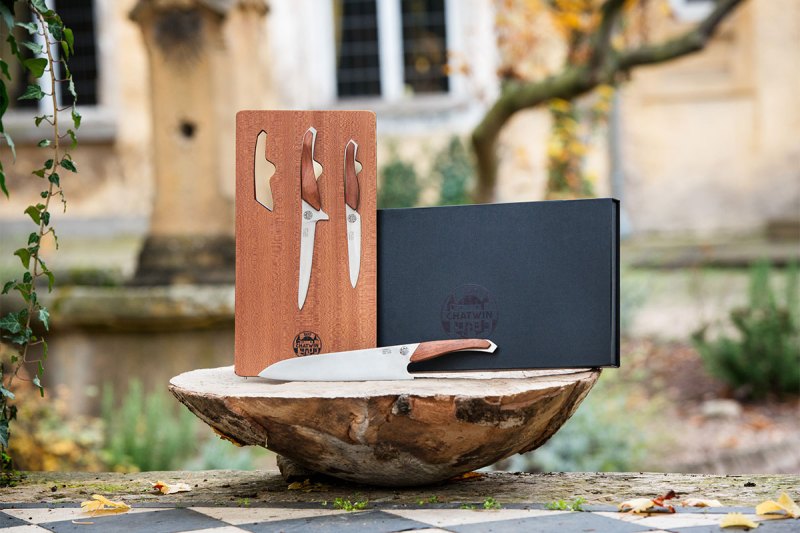 The collection's wooden holder, which also serves as a free-standing knife block, magnetic knife rack, or travel case, is also designed to be about as child-proof as a knife holder can get. Rather than a giant hunk of wood, the holder folds in half to about the dimensions of a laptop — meaning you can carry it in your everyday bag when you're heading out to a weekend cook-out or dinner party.
Every object tells a story, and the CRUCIAL collection has some pretty interesting origins. Schlesser attributes the inspiration to an heirloom knife passed down to him from his great-grandmother. The Chatwin brand is based out of Châteu de Wintrange of Luxembourg, Chatwin being the portmanteau of its 400-year-old Renaissance namesake.
Find out more from Chatwin Co.'s CRUCIAL Kickstarter page and pre-order your set today.
Editors' Recommendations