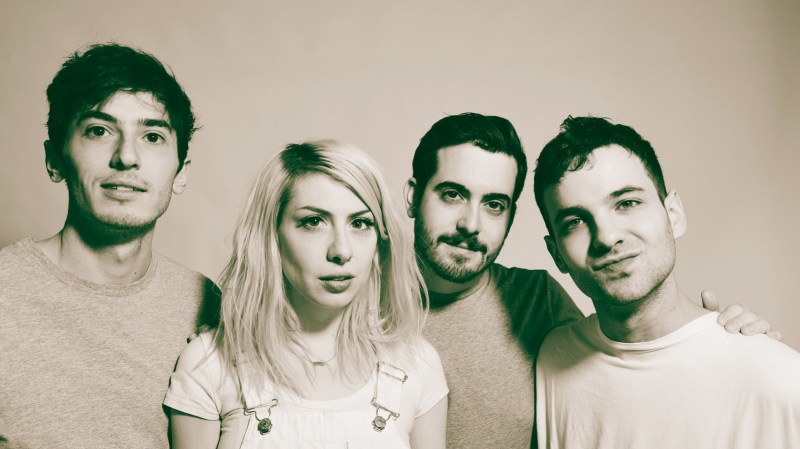 Though Charly Bliss has been around for the better part of a decade, the Brooklyn-based quartet is only now releasing its debut album. Titled Guppy, the record is filled with guitar-led power pop songs in the vein of 90s alt rock bands like Weezer and Veruca Salt. For the majority of its existence, Charly Bliss has made its name as a live band, opening for artists like Glass Animals, Darwin Deez, Tokyo Police Club, Sleater-Kinney, and the band's own musical forebears, Veruca Salt.
In 2014 the group released a three-song EP and eventually began to record a full-length album. After two false-starts, its members realized the core problem. "We basically had to come to terms with the fact that we are, at heart, a pop band," explains the band's Spencer Fox. "We had to create an ecosystem where our loud, messy rock sounds could co-exist with these super catchy melodies and pop hooks."
The excellent Guppy is the result of Charly Bliss learning how to let both of those impulses thrive. Opening track "Percolator" establishes the record's character right from the get-go. With its chugging guitar, infectious chorus, and Eva Hendricks' energetic, melodic vocals, the song is a mission statement for the album.
Lead single "Glitter" leans more on the band's power pop side as vocalist Eva Hendricks gives a saccharine note to the lyrics. Hendricks describes the track as "A fun song about complicated self-loathing that you could also dance around your bedroom to—that kind of sums us up as a band, actually." Explaining further, Hendricks adds, "It's possible to write songs that really get at all of these dark feelings while also just being really fun to sing and dance to. You can be serious and also sing about peeing while jumping on a trampoline."
With its well balanced mixture of melodic pop and driving rock, Guppy is proof that the members of Charly Bliss were wise to take the time to get the sound right for their debut.
Charly Bliss' Guppy is out now through Barsuk Records and is available on Amazon, iTunes, and the Barsuk Records online shop.
Editors' Recommendations