Early this year legendary British musician Billy Bragg and American songwriter Joe Henry boarded an Amtrak train bound for Los Angeles.
Along the 2800 mile trip, the duo dropped off at a variety of stops to record what would become Shine a Light: Field Recordings From the Great American Railroad. Each of the tracks on the album relates in one way or another to the history and mythology of, as the title puts, "The Great American Railroad."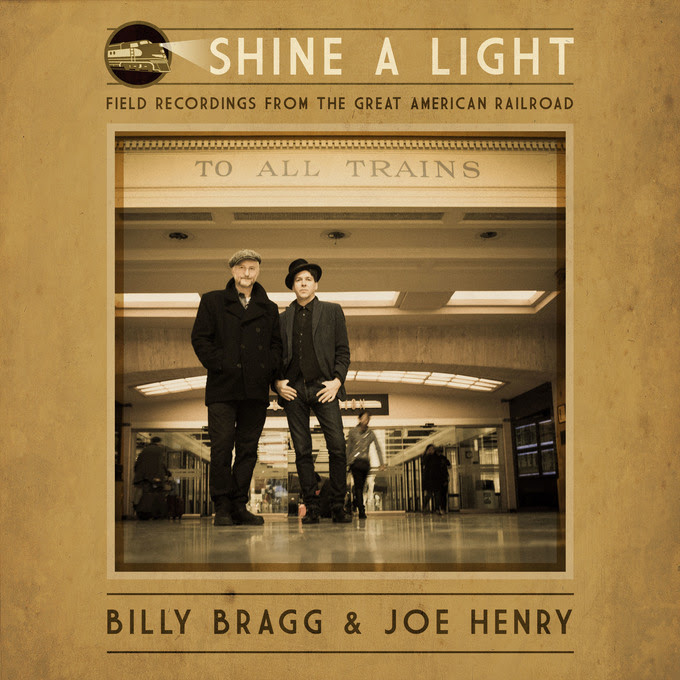 The concept is, admittedly, a little hokey, and in the hands of lesser artists the album could easily have been a simple novelty. The tracks on the record have all been recorded countless times, but in their earnestness as musical anthropologists Bragg and Henry manage to bring real depth to the music and open the door to exploring America's relationship with the railroad.
It helps that Bragg is a Briton; the UK, unlike the US, has an extensive passenger rail system. Additionally, as Henry described in an interview with Salon last month, Bragg's not being an American allows him to "[look] into this country with an aerial view of our mythology…and our sense of national identity." He continued, "And part of what Billy is fascinated about — and I join him there — is waking ourselves up and anybody willing to listen to the fact that not only is the road still an active part of our lives and stands to be more so if we would seize the opportunity. But it's a really significant part of our heritage and the way that we understand ourselves and how we relate to each other. I think we need to be awake to that."
The United States has a unique relationship with the railroad. It's one we tend to mythologize and place in the past, but Bragg & Henry, through Shine a Light, present an opportunity to bridge misty memories of how rail used to work with how it works now and will work moving forward.
Billy Bragg and Joe Henry's Shine a Light: Field Recordings from the Great American Railroad is out now through Cooking Vinyl and available on Amazon, iTunes, and through Bragg's Emporium.