Beyerdynamic is hoping to bring audiophiles into the Bluetooth fold with the new Xelento Wireless.
A Bluetooth version of the exquisite Xelento Remote in-ear headphones, the Xelento Wireless combine the Tesla transducer technology that enables the pristine audio quality of the wired version with Qualcomm's top-tier aptX HD Bluetooth transmission to create a pair of high-end wireless earphones.
Apart from going cordless, the design for the Xelento Wireless is remarkably similar to that of the wired version. The earbuds are connected to a Bluetooth dongle at the end of the headphone wire, which terminates at about the same spot that the earbud wires converge on the wired version. So, while you'll still have to deal with some cables, you'll be untethered from whatever device you'll be listening to. The dongle houses both the Bluetooth receiver and a battery, which can be charged via micro USB for up to five and a half hours playback time.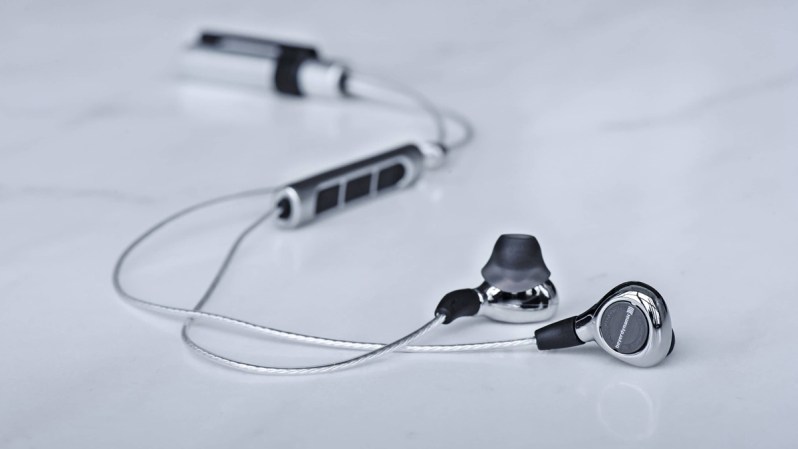 The most important point of comparison is the drivers. Like the Xelento Remote, the Xelento Wireless use Tesla transducers — which are made with tiny ring magnets and voice coils — in an effort to offer the same fluid and pristine audio that we loved in the Xelento Remote in a wireless package.
While it's one thing to be equipped with high-performance drivers, wireless headphones have to contend with the obstacle of connection quality. It may seem unreliable to use Bluetooth as the transmission method, especially when these headphones are being marketed to the audiophile crowd, but Beyerdynamic is opting for the aptX HD codec (for those with aptX compatible devices), which is designed to enable 24-bit transmission at full resolution (Xelento wireless also supports aptX, AAC, and SBC Bluetooth). For those who want the option to listen via wired connection — or in the event your battery runs out — the Xelento wireless' Bluetooth dongle features a 3.5mm jack to plug into.
Considering the wired Xelento Remote cost a whopping $1,000, it's no surprise that the Xelento wireless will be going for $1,200. Beyerdynamic will be debuting the earbuds at High End 2017 in Munich, Germany. The show takes place May 18-21.