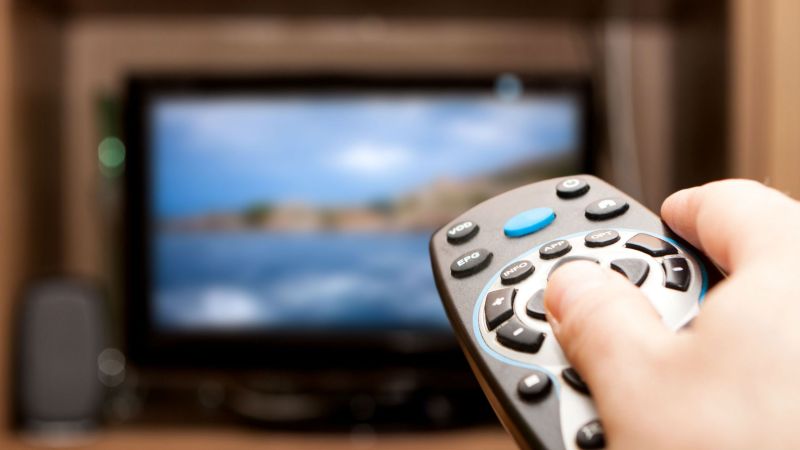 When you've got that mad jonesing for television, nothing sounds worse than a plot-less show. In fact, most of us rage against our favorite series if we even catch wind of a filler episode. So on its face, the term "slow TV" seems like an oxymoron. Who would watch that, and why would someone create that intentionally? It may seem strange that slow TV could have much to offer in the same year that Fast and Furious became an octology, but when the world runs on caffeine-laden, high-octane, deadline-driven energy, perhaps it shouldn't be surprising that there is a delightfully rare and pressure-free comfort in slow entertainment. To better understand the recent popularity of this unique genre, we've rounded up a list of some of the best examples.
This 1963 anti-film from artist and all-around eccentric Andy Warhol is the one that truly inspired the slow television trend. The film, entirely devoid of tension, character, or plot development, focuses exclusively on poet John Giorno, who sleeps peacefully for the entire five-hour and twenty-minute runtime. Though two of the film's nine-person premier crowd left its initial screening only one hour in (quitters), Sleep awakened something new in cinema and proved to be the beginning of Warhol's foray into film-making. Just one year later, he directed Empire, an eight-hour movie consisting only of silent black and white footage of the Empire State Building that would eventually be selected for preservation in the Library of Congress' National Film Registry.
Arguably the most recognizable example of slow television, WPIX's Yule Log began airing during the 1966 holiday season. Much like Warhol's venture into anti-film, The Yule Log was referred to at the time as an "experiment in non-programming". The idea was conceived in 1966 by Fred Thrower, the then-president of WPIX, who decided that in place of the dead air that was set to fill the station's airwaves that Christmas Eve, viewers should be treated to what he described as "a WPIX Christmas card" — a crackling holiday fireplace, complete with a Christmas soundtrack, that would play continuously for three hours. When the deceptively simple program aired, New Yorkers from all over the city tuned in, and an instant classic was born. After WPIX's initial success, other stations across the country began airing the special or creating their own versions. Although The Yule Log was taken off of WPIX airways in 1989, viewer demand initiated a comeback in 2001 and the fire has been burning strong ever since.
In the late 1980s, Canada got in on the slow TV movement with Night Walk, Night Ride, and Night Moves, a trio of films that aired during late-night hours on the Global Television Network. Much like The Yule Log's serendipitous beginnings, Night Walk — the first in the series — was created as a replacement for the test pattern that ran on Global overnight. Each program shows a different first-person view of a walking or driving tour through parts of downtown Toronto, with a soothing jazz soundtrack and quirky Easter eggs (like a hotel nightclub visit and a short scene in which the crew was stopped by police during filming). The shows were rerun every night from the initial 1986 broadcast until they were canceled in 1993. The series didn't go out of mind when it went off the air, though; in 2015, a CBC Radio employee created Night Ride Redux, a YouTube video that re-traces the route from the original program and shows the two recordings side-by-side.
In 2009, the Norwegian Broadcasting Corporation (NRK) was celebrating the 100-year anniversary of Norway's Bergen line — a scenic railway that runs a 300-plus-mile track across the country — and wanted a new and interesting way to commemorate the event. Thus was born Bergensbanen Minutt for Minutt, a massive, seven-hour broadcast that would usher in a sort of slow TV renaissance and would later be described as "the iconic slow-TV program". The film, whose title translates to Bergen Line: Minute by Minute, was originally a live TV broadcast that followed the landmark rail line as it traveled from its starting city of Bergen to the nation's capital, Oslo, nearly 300 miles away. The show also featured interviews with historians and passengers, and showed archival clips of the railway as the train passed through dark tunnels that blacked out the video. A whopping 20 percent of Norway's population tuned in to the Bergensbanen broadcast, sparking the NRK to film two more train journeys in 2010, one of which pulled in nearly 500,000 viewers during its comparatively brief 58-minute broadcast.
If Bergensbanen was a massive undertaking for the NRK, then Hurtigruten Minutt for Minutt was fully epic. Conceived and created in the same spirit as the popular train broadcast, Hurtigruten followed the MS Nordnorge, a Norwegian Coastal Express ship, as it made a 134-hour journey from Bergen (on Norway's west coast) to the city of Kirkenes (in the far Northeastern part of the country). Just like its predecessor, Hurtigruten showed the entire voyage live, uninterrupted, and in real time, with help from 11 total cameras. Due to the unexpected popularity of the NRK's other slow-TV projects, the company decided to air Hurtigruten Minutt for Minutt online and on-air. Over its full 1340hour broadcast, the ship's journey pulled in over 2.5 million viewers, with nearly half of the online audience checking in from outside the country. By midnight on the Saturday of the original broadcast, Hurtigruten was sweeping across social media, inspiring a tweet nearly every six seconds. Riding the wave of this viral popularity, the NRK has since produced nearly 20 more slow-TV programs, with subjects ranging from a live coastal cruise to a Reindeer migration, and they have garnered so much attention from viewers and the media alike that Sakta-TV (the Norwegian term for slow TV) was named Norway's word of the year in 2013. In August 2016, Netflix added several of NRK's slow-TV broadcasts to its expansive library, delivering them to new audiences across the globe.
BBC Four, VRT, Radio Television Hong Kong, and Sigur Ros
The success of Norway's Sakta-TV inspired other countries to get in on the action, with the British channel BBC Four broadcasting its own series of slow voyages — including a canal boat trip, a bus journey, and a sleigh ride — in 2015 and 2016. Belgian public-service broadcaster VRT also joined in, airing a live broadcast of a sports reporter traveling the full route of the Tour de Flanders two days before the cycling race took place in March 2017. In 2014, Radio Television Hong Kong (RTHK) began creating a whole slew of live, slow TV broadcasts, including the real-time make-up application of an opera actor and several Hong Kong Tramway journeys. The movement has even crossed genres, with Icelandic musical group Sigur Rós premiering a 24-hour live television event in 2016 that took viewers on a real-time journey along Iceland's Route One, which circles the country's entire perimeter, while playing an evolving remix of their newest song (embedded above).
In 2017, California-based meditation app Calm.com saw the opportunity to build on the relaxation that slow TV offers. Hence the film Baa Baa Land, which premiered in September. The eight-hour, slow-motion film fully embraces its genre, asking viewers to flip their instant gratification switches off and inviting them instead "to pause … to breathe … to calm [your] racing hearts and fretful souls … to sit and stare … at sheep". The film is comprised of long, slow shots of sheep grazing peacefully in a picturesque field, doing nothing much but reminding their human witnesses to appreciate the hush of tranquil quietude.
As we look for ways to make everything bigger, stronger, louder, faster, and somehow even more furious, what was once the crawling tedium of yesteryear has now become a soothingly slow antidote to the modern rush. With the world around us becoming increasingly chaotic, and the mad hustle of holidays quickly approaching, we for one are happy to pour a glass of Scotch, sink into the couch, and settle into the sweet, slow simplicity of a crackling fire; a six-day ocean journey; or a field of grazing sheep who don't especially mind if we fall asleep during their big screen debut.
Editors' Recommendations