In order to really get the perfect fit for you, buying a new mattress should be a little more involved than heading to a mattress retailer and laying down on a handful of mattresses. There are plenty of things to consider; your sleeping temperature, how soft or firm you like your mattress, what the warranty looks like, whether the brand offers a trial period. However, one of the biggest things to think about when you're buying a new mattress is the position in which you sleep; on your back, side, or stomach.
If you sleep best on your side, consider yourself lucky. Back sleepers often have snoring and sleep apnea problems and stomach sleepers can experience back and neck pain from sleeping with a turned head all night. However, side sleepers are at an increased risk of back pain because, by sleeping on your side, you're creating more angles that are left unsupported. If you feel like your head, shoulders, and hips are bearing the brunt of your weight while you sleep, it's time for a new mattress.
Side sleepers who need a new mattress, read on – we've compiled a list of some of the best mattresses for side sleepers out there to keep you pain-free and sleeping comfortably.
Best Value: Tuft and Needle
The Original, queen – $595
Side sleepers on a budget don't have to deal with back pain; the good folks at Tuft and Needle have your back (somewhat literally)! Made from high-quality adaptive foam, this mattress offers equals part softness and support. Just as crucial, it provides great pressure relief. What's more, the foam is made with graphite and cooling gel beads, ensuring you won't wake up sweating in the middle of the night. Have a significant other? You'll both appreciate the localized bounce, as you won't feel even the most restless partner tossing and turning. Of course, you don't have to take our word for it, Tuft and Needle offers a 100-night trial along with a 10-year limited warranty.
Good for:
People who sleep hot
Couples
Side and back sleepers
Best for Lightweight Sleepers: Nectar
King – $899

You're not dreaming. Nectar provides total comfort with an impressively reasonable price tag. The mattress itself combines both standard and gel memory foam, perfectly contouring to your body without sagging. Indeed, Nectar finds the sweet spot between firmness and softness, so the side sleeper who prefers a firmer mattress will love this one. It's also made with a Tencel cooling cover, designed to wick away heat and circulate air as you sleep. Moreover, Nectar offers customers a 180-day risk-free sleep trial. If you're unhappy you can return the mattress, no strings attached. And as if that wasn't enough, the company also maintains a forever warranty.
Good for:
All types of sleepers
People with back pain
People who sleep hot
Best for Medium-Sized Sleepers: Layla
Queen – $999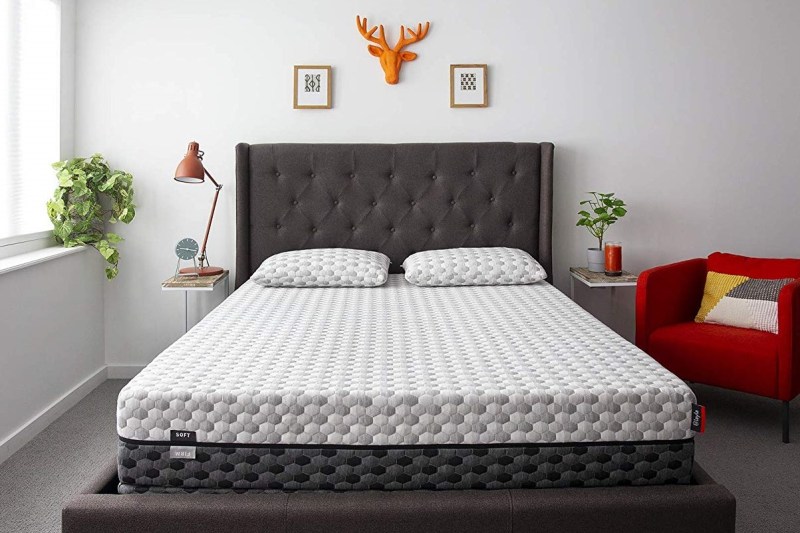 Buying a Layla mattress is like having two mattresses in one. Why? To begin with, it features a unique, flippable design; one side is medium soft and the other is firm. If you're feeling a pinch in your back one morning, just flip it before bed later on for a different sleep experience. Perhaps more importantly, Layla uses copper-infused memory foam. The copper itself aids in circulation and the overall foam provides the cushioning needed for proper spinal alignment and pressure relief. Your back will feel better and you'll sleep longer. Additionally, the mattress minimizes motion transfer; you won't feel your partner moving or your dog jumping up in the morning. To top it off, Layla allows a 120-night sleep trial. If you're unhappy, they'll pick up your mattress, donate it to a local charity, and provide you with a full refund.
Good For:
People with back pain
Couples
All body types
Best for Heavy-Set Sleepers: Helix Nightfall
Queen – $1,090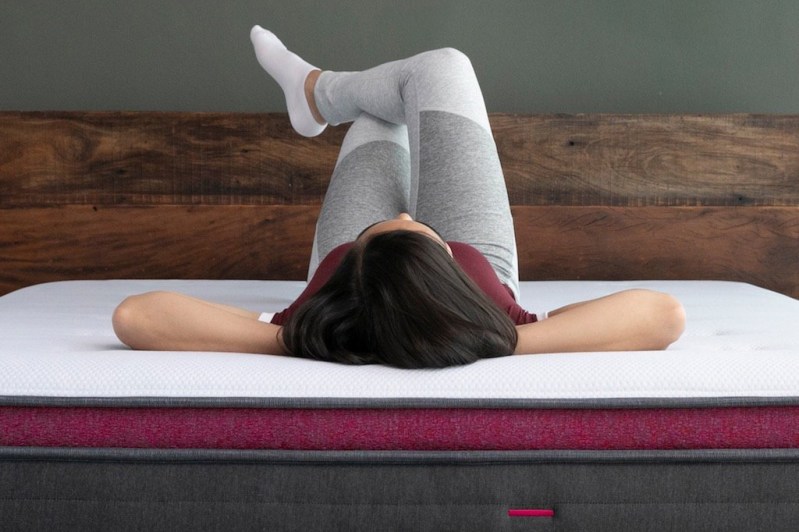 If you often find yourself sinking deeper into your mattress throughout the night, you'll definitely want to check out the Helix Nightfall. The mattress is specially designed for individuals who are big and tall. After all, it's made with high-density foam for maximum support and pressure relief. Even better, the Nightfall features wrapped coils which both nestle your body and reinforce the bed's perimeter, giving you total edge support. And that's not all, Helix smartly employs a breathable, two-cover design which helps increase airflow. And less sinking means less overheating.
Good For:
People who sleep hot
Sleepers in the heavier weight group
Side and back sleepers
Best Luxury Option: Loom and Leaf
Queen – $1,499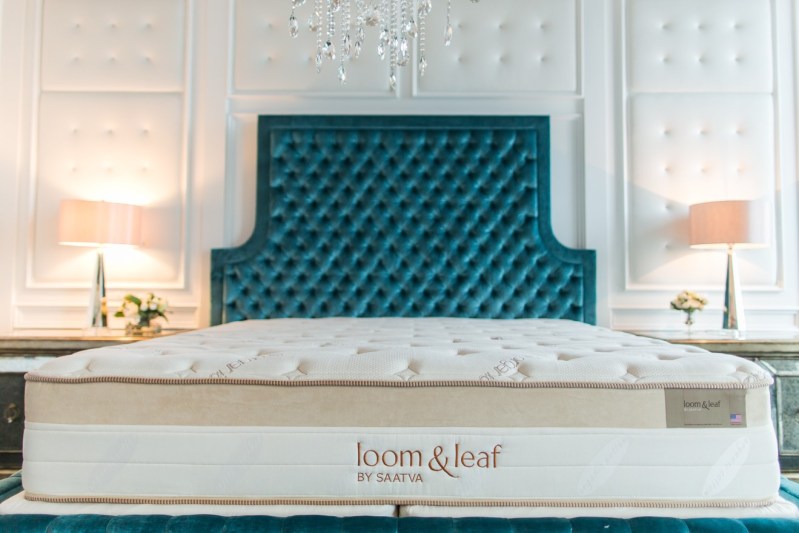 Looking for a mattress that gives you that cloud-like softness? Well, this mattress from Loom and Leaf might be the closest approximation. Made from premium memory foam, it features a quilted, organic-cotton-top gel layer for a cooling effect, layers for convoluting and contouring, and a base layer that promotes airflow. The memory foam is also amazing at isolating movement. And, because Loom and Leaf uses environmentally friendly materials, you can feel good about purchasing this mattress. Finally, like other brands on this list, the company offers a 120-day sleep trial, though you might be a permanent believer after one night on this mattress.
Good For:
Couples
People with back pain
Sleepers in the average and heavier weight groups
Choosing the Best Mattress for Side-Sleeping
No matter the mattress you end up taking home, it's critical that side sleepers pay close attention to firmness. This is because, despite the benefits of side-sleeping, the wrong mattress is liable to put undue strain on your body. You really need a mattress that will contour to your shape, thus minimizing the compression of your joints and ensuring your spine stays aligned. What you should look out for is a bed that's firm enough to prevent your side and neck from floating in space but soft enough to cradle your thighs and shoulders.
Factor in Size and Weight
For many side sleepers, a medium-firm mattress should suffice. Nevertheless, it's probably best (and easiest) to think about your mattress in terms of your specific body shape:
If you're under 130 pounds with a BMI of 19 or less, you'll likely want a softer mattress. You're lighter than average and won't sink into the mattress as easily. That means that beds that are firmer might not conform to your body enough.
If you weigh between 130-230 pounds and have a BMI of 19-25, a medium-soft to lightly firm mattress should do the trick. You're looking for a middle ground between firm support and soft contouring.
If you weigh over 230 pounds and have a BMI over 25, a firm mattress is the way to go. Heavier individuals are likely to sink into their mattress, which can encourage back pain and, in extreme cases, misalignment of the spine.
Factor in Mattress Type
Of course, firmness also correlates to the type of material from which each mattress is made. Therefore, it's important to have a basic understanding of what's available. Mattresses can be divided into four main types:
Innerspring: Often the cheapest option (and the one with the shortest lifespan), innerspring mattresses are manufactured with steel springs designed to support your core. They also tend to have polyfoam layers for added comfort. Innersprings don't contour to the body as well as other materials, but they do sleep cooler than others.
Foam: Slightly more expensive than innerspring options, foam mattresses usually have several layers of memory foam, polyfoam, or some combination of the two. These mattresses do a good job of supporting all of your body's curves and providing pressure relief. However, they have been known to sag over time and can get hot.
Latex: Pricier than foam but with a longer lifespan, latex mattresses often use natural or synthetic latex for both core support and comfort. These beds also do a good job of contouring and relieving pressure. And if you co-sleep with either a partner or a dog companion, take note: latex mattresses are great for isolating movement. Conversely, they can be prone to sagging as well.
Hybrid: As its name suggests, a hybrid mattress combines latex, memory foam, and coils. They offer great support, especially along the edge of the bed. Hybrids are the best of both worlds, and their price tag reflects that.
Other Factors to Consider
Aside from considering the material, it's always smart to test out the mattress. After all, you will be spending around eight hours every day on it. If you are shopping in a physical store, spend at least 15-20 minutes lying on each potential mattress in the position in which you sleep. This will give your body time to settle. Try to wear loose-fitting and comfortable clothes to the store, too — unless you typically sleep in a suit or jeans. You probably won't be able to bring your 200-pound St. Bernard with you to the try-outs, but bring your partner if possible. It's vital that the mattress is comfortable for both of you. Plus, this gives you the opportunity to test how much you can feel the other person moving.
Planning to shop online? That's not a problem. Many companies offer sleep trials. Some even let you test a mattress for an entire year. And don't ignore that fine print: you want to know if you'll have to pay added shipping costs, removal fees, etc. should you get buyer's remorse. It's no fun being surprised by an unexpected bill.
Finally, we should also note that side sleeping can place added pressure on your neck and shoulders. Therefore, it is critical to find a pillow that provides the necessary support. You don't want to sleep with something that is overly fluffy or flat. Similar to mattresses, you should purchase a pillow that is able to conform to your natural curves.
Still need convincing? You spend a third of your life in your bed. You need a mattress that you find comfortable and delivers a good night's sleep. You won't find the perfect mattress without keeping your sleep position in mind.
Looking for more ways to upgrade your sleep? We've found the best latex pillows on the market, pillows for stomach-sleepers, and the best mattresses money can buy.
Editors' Recommendations