Though we were shocked to find out that infamous gangster Al Capone had a mansion in Miami, Florida, we weren't blown away by the news. After all, Scarface did a pretty good job of linking Florida's sin city to the mafia.
Even though the Chicago-based Capone wasn't a coke-smuggling, machine-gun wielding maniac (he had people for that), he certainly had a mansion that would have been an appropriate place to flaunt those qualities. And now you can too — for a cool $15 million (and hopefully without the violence). So get your off-shore accounts ready, boys, because we're about to deep dive into a gangster's paradise.
Built in 1922 and located on the man-made and gated Palm Island offshore from downtown Miami in Biscayne Bay, the massive Mediterranean Revival, 93 Palm Avenue, offers seven bedrooms and five bathrooms, all in 6,103 square feet of white, airy, and open space. Multiple patios and porches open up to bay and city views, while also allowing the Atlantic ocean's breezes to cool the home (it still doesn't have central air and is still chilled by wall-mounted units).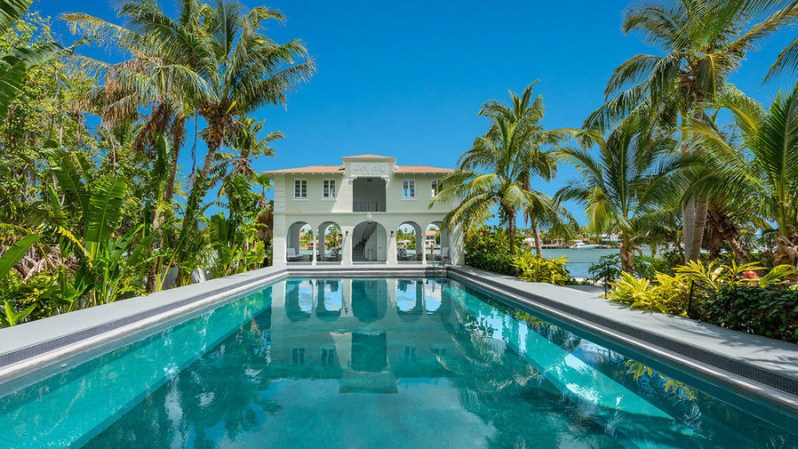 Rounding out the property's amenities is a 30-foot by 60-foot swimming pool with its own cabana and accompanying two bedroom, one bath guest house, as well as a 100-foot private beach and a seven-foot paparazzi-proof privacy wall.
Capone bought the mansion in 1928 during his rise to infamy and used it as a refuge from his gangster lifestyle. Indeed, after being released from prison for tax evasion in his '40s, Capone absconded from Chicago to live the remainder of his years in Miami. Capone died in a room facing the driveway in 1947 (reportedly from late-stage syphilis, during which his mind reverted to that of a 12-year-old).
Recently refurbished and restored, the home is in pristine condition and is patiently waiting for the arrival of its new owner. Machine guns optional.
While you're in Miami picking up the keys to your new pad, why not check out the city's best bars and restaurants? If you're still in southern Florida after that, check out our guide to the region where the motto should definitely be:"There's More than Mouse Ears."
Editors' Recommendations