Chances are, you've heard someone say that a vehicle is only as good as its tires. Heck, our Cars team says it all the time (in articles, on Slack chat, to ourselves before bed every night, etc.).
While the well-worn statement is most certainly true, it's also nebulous. Good at what, exactly? Tires were once engineered simply for all-season, winter, and performance conditions. These days, it's a bit more complicated. Case in point: Pirelli's latest products.
Since the P Zero line was introduced 30 years ago, it has been the Italian manufacturer's technology and performance flagship. In all that time, the nameplate has remained relatively simple, with just a few tiers of performance. Now, Pirelli's next generation P Zero has debuted with detailed customization to better answer the question: in what way should tires complement a vehicle's natural abilities?
New Tire Tech
Before diving into the sub-brands of Pirelli's new-and-improved P Zero, let's review what's changed across the full lineup.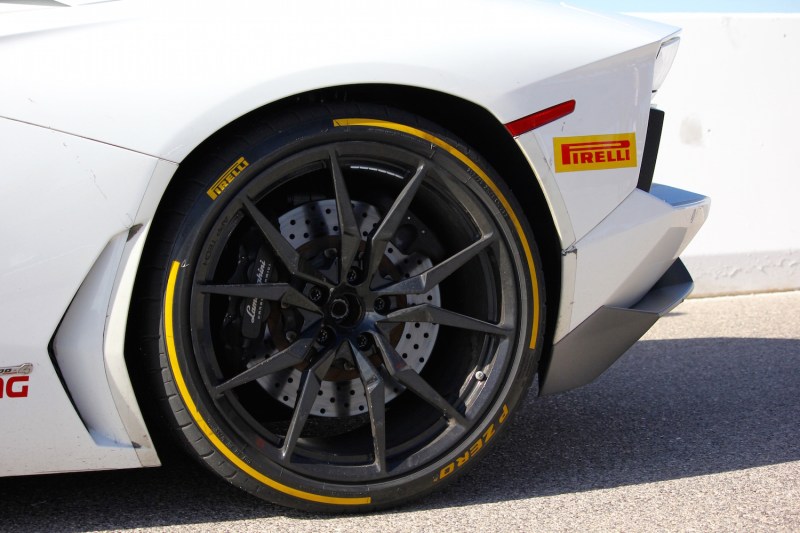 Pirelli has drawn upon its Formula One experience to improve the stability of its latest tires. F1 Bead technology focuses on a rigid compound within the bead for rapid respond to steering inputs and improved lateral grip. Pirelli says its new P Zero has more linear, predictable behavior thanks to the even distribution of force during aggressive driving. Selective Compound and bead arrangement leads to communication through the steering wheel, thus allowing drivers to push their cars without inadvertently blowing past a tire's performance threshold.
Anecdotally, I discovered the truth of this point while casually four-wheel drifting an Audi R8 V10 Plus around Las Vegas Motor Speedway. When traction was about to yield to lateral force, I had plenty of warning, allowing me to predict and control slides.
Pirelli has also addressed my personal complaint with its P Zero rubber: longevity. While I've always been of fan of P Zero's lofty grip limits, tires do seem to disintegrate post-haste, especially compared to Michelin Pilot Sport Cups. This time around, Pirelli engineers have focused on more even tire wear with something called an Extended Range Profile. With a flatter footprint, new P Zeros simply last longer than ever before. It will take more than a few laps in Vegas to prove Pirelli's claims, but for now, the logic is sound.
For wet weather performance, Pirelli added more surface grooves and deeper, wider channels to reduce the chance of hydroplaning. The tweaks mean a 10-percent increase in water expulsion capacity. Now in English: you'll be able to brake more confidently on wet roads.
Tire noise is a luxury car's worst nightmare, and even non-luxury vehicles benefit from a quieter tire. Pirelli's new tread design intends to reduce cabin noise. Transverse grooves are arranged to disrupt air percussion noise. The resulting sound is transmitted in various frequencies, thereby reducing volume. The new tread pattern also works in tandem with Pirelli's PNCS (Pirelli Noise Canceling System), a polyurethane sponge layer within the tire, to dampen vibrations.
Finally, a 15-percent drop in rolling resistance aids fuel economy. Weight reduction and the use of new high silica components are benefactors here.
Each of these technologies compliment current P Zero features like run-flat reinforced tire walls and rubber sealants in the case of punctures.
P Zero Sport, P Zero Luxury
On the eve of this year's Specialty Equipment Marketing Association (SEMA) show in Las Vegas, NV, Pirelli executives structured a message of tailor-made performance. With the introduction of P Zero Luxury and P Zero Sport, Pirelli can supply automakers with a better, more specific tire benchmark.
Shocking precisely no one, luxury vehicles and sports cars are engineered for different driving experiences. There will always be overlap, but in general, luxury vehicles are about serenity and comfort; performance vehicles are about, well, performance. Tires have a large part to play in how these cars fulfill their objectives, and while it's beneficial to have agility baked into a luxury car's tire, it usually comes at the cost of ride quality and noise. Similarly, sports cars aren't always being pushed to the limit, so mitigating harshness and sound is great, but only to the point that it doesn't interfere with agility.
With the introduction of P Zero Luxury, Pirelli has targeted ride refinement while maintaining high-speed traction. Practically, the tire pattern features a deeply grooved external shoulder to better absorb road surface impact. P Zero Sport, by contrast, dials back the sculpted pattern for greater performance. The differences may not sound dramatic, but Pirelli promises each tire compliments its respective class of vehicle better than ever. Unfortunately, we weren't given an opportunity to test the new Luxury tread pattern, but we had plenty of hands-on time with the Sport tread.
Rubber Meets the Road
During our time in Sin City, we were able to test Pirelli's new P Zero All Season Plus and P Zero tires in their respective natural environments.
To properly evaluate Pirelli's redesigned P Zero tires (with Sport tread), we needed the right four-wheeled equipment. Fortunately, Dream Racing, a Pirelli-sponsored high performance driving experience, served up some top tier supercars to lap around Las Vegas Motor Speedway's 1.2-mile and 2.4-mile circuits.
Representing the four-wheel drive segment was Lamborghini's Huracán LP610-4 and Aventador SV750-4, Audi's R8 V10 Plus, and Porsche' s 911 Turbo. Rear-wheel-powered cars included Ferrari's 488 GTB, Mercedes-Benz's SLS AMG and AMG GT S, and Porsche's 911 S and GT3. Each vehicle goes about achieving high velocity in very different ways, which gave us a chance to see how Pirelli's new P Zero adapted to each flavor of speed.
Pirelli emphasized that while every car wore the same type of tire, none were truly alike. Bead Geometry, stiffness, tread compound, and tire structure had each been adjusted based on the automaker's desired performance characteristics.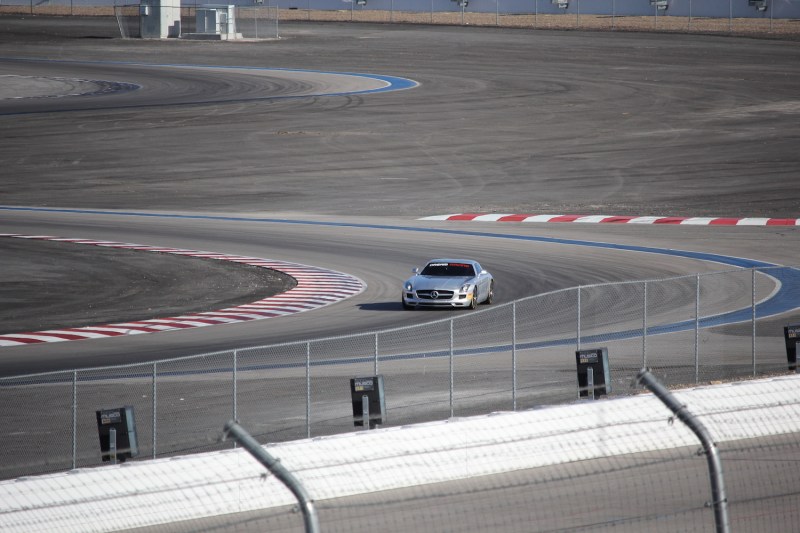 During my time on the short track, behind the wheel of both the Lamborghini Huracán and Mercedes-Benz SLS AMG, Pirelli's updated rubber proved immensely sticky in the corners, evenly transferring power to the tarmac. Inputs through the wheel were met by an elastic sensation of strengthening or loosening traction. With its penchant for oversteer, the SLS AMG was first to find and exceed the P Zero's grip limit. The point of breakaway couldn't have been more fluid, connecting the car's natural rotation to a smooth slide rather than abruptly snapping the rear end once traction acquiesced. The Huracán, meanwhile, refused to yield to my antagonizing behavior. Each lap had me applying throttle earlier and more forcefully out of corners without the slightest hint of consequence (besides faster exit speed).
Upon transitioning to the larger track, Audi's R8 V10 Plus and Ferrari's 488 GTB took the spotlight. With two 1/8th mile straights to sample, I could properly assess braking performance. Both cars crested 115 mph on the longer of the two sections, and both scrubbed plenty of speed long before it was time to pivot into the next corner. Bolstered by powerful, consistent stops, I was able to brake deeper and deeper into the bends. Credit must be given to the tremendous hardware on board each supercar, but all that engineering effort would be for naught on lesser tires.
Satisfied by Pirelli's dry-surface expertise, it was time to test the new P Zero All Season Plus rubber on a wet slalom. For this experiment, we strapped into Tesla's Model S 70D and Dodge's Charger R/T. A hosed-down autocross stage would reveal cornering stability and an obstacle avoidance test would showcase handling in emergency situations. I had no intentions of going easy on Pirelli's all-season offerings. Tesla's EV wanted to understeer and Dodge's sedan attempted to oversteer, but neither flinched under hard cornering through the slalom. Similarly, a high-speed, darting maneuver to avoid the obstacle could not upset traction in either car.
The Perfect Fit
"This is an original equipment product above all," said Pirelli North America Chairman and CEO Pierluigi Dinelli during his presentation. "We wish to make the perfect fit between car and tire." To accomplish this goal, Pirelli is focused on original equipment projects more than any other supply channel. With over 60 vehicle homologations already in the books for its new P Zero, the Italian tire manufacturer is off to a great start.
As replacement equipment, a good tire can help a vehicle perform better than engineered from the factory, but by designing tires specifically for a model, Pirelli can help automakers produce vehicles with incredible limits from the first drive. Each of the vehicles we sampled had benefitted from a ground-up collaboration between Pirelli and the automaker, and the results were exceedingly polished. It's not a one-size-fits-all world anymore. Vehicular safety, refinement, and performance standards have everything to gain from a set of custom shoes.
Editors' Recommendations