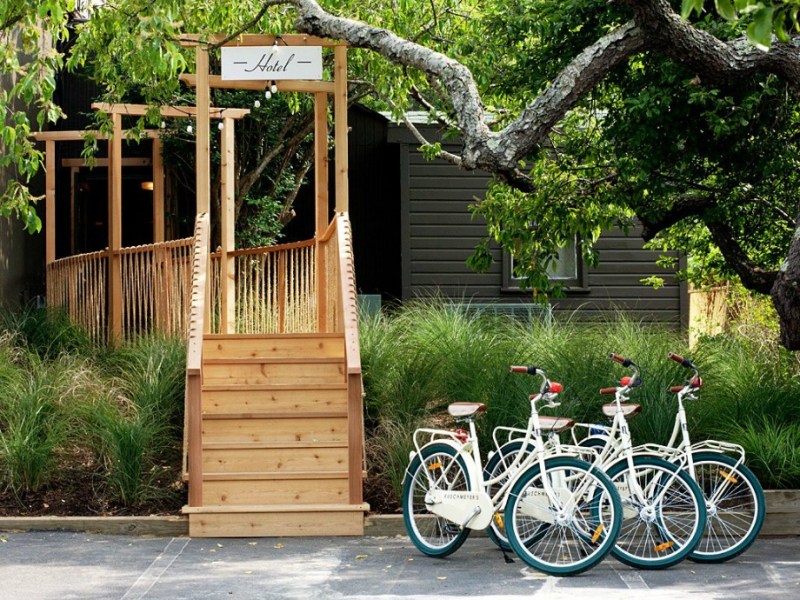 Now in its third summer season, things are looking good for Ruschmeyer's. This joint venture from King and Grove hotels and creative director Robert McKinley (of The Surf Lodge fame) has a distinct summer camp vibe to it, which sounds about right considering the original location consisted of one back in 1952. Out on the lawn teepee huts, scattered hammocks and picnic tables encourage the notion this is a playground for adults, not to mention activities like bingo, paddle boarding, yoga, and various musical performances.
The nineteen rooms, which are housed in separate cabins allowing for more privacy, are spartan but comfy; white walls, wicker beds, and minibars complete with s'mores kits. A bohemian nautical theme runs throughout the hotel, which is clad in plenty of cedar plank – from the floors, to the walls, to the entrance walkway. Breakfast takes place buffet style at The Nook, whereas this year The Restaurant at Ruschmeyer's is helmed by the team behind Manhattan's The Smile, but still serves the best local farm produce and a bonanza of super fresh seafood in a casual diner setting. Don't miss out on their signature cocktails like the Moscato Crush (waqar pisco, moscato grapes, simple syrup and fresh lemon).
It's a shame the hotel has no beachfront or pool, but the Fort Pond Lake side location makes it a nighttime hotspot. The outdoor beer garden is a good place to kick start the evening with barbecues and rum cocktails, whilst the Electric Eel Disco keeps beats spinning well into the night. Although the hotel is kid friendly the weekend party vibe can leave romantic lovebirds and families with children feeling a little out of place. If you happen to be car-less Ruschmeyer's has a stylish fleet of green and cream Carrera bicycles guests can venture about in, which is nice, but they charge for their rental, which isn't so nice.  However it's the surfing not the cycling that brings the crowds to these parts of Long Island – specifically to Ditch Plains during the summer season, which lasts from May to October.
Editors' Recommendations