We're well over halfway through the Snowboarding World Cup season already, but if you've not managed to catch any of the events yet, don't panic, there's still plenty to come. The U.S. is currently leading the way in both men's and women's slopestyle and providing stiff competition in the boardercross — among other events. With so much still at stake, there has never been a better time to get into the Snowboarding World Cup.
The FIS — responsible, among other things, for skiing safety rules and regulations — put on a skiing and snowboarding world cup each season, bringing elite competitors from around the world together to compete for glory. Stages around the world host race events like giant slalom, parallel, and boardercross, alongside freestyle-oriented snowboarding competitions like halfpipe, slopestyle, and big air. Here's what's still to come this season and how you can catch all the action.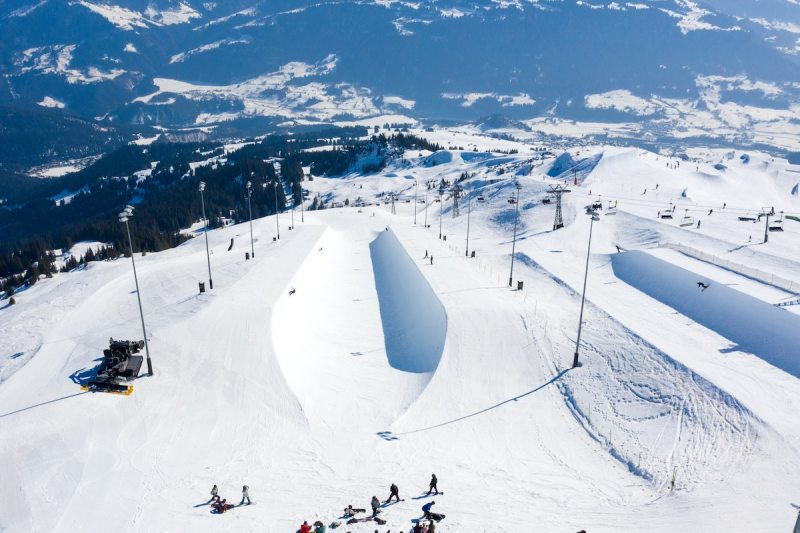 Freestyle
Freestyle events include the halfpipe, big air, and slopestyle competitions. These events are all about style, flair, and throwing down huge tricks when it really counts. The big air competition features one enormous kicker and is all about who can stick the biggest trick with the most technicality. The halfpipe is all about a clean run, with competitors fitting as many tricks into their run-through as possible and trying to link big spins and grabs, all while landing cleanly in the pipe. Slopestyle is street snowboarding taken to the extreme, where competitors create their own route over kickers, transfers, and rails, using their own creativity to rack up as many points as possible.
March 04 – 12:30 CET – Bukuriani, Georgia – Big Air
March 26 – 11:00 CET – Silvaplana, Switzerland – Slopestyle
Alpine Races
These events are all about speed. Parallel slalom is a recognizable alpine-style race, with athletes racing side-by-side to reach the bottom of the course first while navigating gates and high-speed turns. Giant slalom takes this idea and pushes it to the max. A giant course, wider spaces between the gates, and higher top speeds.
March 15 – 13:00 CET – Rogla, Slovenia – Parallel Giant Slalom
March 18 – 13:45 CET – Berchtesgaden, Germany – Parallel Slalom
March 19 – 14:00 CET – Berchtesgaden, Germany – Parallel Slalom Team
Boardercross
Setting off four snowboarders at a time down a race course filled with bumps, banked corners, and jumps. Expect thrills, spills, and plenty of racing tactics as these competitors battle tooth and nail — more likely elbow to elbow — to reach the bottom of the course first.
March 04 – 11:30 CET – Bukuriani, Georgia – Team World Championships
March 11 – 11:00 CET – Sierra Nevada, Spain – Individual
March 12 – 12:00 CET – Sierra Nevada, Spain – Individual
March 16 – 12:30 CET – Veysonnaz, Switzerland – Individual
How to watch the FIS Snowboard World Cup
Events can be streamed via . For viewers in certain areas, all of the remaining stages of the snowboard world cup are available to watch at Ski and Snowboard Live. Bear in mind that all the stated times are CET — Central European Time — and it's worth checking your local times so you don't miss out on these events. You can also follow all the action and catch up on highlights on the FIS Snowboard Twitter Page.
Editors' Recommendations