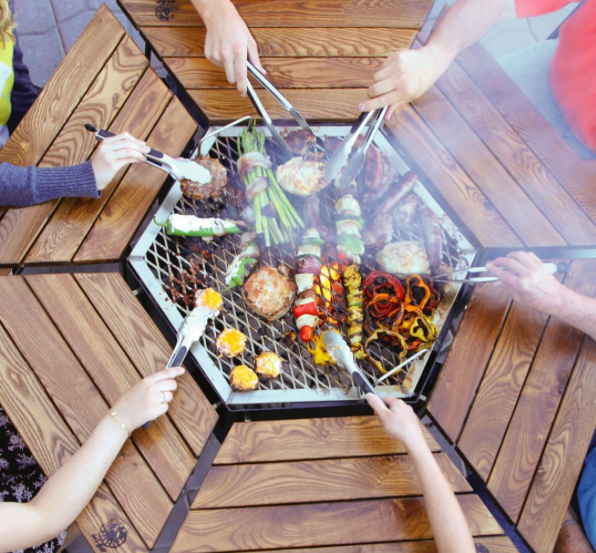 What exactly is a Jag Grill? Well… it's a grill. From a company with the word "Jag" in its name. You… probably guessed that already. But a grill from Jag is more than just a place to cook food over fire; it's also a place to commune, joining friends and family to… cook food over fire. Or to roast marshmallows. Or to dine. Or to sip a glass of wine or a boot of ale as you enjoy a crackling fire.
Related: Barbecue Sauce
For you see, the units produced by Jag Grills provide the "ultimate 3 in 1 social dining experience," to use the brand's own words. Each Jag grill can be used as a large fire pit, a charcoal or wood-fired grill, and as a table that can accommodate many diners at the same time.
Now, any old charcoal grill can become a fire pit if you simply build a fire in it. The same is in fact true for oil cans, refrigerators, and the hood of rusted out Datsun: build a fire in it, and you've got a fire pit! Sort of. But not everything out there can serve as a grill, a fire pit, and a table all in one evening. It is the modular, versatile construction of a Jag that makes it unique.
While Jag makes two different units (the Jag Six being the smaller option, one that is designed for — you got it — six people), we're going to focus on their larger, flagship product, the Jag Eight.
The octagonal Jag Eight offers nine different potential cooking surfaces: the large central octagon, as well as eight different trapezoidal grilling stations (lots of fun with shapes today), each of which abuts a wooden platform. In order to cook with the Jag Eight, you first need to make a large fire or charcoal bed in the middle of the unit. Once that has burned down into nice, hot coals, you can rake as much of those hot embers as you need under any (or all) of the eight removable grill surfaces. The design of the unit makes it easy to cook different foods at different heats, and/or it allows as many as eight chefs to enjoy their own personal grilling station at the same time.
Once the meal is cooked, you have your very own table sitting right in front of you, unless you removed it for easier access to the grill. The table sections can be removed or hooked on in a matter of second, see? Convenient.
Once the meal is over, just remove the central octagon from the Jag and build a fire back up. Then you and the gang can enjoy a large crackling fire right there at the center of your table. And feel free to roast some marshmallows.
Now, listen here: a Jag Grill doesn't come cheap. The Six costs around $1500 and the Eight comes in at $2500. But a Jag Grill will serve as the centerpiece, the anchor, if you will, of any outdoor area in which it rests. And it's always nice to offer vegetarians their very own grill surface, so there's that, too, you thoughtful guy you.
Editors' Recommendations