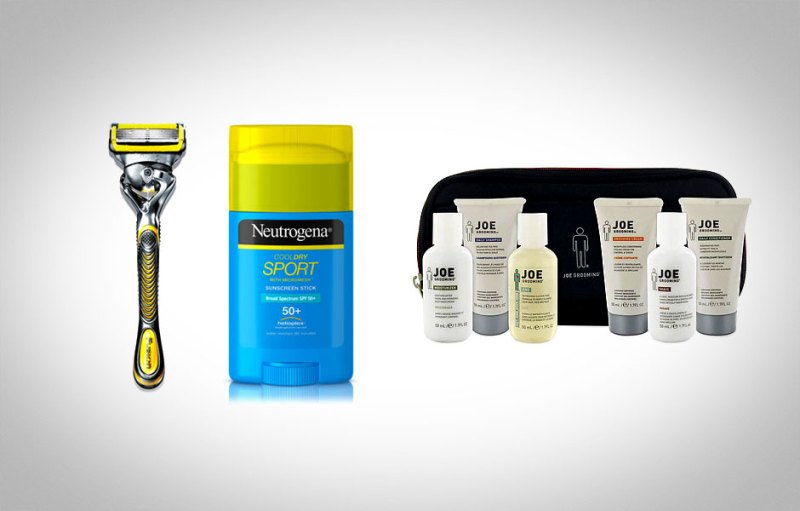 The key to spring break is traveling light. It's possible and even economical to fit everything you need into a carry on bag. You'll save the checked baggage fees and be the first off the plane when you pack these TSA size approved grooming products.
Buy a travel kit
Travel kits are a great way to try products you aren't already using. They may cost a little more but most are still priced less than checking your bag. JOE Grooming has you covered with Daily Shampoo, Daily Conditioner, Grooming Cream, Shave, Moisturizer and One, a head to toe body cleanser. All six products come in a travel bag to avoid anything spilling on your favorite party shirt.
Take a razor
If you can grow some decent scruff than by all means give your skin a break and skip the daily shaving routine. But, if your beard grows in patches you'll have more luck with the ladies if you shave. Fusion ProShield Flexball Razor will help you get every hair.
Wear sunscreen
To avoid a bad burn, apply sunscreen in your hotel room before hitting the pool or beach. Take your time and get all the hard to reach spots. If the weather is amazing a travel size sunscreen probably won't get you through the week but it's a good start. Get a stick instead of a lotion, as there is no TSA size limit because it's in a solid form. Neutrogena CoolDry Sport Sunscreen Stick Broad Spectrum SPF 50+. Don't forget Blistex Medicated Mint Lip Balm with SPF 15 to keep your kisser protected and fresh.
Freshen your breath
Nothing feels better than brushing your teeth after a big night out. Clean up your party mouth with this 3 in 1 dental travel pack from Dr. Fresh. It includes a travel size Scope mouthwash, Crest Toothpaste and a toothbrush for only $259! Pick up a spare for an unexpected overnight guest or a forgetful frat bro.
Stay cool
Keep your pits feeling dry and fresh with up AXE Night Antiperspirant Stick. This fresh scent of wild lavender, spicy cardamom and sweet praline is not the AXE you sprayed all over your high school locker room. This new antiperspirant will keep you dry and the sophisticated fragrance will have you smelling like a well traveled man of legal drinking age.
Editors' Recommendations