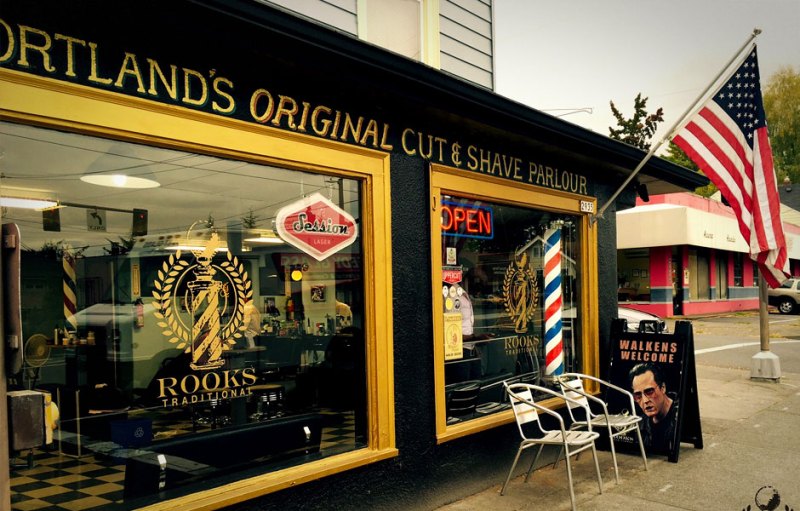 When visiting Portland, you'll want to have your hair cut at Rooks Barbershop. Started by Master Barber, Justin King, Rooks was one of the only barbers in the city offering a straight edge shave. Men's Journal took notice of this PDX favorite, featured the shop and things took off from there. Rooks moved three blocks down, added five barber chairs and three more barbers. They continued to expand offering traditional services from classically trained barbers. We caught up with King for the inside scoop.
TM: What can a guy expect from his appointment at Rooks Barbershop? What's the vibe like?
JK: Rooks is a simple barbershop that has become known for its easy-going, laid back vibe. While a lot of shops focus on having a vintage aesthetic with wood and taxidermy, Rooks focuses on what we do best; good old fashioned barbering. During a visit to Rooks, our customers can expect to hear loud banter about politics, sports, news and entertainment, a top-quality haircut or hot shave by experienced, highly trained barbers, and a cold beer. No gimmicks, just barbering.
TM: How does Rooks reflect Portland? What are the most popular styles requested by the Portland guys?
JK: Rooks is an institution in Portland, being one of the first of the "revival' barbershops. We reflect the feel of the city, in that we're simple and down to earth, yet we turn out a quality product.
A lot of guys these days are requesting the more timeless, classic looks. It's not uncommon for us to send someone off looking like they just stepped out of a 1920s speakeasy, or a clean, tapered cut complimented by a well-groomed chest-length beard. Portland is a dynamic city, and our customers run the gamut. From young to old, hipster to student to lawyer, Portland folks trust our barbers to make them look their best.
TM: Do you have any tips for taking care of your hair in the dead of winter?
JK: Condition your hair! The natural oils in the hair tend to dry up in harsher climates, so it's important to remember to pay a little extra attention to your hairs health during those winter months. Condition every time you shampoo, no exceptions, as conditioner is made to replenish the moisture you lose by shampooing.
TM: Aside from getting rid of the scruff, are there any benefits for the skin from getting a straight edge shave?
JK: When done right, a straight shave could be invigorating and rejuvenating for the skin, stripping away dead skin cells and build up.
Aside from it being extremely relaxing, both the heat and the oils and lubricants used during a hot towel shave will soften your skin and create a gentler, more thorough shave.
TM: What are your favorite shampoo and styling products and why?
JK: Rooks sells and uses an array of products. We generally prefer water-based styling products, such as Bonafide or Layrite pomades, as they're easy to wash out and are less damaging to the hair and scalp.
TM: Valentine's Day is coming. Do you have any suggestions for getting more handsome in a week?
JK: Nothing is more handsome than a man with confidence, and having a head of hair that's custom designed for your head shape, hair type, etc. can help bring that confidence out. Talk to your barber and ask for their help determining what kind of style is best suited for you. Don't be afraid to bring in a picture or two, as it helps give us a good idea of what you like. After all, you're the reason we're here! Street.
Editors' Recommendations