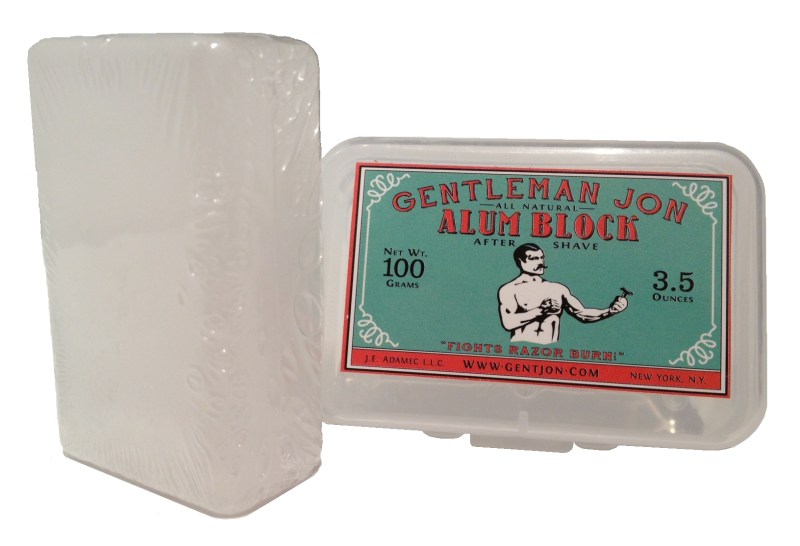 Over the past few weeks, we at The Manual have been working overtime to provide our loyal readers with all the gift ideas they can ask for. From gear for jocks and globetrotters, to well-chosen items for women and cocktail connoisseurs, if you are looking for a tasteful present this holiday season, we have you covered.
Today, we also want to wise you up to another great gift that you can stuff in a stocking or wrap and give away in less than a minute and still seem like the tastemaker you are (or at least that we hope you are). Every guy can use new shaving gear and the holiday season is the perfect time to add to your collection of grooming products. That's why we want to introduce you to a brand new product on the market: Gentleman Jon Alum Block.
Started earlier this year by young entrepreneur Jon Adamec, Gentleman Jon, like all alum block, is made from 100% potassium alum—a naturally occurring mineral. The potassium alum contains both antiseptic and astringent properties, which will stop bleeding on the spot, tone the skin and close the pores. As its slogan states, Gentleman Jon "fights razor burn" and it is extremely long-lasting; one block can last over a year even with daily use.
But what sets Gentleman Jon apart is the vision and attention to the details of the shaving market that it's founder brings to the table. Adamec, the son of a carpenter, carries an aesthetic vision of the old-fashioned, hardworking, American male, which is evident in Gentleman Jon's classic 1920's style packaging. After toiling in the finance industry for more than five years, Adamec used his comfort in analyzing numbers and situations and realized that there was a fundamental lack of value in the alum block section of the shaving market.
So, using the entrepreneurial spirit he inherited from his father, Adamec found a way to make a more affordable, longer-lasting alum block. Hence, Gentleman Jon. At 3.5 oz, this alum block is larger than the average alum block on the market and at $6.00 is about one-third of the standard price. Plus, Gentleman Jon comes in a neat plastic case that makes it perfect for bringing that clean, close, and painless shave on the road with you.
With Gentleman Jon, Adamec isn't reinventing the wheel, he's just making sure it last longer and costs you less of your hard-earned money. That's a gift in itself.
Editors' Recommendations