Barbados has given so much to the world: delicious food, rum, and of course, Rihanna. When it comes to Barbadian rum, the conversation usually starts and ends with Mount Gay. That conversation now includes their latest rum, XO The Peat Expression.
Mount Gay is known as the oldest commercial rum distillery in existence. Since 1703, the brand has delivered consistently revered spirits, such as the Origin Series. Some of these, like Black Barrel and the XO Cask Strength, were debuted as celebrations of various milestones. Their latest release, XO The Peat Expression, is not a celebration of a specific event. Instead, it is a celebration of experimentation.
Master blender Allen Smith merges the refined tastes of two different islands in this limited-edition rum. He took rums distilled in both pot and column stills that are aged in oak barrels for eight to 15 years then finished them in peated whiskey casks from Islay in Scotland. The rum is smoky, salty, and refreshingly sweet — think of eating a banana next to a beachside bonfire. It's bottled at cask strength, so you can enjoy all 57 percent alcohol by volume of its power.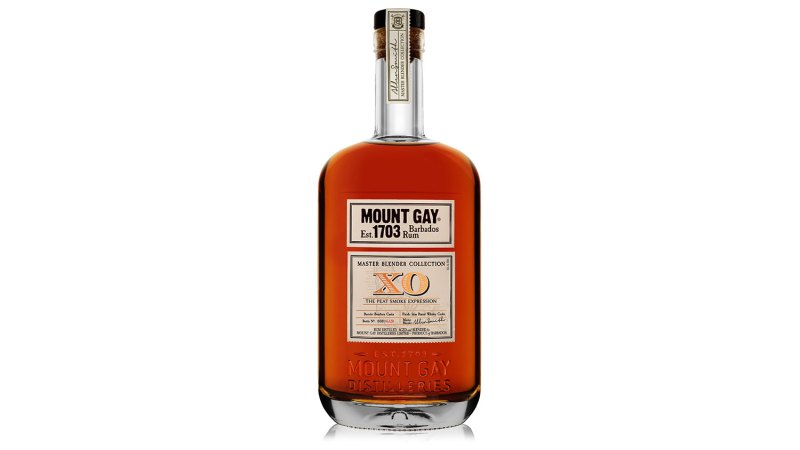 "I have worked to capture the perfect balance of elegant rum overtones and mellow, peated whisky undertones," said Smith in a statement. "This one-of-a-kind blend is sure to please the most discerning of palates with its unconventional character, freshness, and aromatic complexity."
While the peated whisky barrels used by Mount Gay aren't being explicitly named, it isn't hard to figure out where they are most likely coming from. Since Mount Gay is owned by Rémy-Cointreau, you'd just have to know which Islay brands are also owned by the company. Fortunately, there is only one: Bruichladdich, which makes the mega peat bombs that make up the Octomore range.
When it comes to drinking the rum, XO The Peat Expression is definitely not something you should be throwing around in any ole tiki cocktails. It deserves the neat treatment in a tulip glass (these legs could go for a walk!), but it can also be enjoyed over ice. The main aromas notes are of warm chocolate, ripe bananas, and toasted nuts complemented by a generally velvety mouthfeel.
Only 6,120 bottles exist and each will go for about $250. Seems like a good time to become a pirate.
Editors' Recommendations