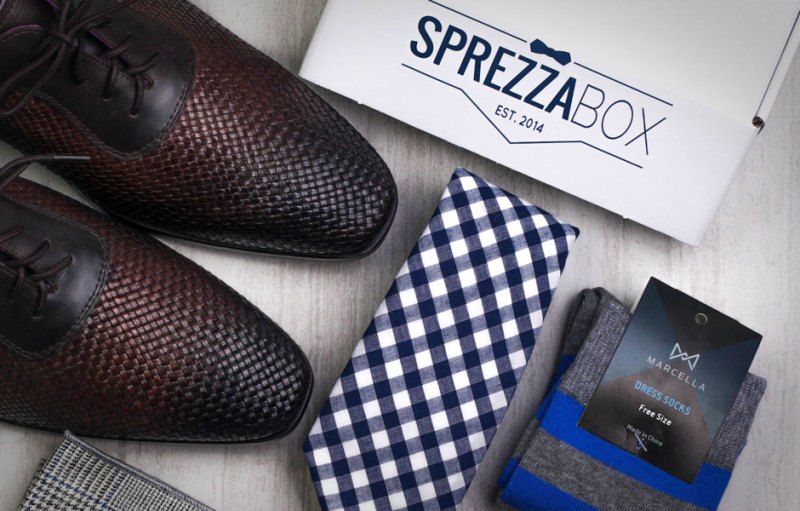 Is there a gent in your life that needs gifting? When you've exhausted all the subscription flavors of the month i.e. wine, cheese and popcorn, send him an even more tasteful present. Spruce him up with fresh sartorial finishing touches from SprezzaBox a subscription box for men. Here's how it works. Each month four to five lifestyle products and a grooming product will arrive on his doorstep. He wears his old suit, sport jacket or chinos and instantly upgrades his look with coordinated socks, ties and pocket-squares. You bring his fashion forward and he stays current for the season. It's that simple. Each box is hand picked and test driven by the head stylist making this gift perfect for dads and dandies alike.
Go to SprezzaBox.com to pick a three, six or twelve month plan. Not into commitment? You can shop individual boxes on the site. We like the The Empire . It comes with three patterned accessories, all in blue, that mix and match to elevate your put together. There's an elegant dotted tie by Bull+Moose, a micro-check pocket square by Salt + Dapper and a pair of herringbone socks from Yo Sox!. Add the quirky tie clip and lather up with a great smelling full-size Dr. Squatch soap and your look is money, for a mere thirty bucks.
For professional peacocks who love the thrill of wearing new brands before everyone else, there are standout pieces sold as separates in the shop as well. Add a pair of red, white and blue triple striped socks from American Trench, a cotton bow tie from Bedford & Broome or a floral pocket square from the Winner Circle Fashion Co. and like magic that suit from last season is of the moment. If you strut around town sans socks Taft Basics No-Show-Socks are a must. Your shoes will thank you, your feet will thank you.
Still need help with the effortless part of the cool? Get style advice on the SprezzaBox blog  covering suits, sportswear and more background information on the featured products. There's even the occasional freebie so you'll want to check it out before checking out.
Editors' Recommendations