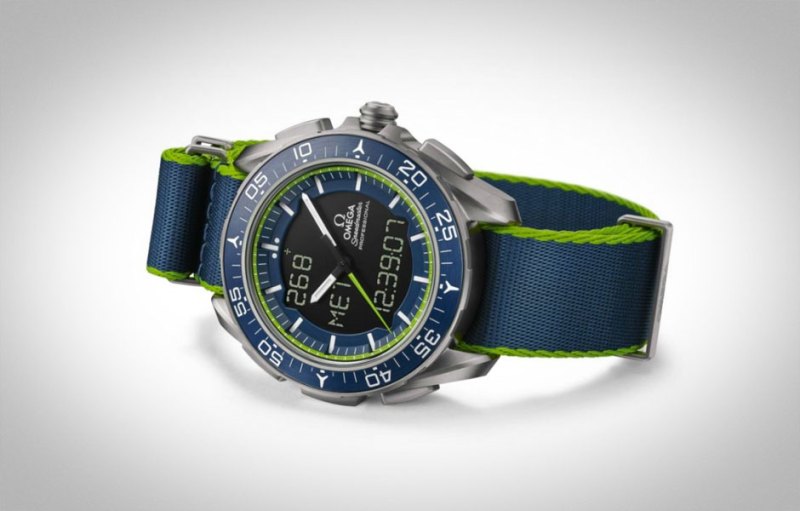 Timepieces have forever been the male signifier of a milestone.  Whether a company anniversary of hard work and dedication, birth of a child, or marriage anniversary, watches are the ultimate keepsake. Brands feel the same way for worldly accomplishments.  Often times watch brand sponsorships are established for the purpose of helping achieve a great feat as well as commemorating it. One such example is that of Omega and the Solar Impulse Solar powered aircraft. Preceding the
round-the-world journey of the Solar Impulse, Omega has released a limited edition to commemorate this modern marvel, The Speedmaster Skywalker X-33 Solar Impulse Limited Edition.
Limited to just 1,924 pieces, this 45mm timepiece is made of titanium with a ceramic SuperLuminova bezel. Inside lies the Omega quartz caliber 5619 with a thermo-compensated integrated circuit. This movement is highly complicated. Not only displaying the time in analog form, this piece is capable of displaying three alarms, multiple timezones, a perpetual calendar, and a chronograph with countdown time. Designed to be a very high end quartz timepiece, this green and blue color scheme certainly helps it stand out. Legible and water resistant to 30m, this piece, attached with a matching nato strap, is exactly that; a standout.
Watch brand sponsorships are more than just throwing a brand logo on a vehicle, and Omega proves that right here. Designing and producing a unique limited edition is a great way to raise awareness for great achievement. With only 1,924 pieces being made, the same year of the first round-the-world trip, enthusiasts will certainly be motivated to be a part of solar powered history.
Editors' Recommendations