When you're 6'9″ tall and weigh around 400 pounds, you're going to stand out in a crowd. And Hafþór Júlíus Björnsson, the World's Strongest Man and The Mountain on HBO's Game of Thrones, just happens to be 6'9″ and weigh in at about 400 pounds, though that fluctuates by 20 or 30pounds depending on his current training regimen.
Björnsson, a former basketball player who got into strongman competitions after recurring problems with an ankle ended his career on the court, has won multiple competitions, including the 2018 World's Strongest Man title; and broken records including a thousand-year-old feat in which he carried 1,430 pounds of logs five steps. To put it simply, he is a very strong, very large man.
What I wondered was how a man that large dresses when not on set or at a competition.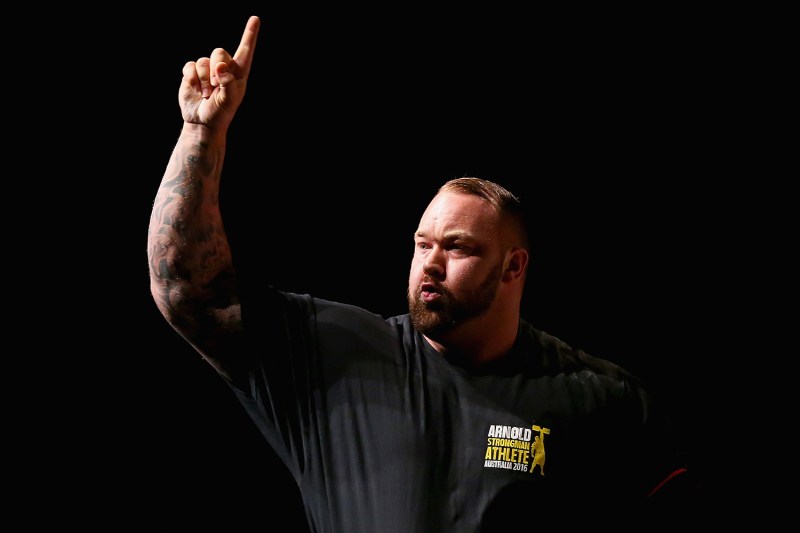 I sat down with the recently married, 30-year-old Hafþór Björnsson (or Thor, as he prefers) before an event sponsored by Krazy Glue in which the World's Strongest Man would be pitted against everyone's favorite glue. He was challenged to break the glue's bond on a number of different objects. (Spoiler alert: The glue won. Sorry, Thor.)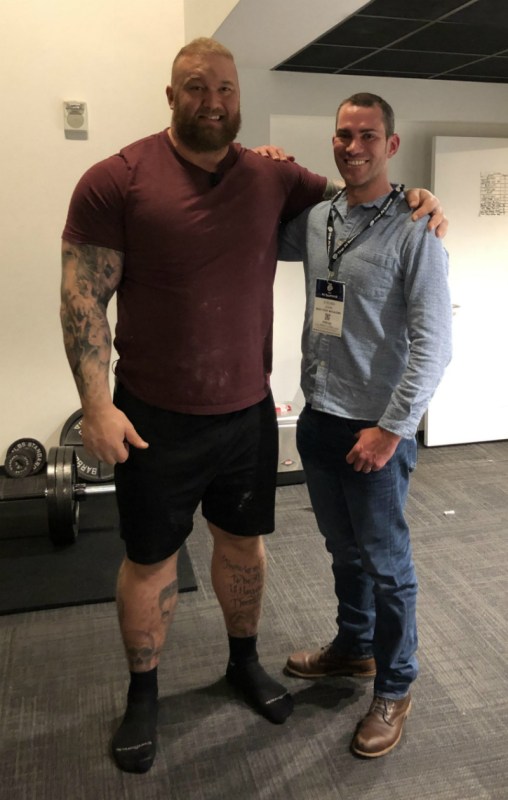 For all his size and power, The Mountain is surprisingly soft-spoken and laid-back in casual conversation. We talked about his sports career, his acting, his life in strongman competitions, and then finally I asked how a 6'9″, 400-pound man filled out his wardrobe.
"Well, if I'm shopping for jeans, for T-shirts, stuff like that," he paused, considering how to answer diplomatically, then said: "To be honest, when I'm here in the U.S. it's not that difficult. Everywhere here there are shops for big guys. I sometimes even have to take in shirts. I buy a shirt, then have it taken in, made smaller."
That's right, — when shopping in America, the World's Strongest Man has to have some of his clothing made smaller.
"Other times, I have my clothes tailored. You know if I am buying a suit, something like that, I have to have it custom made, have it tailored. I can't get clothing like that in my size."
Now, how does he stay at his size?
"I'm constantly eating, always eating. Never more than two hours without a meal." The Mountain consumes approximately 10,000 calories each day. "I eat a lot of steak, rice, carrots, and other vegetables. Chicken, lots of protein. Just lots of food, I'm never hungry, really."
Björnsson called his diet the most challenging part of his fitness training regimen, which is impressive for a guy who deadlifts half a ton and benches several hundred pounds. The real secret to how he became the official World's Strongest Man, though, is Thor's attitude.
When asked about his favorite exercise, he said it was the deadlift. When asked about his least favorite, he replied: "You know, I don't like to think that way. You have to have your head in everything, have your mind positive toward everything in life. I try to be very positive, I try to be good at everything. I train hard toward my weaknesses, and by working even harder, I make them my strength."
And now you that you know how The Mountain keeps his figure, maintain your own while wearing these best gym shorts.
Editors' Recommendations