Today we meet the internationally renowned DJ duo, The Martinez Brothers.
Whats good peeps! We're Steve & Chris Martinez AKA The Martinez Brothers. We're Puerto Rican brothers born and raised in The Bronx, NY. Growing up in New York, we've been exposed to so many different waves of inspirations in music and fashion. We grew up playing music in our dad's church and knew from the start that we wanted music to be our future.
We've always been intrigued by DJs and were constantly listening to them on the radio with our parents. It was around this time our dad started to expose us to Disco, House and Techno music. We immediately began to make our own mixes.
Growing up we were exposed to different styles of fashion wise, because swag was a must wherever you went. Especially if you wanted the girls. We always stayed on top of being fresh. Nike Air Force 1's were at their peak, and 59 Fifty Hats by New Era were a must.
Around 2006 we met our manger Shauna Slevin through our mentor Dennis Ferrer, since then we've drawn inspirations from our background to build on our music label/brand Cuttin Headz as well as apparel collaborations with New Era. We just released our second hat and bomber jacket with them this year, which sold out.
Also, we were just signed to IMG Models, recently exclusively announced on Vogue. Super excited about all of these projects and the future. We're just trying to combine the two worlds as much as possible because music and fashion for us blends so naturally.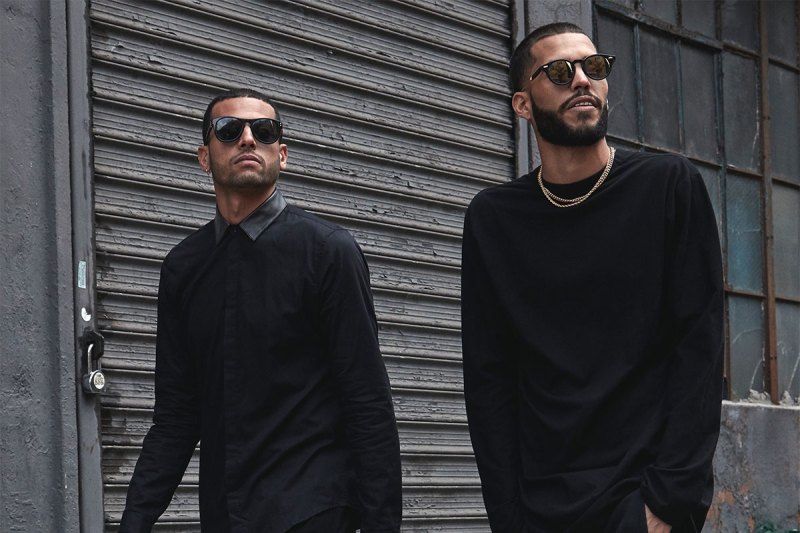 As for our personal style:
Jeans:
Shirts:
Pants:
Suits:
Shoes:
Accessories:
5 Gold Chains, 2 Jesus Pendants, 3 Gold Bracelets, 1 Gold Name Ring, 1 Gold Nugget Ring, 1 Diamond Ring
Outerwear:
Cuttin Headz Bomber Jacket, YSL Trench Coat
Favorite cologne:
Favorite app:
Favorite piece of technology:
Next style/gear purchase:
Some more gold for sure -haha