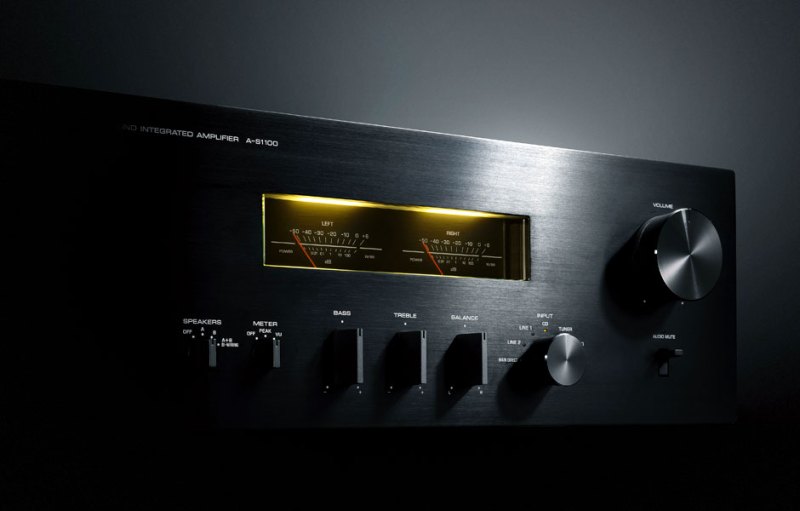 Integrated amps are one of the best-loved tools by audiophiles looking for a way to coax crystal-clear stereo sound out of their favorite tunes. Yamaha proved that in spades with the company's A-S2100 (listed at a staggering $4,000), which recently took up residence in our listening room for a few glorious weeks. Now the company has leveraged some of that S2100 tech to offer a slightly more manageable solution for the price-conscious listener, unveiling the new A-S1100.
Related: This stylish cast iron turntable is 100 pounds of awesome
At $3,000, the S1100 still sets a bar that will be less than attainable for your average buyer, but Yamaha is hoping the amp's stock of goodies will get serious listeners to pony up the dough. To that end, the company has crafted the amp's exterior with the same retro-style level meters as the A-S2100 and the flagship A-S3000 (priced at $7,000), as well as throwing in machined aluminum controls, an all-metal front panel, and piano black wooden side panels for a decidedly stylish power box.
Within its chic exterior, the S1100 boasts a power supply built around Yamaha's patented floating balance design to keep things quiet, as well as employing the company's MOSFET transistors. The large capacity El-core transformer is built for hefty bass and fast transients alike, and is set in the center to separate both sides of the stereo output in a left-right symmetrical design to prevent channel crossover, and create pristine stereo separation to feed your favorite cones.
Power is listed at 160 watts RMS per side at 4 ohms, with a claimed frequency response of 5Hz-100kHz. A phono preamp is included (naturally) equipped for both Moving Magnet and Moving Coil turntables, with a variable switch to go between the two set right next to the ground pin.
Like its predecessors, the S1100 is frill free, without the kind of features you'll find in newer receivers like wireless connection, multiple digital inputs, or other innovations. But if you're looking for straight ahead, bad-ass sound with nothing between you and your favorite stereo tracks, the S1100 is an enticing new addition to the Yamaha family.
This post first appeared on our "brother site" Digital Trends.