If you're into history and the idea of reusing things to help the environment, we have found furniture you'll love in your home. Warehouse 2120 is the exclusive North American dealer for Indonesian furniture made from salvaged fishing boats.
You might see furniture designed to look like it's been made from fishing boats, but some are new constructions that have been aged and painted. Warehouse 2120 has the real deal.
"What makes our furniture truly one of a kind is it's all 100% recycled fishing boats. We don't paint them," says Allie Whitson, one of the company founders.
"Our products are made from teak wood and good for indoor or outdoor use," she says. "We recommend finishing with a marine grade varnish.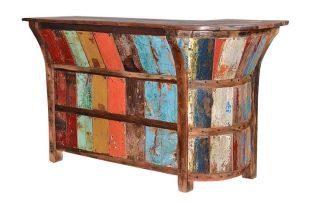 Bars (ranging in price from $1600 to $3000) and barstools (on average $360) are among the hottest items on their website.
They offer an amazing selection of items covering everything from dining tables and coffee tables to lounge chairs, desks, chests, headboards, buffets, storage units, home accents and lots more. Each piece has a distinctive, individual look that will blend in with a variety of décor styles.
They have about 40 dealers selling their products across the U.S. and continually expanding. Whitson encourages customers to check out the dealer locations on their website. She says, "If you're in an area without a dealer in a 100 mile radius, we're happy to help."
"Our furniture is incredibly sturdy and durable. What's cool is the story. It's environmental, eco-friendly and we're helping a lot of fishermen in the villages," she adds. "We buy their boats and they are able, in turn, to get a new boat. It helps their local economy."
Editors' Recommendations