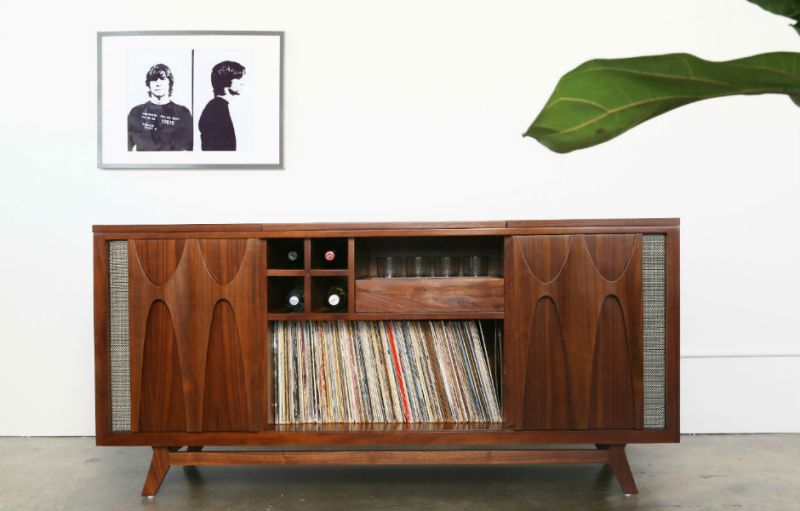 Good booze and smooth, warm vinyl bliss; It's true what they say: some things just don't go out of style. But what if you could combine these two gems of modern humanity into a single entity — and get your Mad Men on while you do it? That's the premise behind a gorgeous new piece of decor from the custom woodworkers at Luno called the EGB2.
Related: Show off your turntable in style with Turntable Station
While the name isn't exactly inspiring, this chunk of Art Deco awesomeness doesn't need a fancy title to get your motor humming. Carved in nostalgic lines from rich American Walnut, each unit is custom crafted and made to order right in the good old U.S. of A. The salt and pepper speaker screens alone (courtesy of Marshall) are enough to recall the smooth melodies delivered by the record consoles of old, and it should go without saying this thing will really tie the room together.
However, as teased above, the exterior styling is just the beginning. Beneath the EGB2's rich wooden exterior rests a brilliant collection of peripheral components, old and new, to keep you and your guests entertained and impressed — and inebriated, if that's the way the wind blows. Those include a pull-out mini bar, capped with four gold-rimmed tumblers, and enough storage space for four bottles of the good stuff.
There's more than meets the eye on the audio side as well. The included turntable is a Pro-ject Debut Carbon, which just happens to top our list of the best turntables under $500. Adding to the fun is a three-band tone control system — with classic controls — and the system is powered by a 200-watt class D amplifier. Each channel offers a 6.5-inch woofer matched by a silk dome tweeter (Luno doesn't list the brand, unfortunately), and there are also dual aux inputs to plug in an exterior device and a lower shelf with storage space for 150 of your favorite records.
But that's not all. The system also comes loaded with support for Apple Airplay — because you've gotta have some wireless convenience in this day and age — as well as a 100 watt down-firing subwoofer, for when you want to switch from Sinatra to Sia.
Luno hasn't yet disclosed pricing, but we do know it takes around two months or so to arrive once you've pulled the trigger. You can order your own EGB2 directly from Luno at the company's website.
A version of this post first appeared on our "brother site" Digital Trends.