Man isn't meant to stay indoors — our weekly "Trekking" column can attest to that. It's a column dedicated to the adventurer inside of all of us, the one pining to ditch the office humdrum for a quick surf session or seven-week jaunt in the Grand Tetons. One day we may highlight an ultra-light stove and the next a set of handmade canoe paddles. Life doesn't just happen inside the workplace, so get outside and live it.
Surfers likely spawned skateboarding in their downtime — well, at least as far as we know. They outfitted your traditional 2 x 4 with roller-skate wheels, allowing them to weave in and out of the streets when there were no waves to speak of. The niche sport quickly evolved to become the polyurethane-abetted beast it is today, with well-known professionals such as Tony Hawk still at the forefront. And Iris surf boards, though more apt for H2O than concrete, help pay tribute to that ancestry.
Related: Yes, these guitars are made from recycled skateboard decks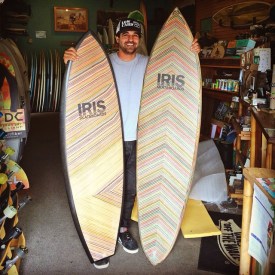 The one-of-a-kind surf boards, available in melange of shapes and sizes custom built to your specifications, utilize an EPS recycled foam core, along with a unique veneer made of recycled skateboard decks. The latter is coated with a simple bio-based resin known as Entropy Super Sap CLR, which helps protect the board from abrasive salt water and adds to its durability on and off the water. The modest San Francisco-based company handshapes the boards based upon your individual riding style and preference, too, and such being the case, each showcases a different pattern and color combination that's just as likely to draw as many eyes while on the water as leaning against the backside of your porch. Just don't forget to wax — balancing is hard enough as is.
Check out Iris online to place your order, or email george@irisskateboards.com for more information regarding the comapny's custom skatedecks and surfboards.
Editors' Recommendations