Man isn't meant to stay indoors — our weekly "Trekking" column can attest to that. It's a column dedicated to the adventurer inside of all of us, the one pining to ditch the office humdrum for a seven-week jaunt in the Grand Tetons, or fiending to catch some waves someplace other than the North Shore. One day we may highlight a new ultra-light camping stove or minimalist water filter, and the next you may find us getting wrapped up in a set of Norquayco's handmade canoe paddles. Life doesn't just happen inside the workplace and home, so get outside and live it.
When you have a piece of equipment that perfectly combines form and function, you may cringe at the mere thought of taking it out into the field and — gasp — actually using it. Norquayco's latest line of artison painted paddles ($275+) is a perfect case in point, a one-of-a-kind series of canoe paddles that flawlessly combine the functionality of your standard paddle with the kind of aesthetic beauty you'd be more than happy to adorn your rustic cabin walls with.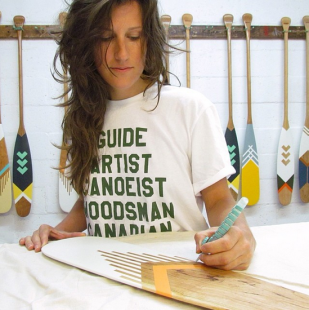 Named after a tiny Algonquinesque island quietly nestled in the waters of Lake Huron — one where Norquayco founder Natash Wittke ventured on her first solo camping trek when she was 14 — the Canadian company strives to mesh quality materials with an artistic appeal. Each paddle is handmade of solid cherry or birch directly sourced from the shores of New Liskeard, Northern Ontario, and then finished in the company's Montreal-based studio. Once varnished for added durability and protection against the elements, the paddles are hand-branded with symmetrical designs influenced by Native American culture, the surrounding area, and various outdoor experiences. The vibrant palette of the colors beautifully contrasts with the fluidity of the grain, whether talking ottertail or beavertail designs, as do the complimentary leather harnesses accompanying the tail end of each paddle.
Although Norquayco doesn't recommend taking the collectibles for week-long excursions in the wilderness, they are still paddles, and perform just as beautifully on the water as they do lining your wall. Just remember to wipe down your paddle after your outing to ensure wear and tear is kept to a minimum. Something tells us you're going to want to keep it around for some time to come.
Check out Norquayco's website for more information, to make a purchase, or to simply browse the company's robust selection of handmade paddles, unityware enamel mugs, and assorted toques.
Editors' Recommendations