Admittedly, the title gives away the ending:
This Bar Saves Lives
, which is surprising given the company was founded by a quartet of talented actors.
Kristen Bell, Ryan Devlin, Todd Grinnell and Ravi Patel formed this social enterprise to help feed kids while allowing us to snack on delicious, healthy food.
It's 2017, a time when you can order a pizza using your TV and yet 2.6 million children around the world die every year from acute malnutrition. Only ten percent of the 20 million children still struggling with acute malnutrition receive help. It's, frankly, ridiculous. It doesn't have to be this way.
The idea behind This Bar Saves Lives is beautifully simple: Hungry? Great, eat one of their delicious bars as a snack. What're these certified-kosher, mostly-organic, non-GMO, Fair Trade bars you're snacking on? Delicious bars like Madagascar vanilla, almond and honey, or dark chocolate with cherries and sea salt. Or go crazy and order the wild blueberry and pistachio bar. Even kids have options, with kid-friendly berry or chocolate chip bars. Your purchase helps ensure a kid also gets fed: one of the company's non-profit partners make a food packet that is sent wherever needed.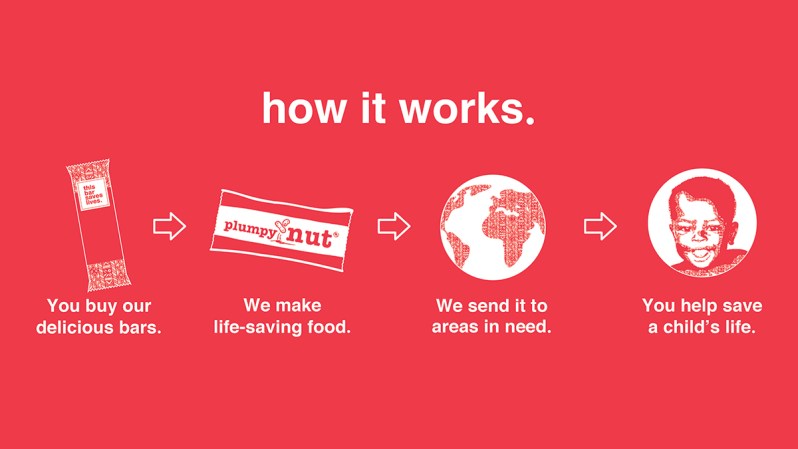 Plumpy'Nut, the food your snack bar is providing, showcases the awesome power of human ingenuity when we decide to tackle a problem. It's a nutrient-rich paste given to children three times a day for a week– just a week and they're pulled back from the brink of death and set on a path to healthy development. It chock full of vitamins and minerals, requires no cooking, no water, and has a long shelf life, making it the perfect option for anyone, anywhere in the world.
Not only that, but the folks at This Bar Saves Lives also focus on prevention. As cool as Plumpy'Nut is, it'd be great to live in a world where it's really not needed anymore, so the company also helps supply Nutributter, which is specifically designed for children two and under who are undernourished.
Ravi Patel, one of the founders of the company, was kind enough to talk to us. Though, we're not sure where he found the time between being an entrepreneur, actor, philanthropist, and filmmaker, we're very glad he did.
Firstly, how do you juggle all your many titles?
It's really difficult because I am just excited by so many things. Mainly, I think I'm fortunate to just work with incredible people. Todd Grinnell and Ryan Devlin at This Bar work together more as efficiently as any team I'm even been with, and we all have a great deal of trust and respect for each other. The same goes for my closest collaborators in writing, acting, and directing. When you work with reliable partners, you can scale your efforts easier.
What inspired you to form This Bar Saves Lives? How did your partnership come about with Kristen Bell, Ryan Devlin, and Todd Grinnell?
It was Ryan and Todd's idea. Based on their trip to Africa, where they saw these mothers and their malnourished kids firsthand – there are over 20 million children under the age of 6 who suffer from severe acute malnutrition. They described it as one of those things that when you see it, you can't un-see. They also learned about these life-saving packets of food called Plumpynut, and how the only thing standing in the way of supplying more of these packets to children in need was… money. So, we started a company that create delicious and nutritious snacks while also providing nutrition to children in need.
Ryan and I are both actors, and we worked together on our very first pilot! We've been buddies for years. Would have never expected we'd sell so much (or any) granola together. This project of ours has literally saved the lives of over 17,000 children – it's the best feeling to have that impact, and it makes me excited to do more it. We also ensure that our philanthropic efforts are complementary, and not disruptive, to the communities we help.
Who developed the recipes for your bars?
Me and the guys figured out our flavors by literally going to Whole Foods and tasting every bar and exciting snack. We would just sit there and taste, and talk. And then we found some incredible food scientists to bring it to life – they called JPG Resources, and their CEO, Jeff Grogg is now an investor/advisor in our company!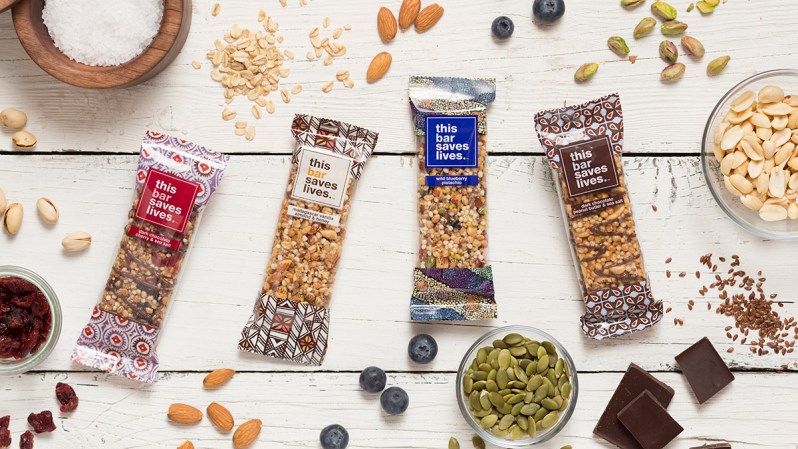 How do you avoid the problem of dependency that Buy One Give One programs have the potential to create?
We provide a packet of Plumpy'Nut or Nutributter through our giving partners (like Action Against Hunger) for every bar you buy. Plumpy'Nut and Nutributter are specially formulated food aids created by doctors and scientists to help lift children from the grips of severe acute malnutrition, and also prevent it from happening in the first place. In short, we give actual medical treatments to a child who needs one through non-profit organizations with great reputations and proven histories of sustainable impact. Whenever possible, we source our life-saving food aid from local production facilities that foster economic growth in the communities they serve. Our goal is to get children the medical aid they need in order to become healthy and strong enough to transition back to their local diets. How would you say the dependency issue applies to children who literally have no other source of food? What's the opportunity cost?
How go the plans for developing an American program? Does it call for a different approach?
YES!!!!!! I'm so excited to finally be in a position to do this, and the impact can be so real. We have just launched a year-long domestic giving partnership with Feeding America, the nation's largest domestic hunger-relief organization. We are running a summer-long campaign that specifically addresses child hunger as this problem worsens during the summer time. From now until Labor Day, for every bar purchased at select Starbucks and Target locations, This Bar Saves Lives will donate a meal to a child in need in the United States. Millions of children are left without access to the federally funded food they usually receive during the school year and unfortunately, go hungry. Organizations like Feeding America are leading the way to a more food-secure future.
Editors' Recommendations