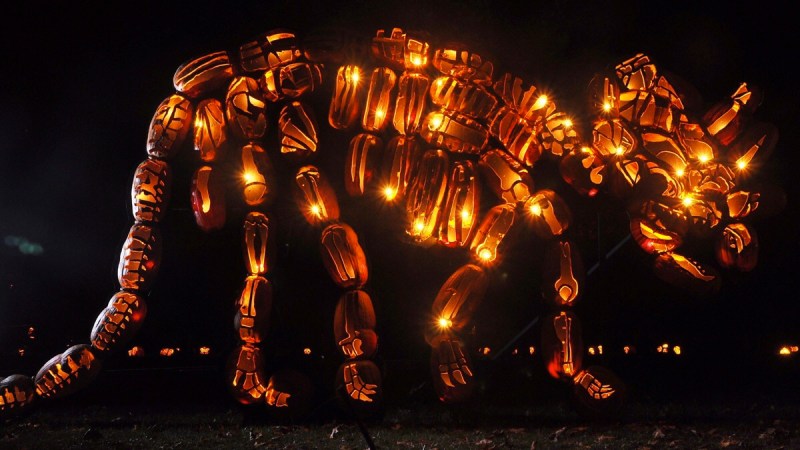 There's an intrinsic beauty to artistic pumpkin carving that relates as much to the medium as to the form it takes: When an artist chooses a pumpkin as their material, they choose to create ephemeral artwork. Just as the mandala sand painting must eventually be carried off by the breeze, and as the ice sculpture must melt into the humility of water, the sculpted pumpkin must eventually rot into a putrid mass of moldy goo.
The point is, a pumpkin carving doesn't last forever. Even pumpkin season itself is short (though it is delicious). But, for the moment, Halloween nears and the time for celebrating this unique art form is upon us.
And if you don't think pumpkin carving is true art, well, then just try your hand at it, mister. While some of us develop hand cramps, misplaced rage, and fleeting moments of painful reflection about the direction of our lives just trying to pop the top off our jack-o'-lanterns-to-be, there are plenty of artists out there creating absolutely masterful carvings that will leave you amazed and, in some cases, pretty creeped.
Amazing Zombie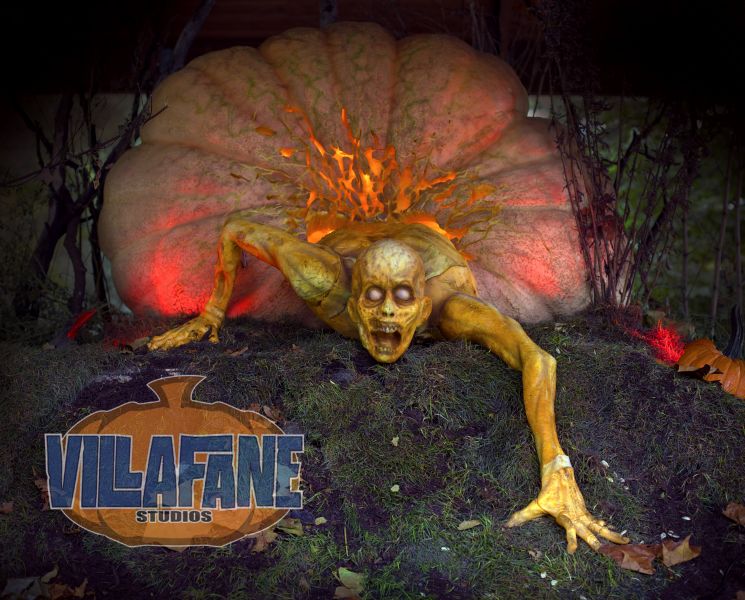 This one isn't a jack-o'-lantern, of course. Rather it's a goddamned amazing, downright creepy, life-sized sculpture of a zombie emerging from a pumpkin. Maybe not what you're going for to set a trick-or-treater-friendly atmosphere on your front stoop, but this is a masterful carving through and through, potential nightmares and pants-soiling be damned. It was created by former art school teacher and current full-time sculptor Ray Villafane. And if you think this sculpt is impressive, check out Villafane Studios for even more incredible work from Ray and his team.
Living Cyclops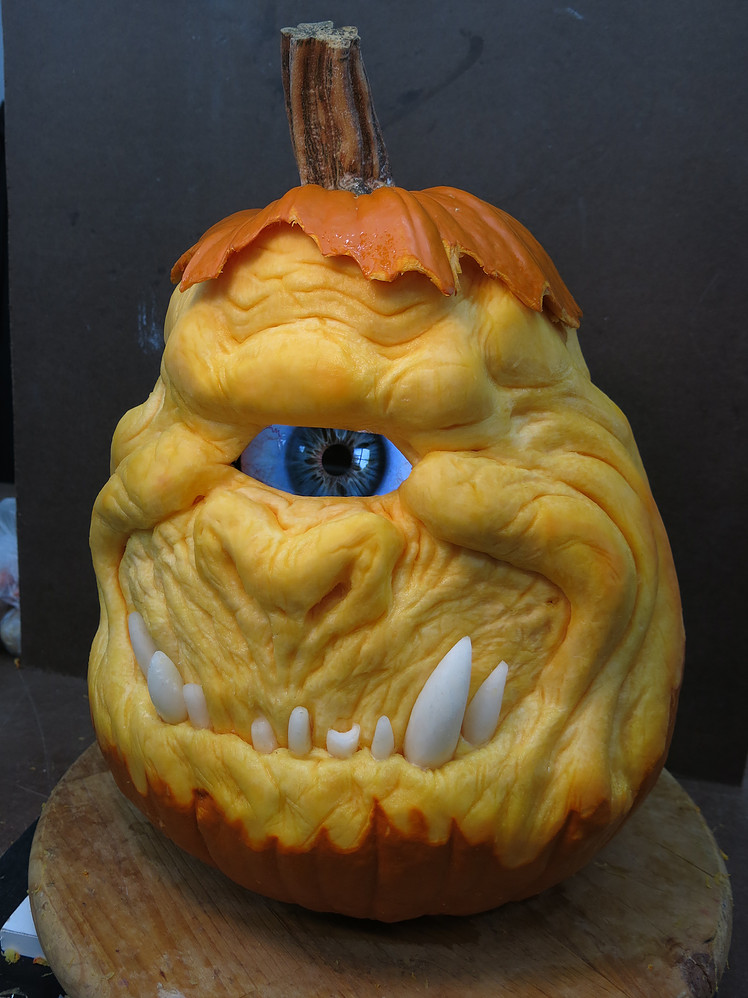 This one-eyed wonder is the work of renowned pumpkin carver and specialty prop creator Jon Neill. The pumpkin was crafted for a Halloween segment on Jimmy Kimmel Live! and — wait for it — has an actual eyeball that actually moves. Okay, okay, it's not an actual, real-life eyeball, but it really does move around, keeping an eye on Halloween festivities and (we presume) periodically freaking you the f*** out when you catch it staring directly into your soul from across the room. To see more of Neill's impressive work (including time-lapse videos of him sculpting), follow him on Facebook and Instagram.
Uncarved Carving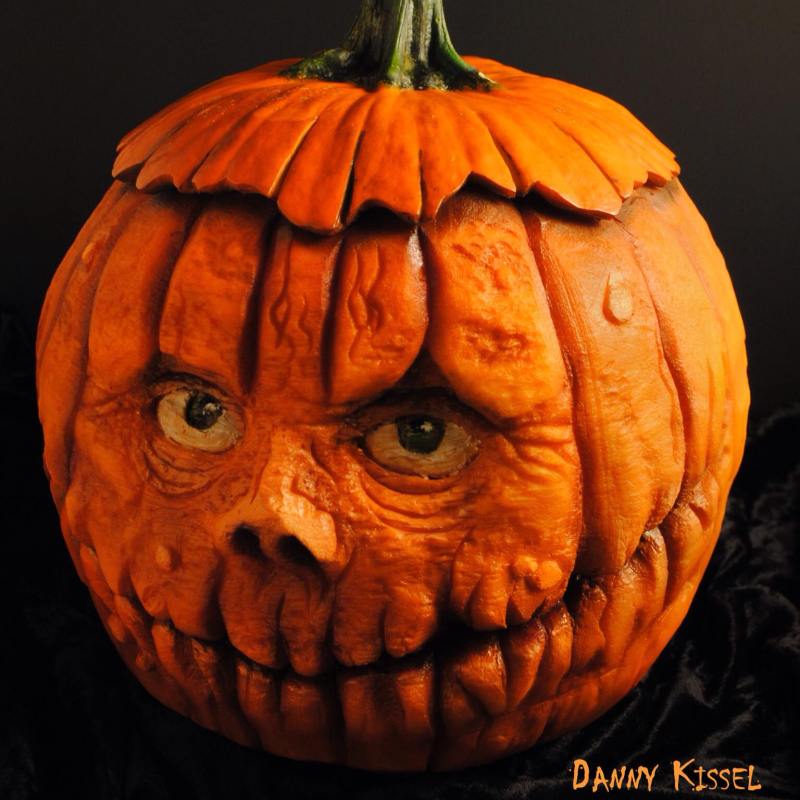 A little bit of pumpkin-spiced tromp l'oiel makes this charming character by Danny Kissel a real head-scratcher at first. Kissell — a self-taught artist, Food Network Halloween Wars alum, and head honcho of Kissel Studios — sprayed the sculpted squash back to orange to create the illusion that it was never carved in the first place. The result is an intriguing illusion with just the right amount of whimsy.
"American Gothic"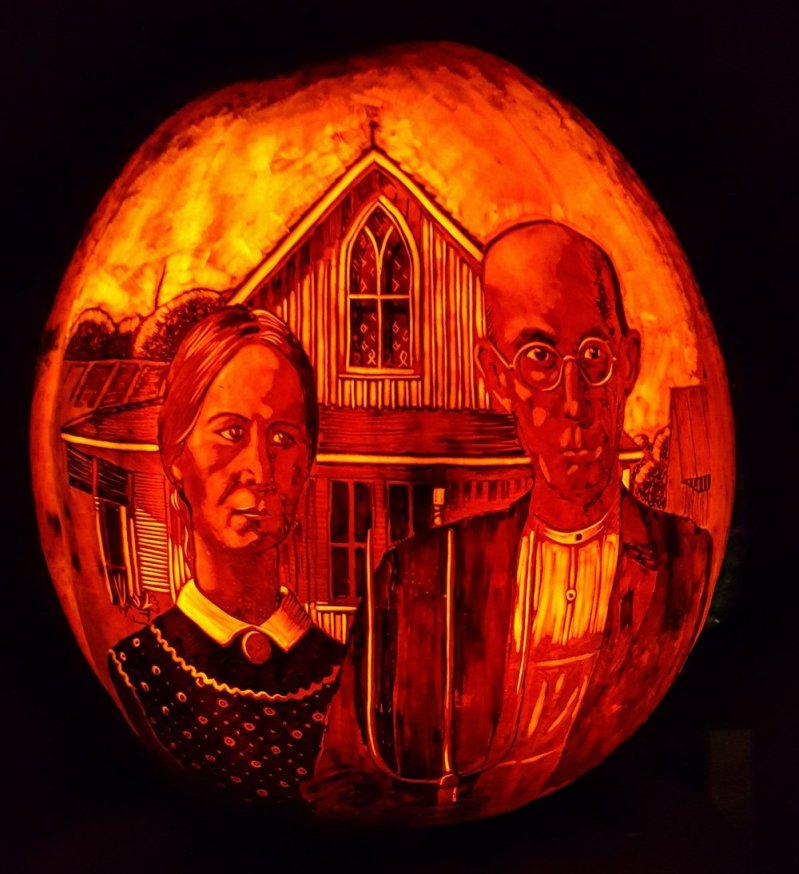 Yes, that's a pumpkin. For real though, it is. An actual pumpkin. Chicago artist Edward Cabral creates his masterpieces by drawing a design on the pumpkin and then slowly carving away the skin of the fruit to create impeccably detailed shading and contrast. When he's done, he drops in a bulb and the back-lighting brings his work to life. Cabral's carving of "American Gothic" is so on point it's easy to forget you're not looking at the original, proving that you don't need spooky subject matter to make a stunning pumpkin carving. Keep up with Cabral's current projects on Instagram.
Creepy Witch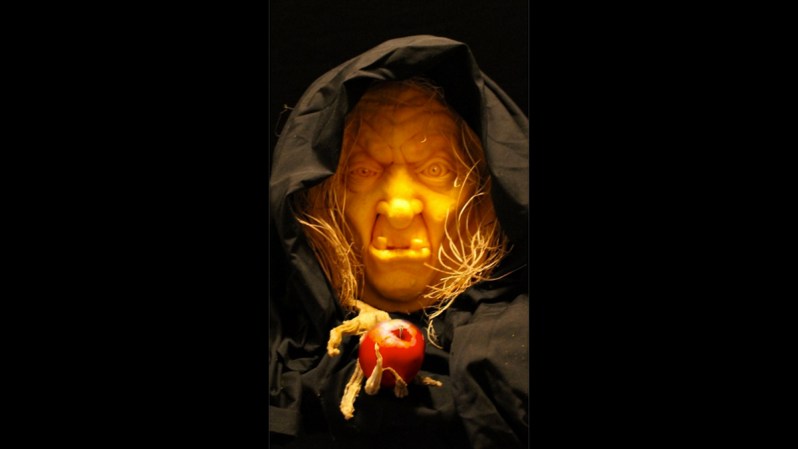 While she's not quite who you want to get your Halloween treats from (nice try offering up that "totally benign" apple, lady), this lifelike witch by Brandy Davis basically sums up the Halloween spirit in one wonderfully unsettling pumpkin. No stranger to the finer details in art (as evidenced by her amazing painted feathers), Davis carves so much expression into her pumpkins that you almost expect them to start blinking. Check out Davis' Facebook page to see more of her carvings and videos of her working.
Face Off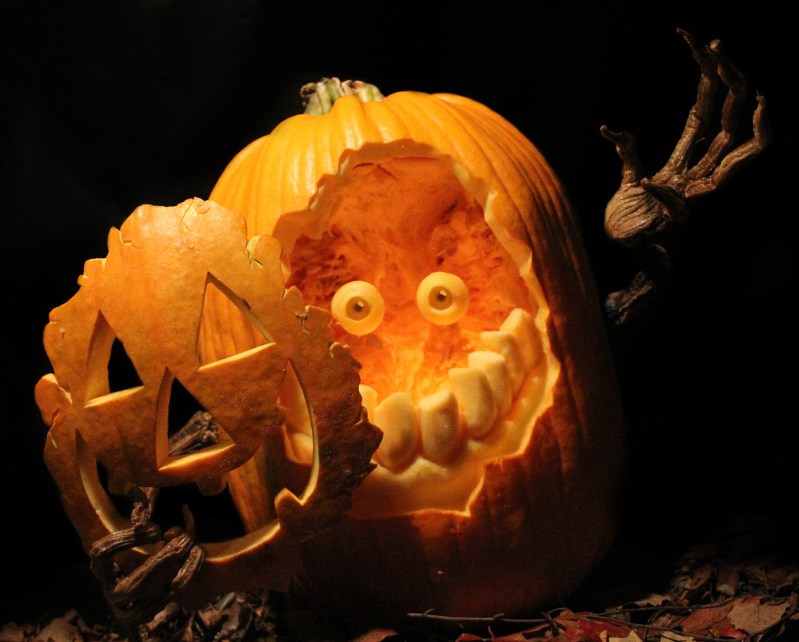 Well, if this fella isn't the epitome of Halloween charm, we just don't know what is. Artist Mike Brown of MB Creative Studio somehow makes the visage of pulling off your own face and holding it in your hands downright adorable. From eyes that seem to float in space to a big goofy set of chompers, Brown's clever carving puts a whole new spin on the traditional jack-o'-lantern. Follow MB Creative Studio on Facebook to keep up with their latest projects, and catch Brown on this season of Food Network's Halloween Wars.
Article originally published by Steven John on October 22, 2015.