With email, texting, smartphones, and video calling, what use is there for old-school stationery and putting pen to paper? And What kind of a man hand-writes letters these days anyway?
The answer: A smart, stylish, and moderately playful man.
At least, according to Ted Harrington of Terrapin Stationers and Engraving Company.  We sat down with the scion of this century-old luxury paper goods business to get the scoop on his company and its irreverent Enter At Your Own Risk line of stationery and cards for the modern man.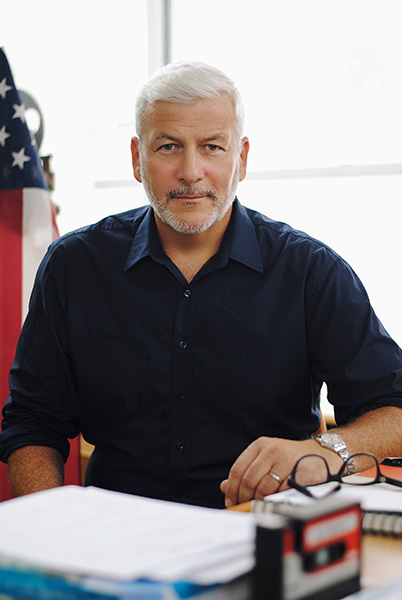 Tell us more about Terrapin Stationers. Was the company always in the family?
The company was founded in 1913 by an immigrant Russian silver engraver. His sons grew up in the business and my dad worked for his sons. My father was a hand engraver, working in steel dies, which are rarely done now.  There are probably only two or three people in the region who can still do it. He's retired now, but he still dabbles. I came into the business in 1987.  When the original founder's sons retired, my dad and I, and my mom came in—she came in full time—and at that point, we actually owned the company together.
Primarily at that time in the late 80s and early 90s, 98% of our work was law firms. Very little social stationery.  There were about two or three people doing stationery back then—Cartier and Tiffany; Smythson was kicking around.
Coming from the corporate arena, what changed to cause you to reinvent and reinvigorate what was at the time a very traditional paper goods manufacturer?
Over the last twenty-some odd years everything changed. We went from sending everything out via messenger to having fax machines put in every office. That cut down on 20% of paper usage. A few years after that, we started doing email. That just cut everything further in half. And slowly in the electronic age, consumption just started to dramatically decrease. We started to look into other areas, social stationery and weddings—doing work for other stationers, reselling.
So how did the stationery line itself get started?
I got into the fashion business in the late 90s. I was working with Michael Kors, Marc Jacobs, and Phillip's auctioneers. I worked for Chanel, for Chopard watches. We were doing a lot of paper goods for them and still do.
And what about the Enter At Your Own Risk line of cards and stationery, featuring "Happy Fucking Birthday" cards and "Fuck You" calling cards?
In 2008—The Great Recession—you might have heard about it—we lost 75% of our revenue. In an effort to get some attention, I made these cards that said "WTF" on them to look like a monogram. I lined the envelopes with the financial papers. I sent them out to a bunch of people. Everyone sort of responded with, "Ted these are hysterical, I love them." I was like, "Really?"
From there, I pulled out the old sportsmen dies that from my dad's archive. I started running fly fishing and hunting and all the sports and stuff and slowly started to add my own sort of fun. So we started with the fuck off stuff.  You know all that snarky stuff.
I took a lot of heat for that. I got hate email from people. Like, "I went to your website and the first thing I saw was Happy Mother's Day Mom You Don't Suck." We made a card with a vacuum cleaner on it. We just did stupid fun stuff.
I've always had a problem with language myself and I think a lot of people know that. I think it was kind of easy for me to get it going because it's naturally my way. So I was having fun with it and I think now we're ready to get to that point to do something a little bit different. We're looking for other ways. Unfortunately, this is what people want. This is what sells. People don't buy much fly fishing stationery. People like that stuff—stupid cards.
Related:  The Pen is Merrier: Gifts for Writers and Creative Types
Where does your inspiration for this line come from?
A lot of these things come to me in the shower or in the car. We just riff a little and I've always had younger people around. "Eat a bag of dicks" came to me when my luggage on my way to Mexico got screwed and opened by the TSA on both ends.
Will I keep adding to Enter at Your Own Risk? Probably. A lot of stuff we do is cultural and music stuff—there's not a ton going on right now. I guess I could make a Becky (with the good hair) card. But that's two months ago already? Everything's moving so fast, if you don't like the news, wait two hours.
Tell us more about the manufacturing process. Is it all hand-engraved?
It's about 90-10, 10% hand-engraving, 90% etched in copper. Everything gets hand-tooled, though. It gets tooled by a bench-engraver and cleaned up. But, the etching now is done in a bath and the type is set in Adobe. Our papers are mostly US papers. We are big Neenah Paper Company consumers. Reich Paper in Brooklyn is one of our suppliers. They import some, some are made here. We use lots of recyclable papers and lots of cotton papers.
So what's in the future for Terrapin Stationers? 
We did a licensing deal with a company called Gartner Studios out of Minnesota.  They'll be selling some of our stationery in a more general commercial way as opposed to the smaller, high-end shops.
Can you offer our readers some tips or tricks for writing a letter or a thank you card? Any do's or don'ts for men's stationery or business cards?
When to Write a Letter
Job Interviews: For sure. We hired somebody here last summer and she came out of the stationery business. She wrote a note to the director of sales and he came running to me saying, "Look at this. She sent me a thank you note!" It makes such a really good impression. I know a lot of millennials now are bouncing around and busy with emails and texting. Put the phones down.
When you're a Guest:  If someone invites you to their home for the weekend at the shore. Or for dinner. Often smaller cards are really perfect for bringing a bottle of wine for the weekend.  We have these little gift enclosure cards.
Condolence Notes: Always hand-write.
On Business Cards
I think everyone should have a set of baronial-sized cards (4.5in x 6.25 in). A nice correspondence card with the name on the top in a nice Copperplate, maybe a Roman, or a Garamond font. Engraved for sure.  I don't believe in letter press. I know it's popular, but it hasn't been for that long. It drives me crazy. I definitely don't think it's right for dudes.  Too Etsy, too New York Stationery Show.
Just have a really beautiful single side business card, great paper, 130lbs card-stock. You should be able to carry 20 cards in your case or in your pocket and that should last you a couple of weeks. Anything heavier is completely unnecessary.
Double-Sided Business Cards
The whole thing about double-sided business cards is this: we have to mount them. Because you can't feed a really heavy card stock through a press. You can engrave on it, but you can't engrave two sides because it will leave a bruise on the other side.  If you want an engraved calling card, it's a single side. And honestly, I'm at the point right now that I'm blowing people off who want a double-sided card. Would Don Draper carry a card like that? It's fucking horrible, man.
Engraving is not right for everything though.  If you're a DJ or an event planner or maybe even a tailor, it's probably not right. You can have a calling card and your own personal email card.  We did Twitter handle cards, which were funny.
On His Preferred Writing Instrument
If you're a fountain pen guy, you need a smoother stock. I learned that at the Big Apple Pen Club. I'm a huge fan of cotton papers like the Savoy or Crane's press, which is the stock Cartier uses. I'm a fan of that. It's all wrong for fountain pens. The nib drags the paper and gets caught. In fact someone told me, the cheaper the stock the better a fountain pen will work.
As for pens in general, I have a million of them. But sometimes I find myself using the pen I got from my dentist, you know. I was big on the classic Cristal Bic Ball Points. We actually silk-screened our logo on them. It was the first ballpoint pen. I thought it was the coolest thing ever.
Buy: Grafton Pen, $28.99
On Terrible Handwriting
I think it's awesome. My first landing page was a note that I wrote and we put a link in one of the words that said here check out our website. I think it's great. I don't mind scribbling, crossing out words, or inserting words. I like that. I love Peter Beard's notes. I just think, why not?
But, if I'm going to take the time to write to somebody, I might as well try to make it nice.  But, I'm no John Quincy Adams.  I'm not using a quill on a piece of parchment.
Thanks for the tips, Ted. It's been a pleasure. 
Thank you.
Images Courtesy of Ted Harrington via Terrapin Stationers